10th Vintage Cars Rally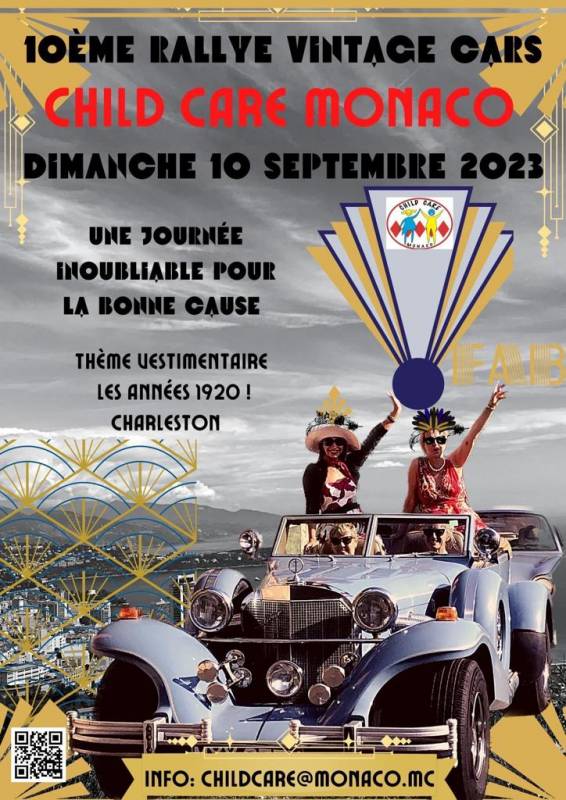 10th Vintage Cars Rally with the theme the 1920s, Charleston, organized by the Child Care Monaco, will be held on Sunday September 10, 2023.
This year we will be marking 100 years since the birth of Prince Rainier III (1923-2023) for the occasion the theme will be "CHARLESTON" to pay tribute to the year of birth of the Prince: The Twenties – "Les années folles".
The day will start with a Breakfast at 8:15 am at Café de Paris…. departure around 9:45 Place du Casino. (…as every year we keep the details of the program strictly secret until the DAY !!!) and arrival in Monaco at the Palace at 7:00 p.m.
During the day:
A delicious gastronomic lunch in a "Mas Provencal", animation SPEAKEASY & afternoon coffee, the tombola and finally champagne cocktails and Awards ceremony at the end of the day at the Restaurant Castelroc.
Make new friends and catch up with old ones as we make new memories together. For the 10th edition we welcome also couples & men to accompany our ladies !!! This day full of surprises will give you the opportunity to drive exceptional cars. You can also drive YOUR OWN vintage car at least 20 years old.
There will be the possibility to choose to be driven by a chauffeur and enjoy champagne during the day.
The winners (best outfit, quizz winner, special jury…..) will receive a Trophy by a personality of Monaco and this year big surprise !
We finish the day by a cocktail all together.
Pre-reservation start now…3..2..1…GO !!
All proceeds go to Child CARE Monaco's school projects which has grown with every year of the Rally.
Education… an everlasting gift.Dead line for reservations and full payment is on JULY 30th, 2023. Free cancelation until August 20th