Ballets de Monte-Carlo: Œil pour Œil
April 28, 2022

-

May 2, 2022

€12 – €36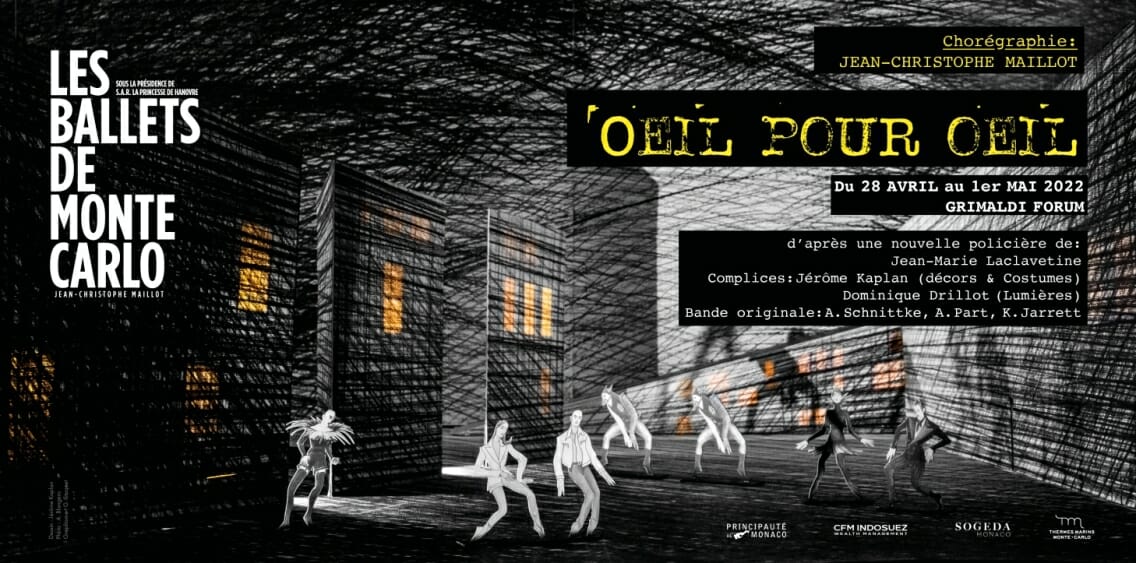 Ballets de Monte-Carlo: Œil pour Œil on April 28th to 30th at 8.00pm – May 1st at 3.00pm in the Grimaldi Forum.
Known for his work on fairy tales to which he restores their original depth and darkness, Jean-Christophe Maillot goes a step further with Œil pour Œil, created in 2001. Here the narration becomes even darker and more sardonic. The fairy-tale spills onto the dirty back streets of the detective novel. Choreographed from a novella by Jean-Marie Laclavetine, written specially for this ballet, Œil pour Œil takes on the codes of a thriller: crime, vengeance, corruption, the underworld, sex, predators…
The plot:
Once upon a time there were three inseparable friends: Iris, Adam and Loup. Saved from the slums of the city by the beautiful Iris, both boys fall in love with the same woman. But Iris chooses Adam and the trinity the young people formed is shattered. Loup withdraws and takes refuge in the arms of La Pieuvre [The Octopus], an erotomaniac gangster who reigns over a bestiary of corrupt Monsters and Police dogs. The city holds no secrets for La Pieuvre who monitors its every nook and cranny from her surveillance screens.
Time has passed but Loup is still haunted by the memory of Iris whose lovemaking with Adam he has spied on from behind a screen. Unable to stand any more of this happiness from which he is excluded, Loup sets a trap for his old rival to get rid of him. He gives him a valuable case which he stole from La Pieuvre. The hunt for the two lovers then begins until its tragic denouement.