4th edition of the Symposium of the Philosophical Meetings of Monaco
June 7, 2019

-

June 9, 2019

Free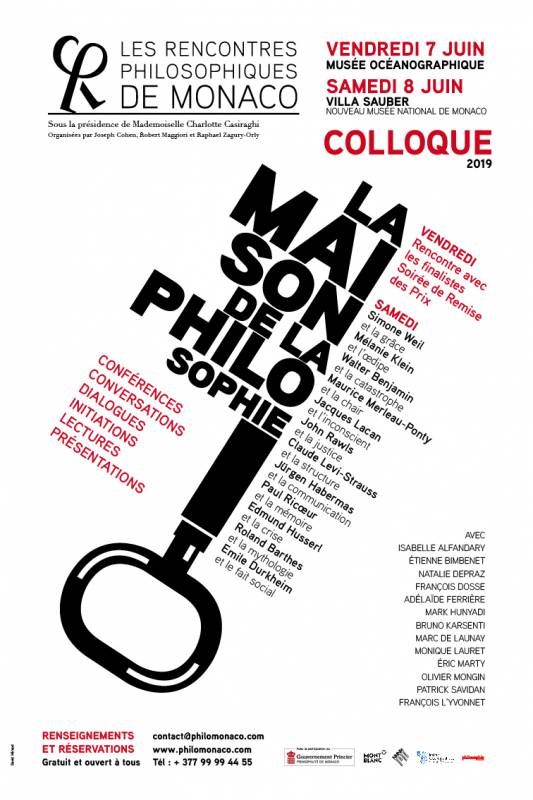 4th edition of the Symposium of the Philosophical Meetings of Monaco will be held this year on Friday 7 and Saturday 8 June.
The Colloquium will open with a meeting at the Oceanographic Museum with the five finalists of the 2019 Prize:
– Alain Ehrenberg, Mechanics of the passions: brain, behavior, society, Éditions Odile Jacob
– Manon Garcia, We are not born submissive, we become it, Éditions Climats / Flammarion
– Marie Garrau, Vulnerability Policy, CNRS Éditions
– Jérôme Porée, Phenomenology of confession, Éditions Hermann
– Hartmut Rosa, Resonance – A sociology of relationship with the world, Éditions La Découverte
The awards ceremony will also be held at the Oceanographic Museum.
Saturday, June 8, the New National Museum of Monaco – Villa Sauber will host "The Lessons of Philosophy" from 10am. Each of the twelve lessons proposed will present the thought of a major philosopher of the twentieth century from a concept or theme, a subject or an object central to their work.
Free and open to everyone.