5th Monte-Carlo E-Rally – 21st Monte-Carlo ZENN Rally
October 20, 2021

-

October 25, 2021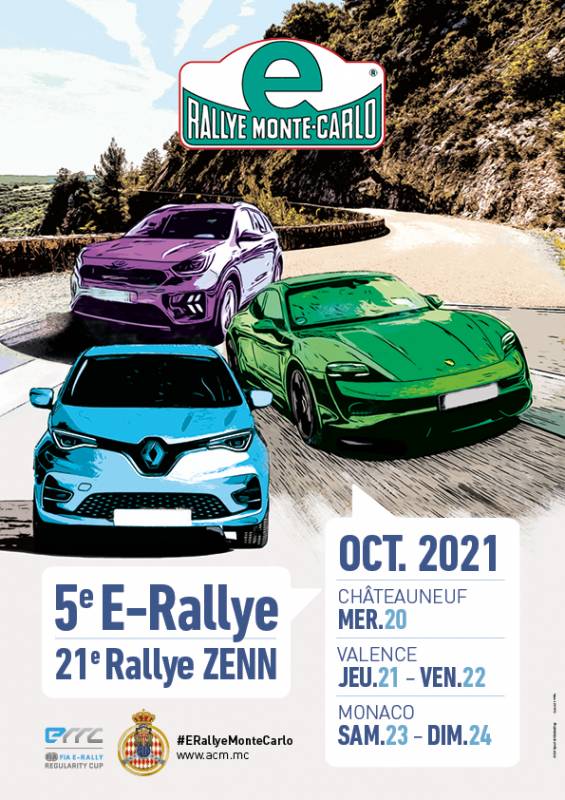 5th Monte-Carlo E-Rally – 21st Monte-Carlo ZENN Rally, organised by the Automobile Club de Monaco from Wednesday 20 to Sunday 24 October 2021, Principality of Monaco.
Cancelled in 2020 due to the devastation caused by Storm Alex, the 100% electric & hydrogen Rallye Monte-Carlo opus is back this year with a challenging course totalling more than 350 kilometres in stage time, divided into 15 Regularity Stages (RS) and nearly 1,000 kilometres of road section. As requested by the Organizing Committee of this 5th edition, the "Grand Départ" will be held in the city of Châteauneuf, in the department of the Loire, the first municipal domain in France to be autonomous in green energy. The competitors will then head towards Valence in the Drôme department for 2 days. Finally, the E-Rallye Monte-Carlo 2021 will arrive in Monaco for the weekend where the SR will be organized between the departments of the Var and the Alpes-Maritimes. Last but not least, competitors should no longer have any difficulty finding charging points in the Principality with numerous points now available in the many public car parks or in outdoor parking spaces reserved exclusively for electric vehicles…
E-Rally Monte-Carlo is an authentic regularity road race reserved to 100% Electric Vehicles (excluding any use of range extenders) and 100% Hydrogen-powered cars.
Source: acm.mc