88th Lemon Festival in Menton
February 12, 2022

-

February 28, 2022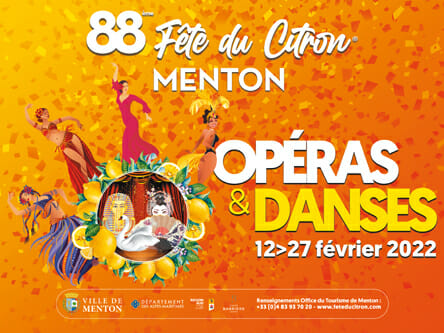 The Fête du Citron (Lemon Festival) From February 12 to 27, 2022
Theme of the 2022 edition: «Opéras et Danses»
The Fête du Citron (Lemon Festival), attracts more than 200,000 visitors every year. It's simply Citrus Disneyland. 
Be awed by the splendour and grandeur of a unique citrus show, featuring IMMENSE lemon and orange sculptures for its audience to admire.
For more than 15 days, go and enjoy the most zest-flavoured of Golden parades and Night-time parades (parades of citrus floats animated by groups of entertainers ), admire the Exhibition of citrus patterns in the gardens Biovès (by day and/or night with the Gardens of lights); not forgetting the opportunity to visit the Crafts Fair and the Festival of Orchids with unforgettable scents. Go and discover this fantasy world, and move to the rhythm of a simply unforgettable event.