88th Rallye Automobile Monte-Carlo
January 20, 2020

-

January 26, 2020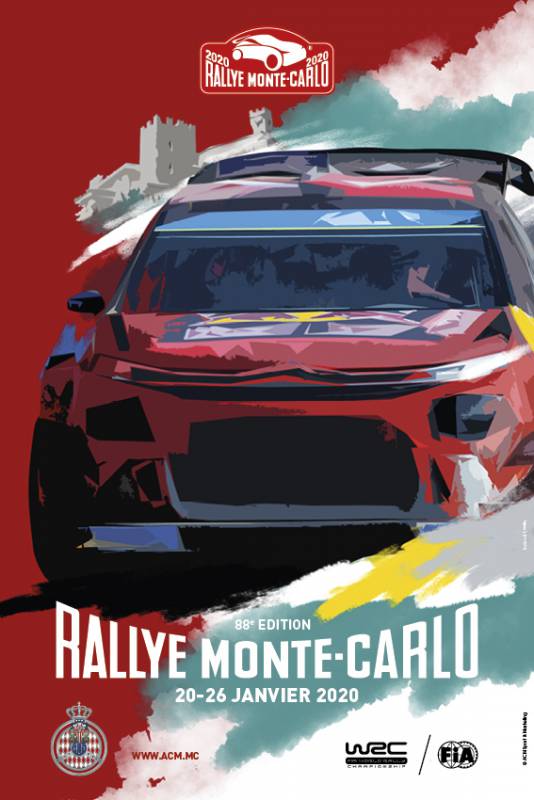 Tougher than winter!
88th Monte-Carlo Rally, the opening leg of the 2020 FIA World Rally Championship (WRC) from Monday 20 to Sunday 26 January 2020, Principality of Monaco.
The route for the 88th edition of Monte-Carlo Rally, the first date on the 2020 calendar of the FIA World Rally Championship (WRC), has been made more compact and even more selective by the Organizing Committee at Automobile Club de Monaco (ACM): compared to the 2019 edition, 25% of the route has changed, with several novelties and numerous difficulties…
After two and a half days of recce, from Monday January 20, to Wednesday January 22, all competitors cleared to race will be able to test in race conditions from 4 pm, during the Shakedown session (3.35 km). This will happen on the very same portion of road used since 2017, on the Route de la Garde in Gap, our partner host-city for the 7th consecutive year.
Nevertheless, the official start for the 88th Monte-Carlo Rally is scheduled for the next day, Thursday January 23, on Casino Square in Monaco, from 5 pm onwards. During the first nightly leg, a couple of interesting special stages, well known by the nostalgic fans, will be organized in the Alpes-de-Haute-Provence and Hautes-Alpes departments: Malijai – Puimichel (SS1 – 17.72km – 8:38 pm) will be followed by Bayons – Bréziers (SS2 – 25.49km – 10:26 pm), to real tests for all major WRC contenders.
The conclusion of the rally, on Sunday January 26, will be made of four special stages (63.98km) in the steep hills of Alpes-Maritimes, with no chance of going through a Service Park. So the crews will go twice through La Bollène-Vésubie / Peïra-Cava (SS 13/15 – 18.41km – 8:17 am / 10:55 am) and La Cabanette / Col de Braus (SS 14/16 – 13.58km – 9:08 am/12:18 pm which will be used as a Power Stage at the end of the second loop.
At 3 pm, all deserving crews will be honoured and rewarded at the Prize Giving Ceremony on Quai Albert 1er, as it was also the case in 2019.
Source: https://acm.mc