Comedy "The Pink Line" in Theatre des Muses
November 9

-

November 19

Free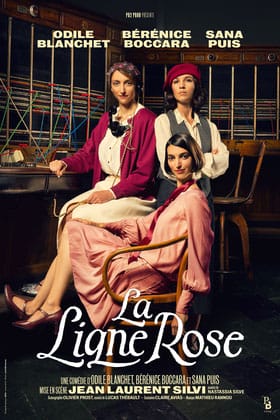 Comedy "The Pink Line"will be on stage of Theatre des Muses on Thursday 9, Friday 10 and Saturday 11 at 8:00 p.m., Sunday November 12 at 4:30 p.m., Thursday 16, Friday 17 and Saturday 18 at 8:00 p.m.,  and Sunday November 19 at 4:30 p.m.
Three young women launch, through a singular combination of circumstances, the pink telephone.
Old maids? Too little for Marthe, Denise and Jeanne who would prefer to play night owls and find true love.
In the Paris of the Roaring Twenties, here is the incredible story of three PTT operators who shake up the codes by creating a new kind of service: giving pleasure to men through the simple sound of their voices. But their innovative company finds itself at the heart of all desires, including those of an opportunistic gangster, overly curious colleagues, the moral police… Encouraged by women's social movements who then take their first step in a society naturally patriarchal, will they succeed?