"Monaco, 6 mai 1955. Histoire d'une rencontre" Exhibition at the Palace of Monaco
May 14, 2019

-

October 15, 2019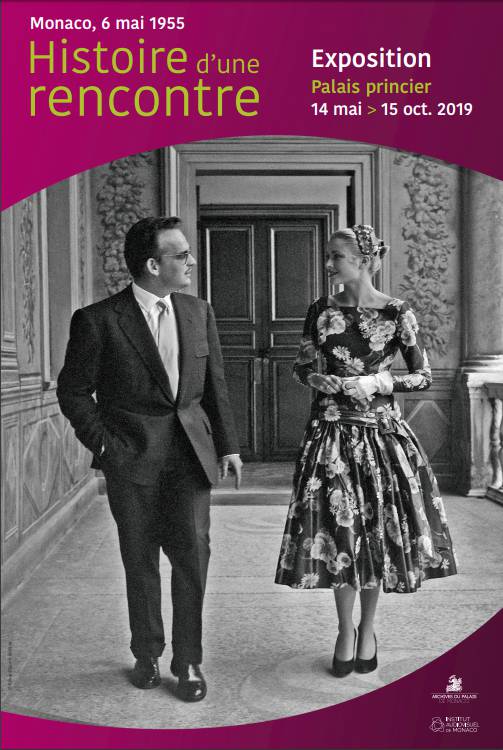 From 14 May to 15 October 2019, the Grands Appartements (State rooms) in the Palace of Monaco will host an exceptional exhibition, Monaco, 6 May 1955. The Story of a Meeting (Monaco, 6 mai 1955. Histoire d'une rencontre).
Organised by the Palace of Monaco Archive and the Audiovisual Institute of Monaco for the 90th anniversary of Grace Kelly's birth, this original new exhibition will place her first meeting with Prince Rainier III of Monaco in context and perspective.
After winning the Academy Award for Best Actress in March 1955 for her role in The Country Girl, Grace Kelly had been on the French Riviera the previous year to shoot Alfred Hitchcock's film To Catch a Thief, which features an unforgettable scene on the heights of the Principality.
As guest star at the 8th Cannes Film Festival, Grace Kelly agreed to change her schedule for a last-minute meeting with the Prince of Monaco on the afternoon of 6 May 1955. Organised by Pierre Galante, journalist with Paris Match, this meeting, which almost never happened, was immortalised by Michel Simon, photographer for the magazine, and the Irish photographer Edward Quinn, who had long been working on the Riviera.
The photographs by these two privileged witnesses will be displayed together for the very first time. Whether carefully posed or taken on the fly, these snapshots of different formats attest to the interest and high technical and artistic quality of press photographers' work.
Designed as a photographic tour through the Palace State rooms, this exhibition follows in Grace Kelly's footsteps in the very places where she met Prince Rainier, around  the dress she wore that day, along with personal items, letters, testimonials, newspaper clips and film excerpts. All this documentation shows how the reportage, which went virtually unnoticed at the time, became legend, with its memories and anecdotes.
Less than a year after this brief but decisive meeting, Prince Rainier III married Grace Patricia Kelly, on 18 and 19 April 1956 in Monaco.