Play for kids "Draw me a tree" in Theatre des Muses
November 15

-

November 19

€16,99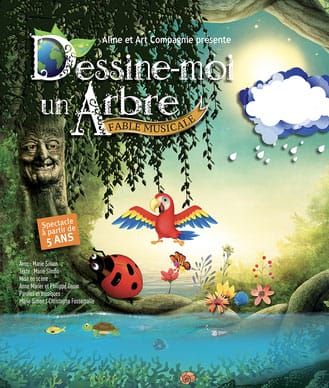 A play for kids "Draw me a tree" will be on stage of the Theatre des Muses on Wednesday, November 15 at 3:00 p.m., Saturday 18 at 2:30 and 4:30 p.m. and Sunday 19 at 11:00 a.m.
After the triumph of Alice in Wonderland, Marie Simon – who is its creator – returns with this musical and ecological fable.
Madame Saule is not well. The water circulating in its roots is no longer very good. It is by turning to her friends, Emi the rapping ladybug, Fertile Mister Earth and Renato the wacky bird, that she realizes that they also have some problems. What is going on ?
Our 4 friends will then set off to meet little humans to explain to them how to protect our planet and thus allow them to heal. This musical fable dedicated to children is a message of hope, a fun and interactive show, punctuated with eclectic songs.
Come and discover, thanks to friends of the forest, the mysteries and riches of the Earth and how to preserve it.