Salvador Dali in the Landscape of the Grimaldi Forum
May 9, 2019 @ 6:30 pm

-

8:00 pm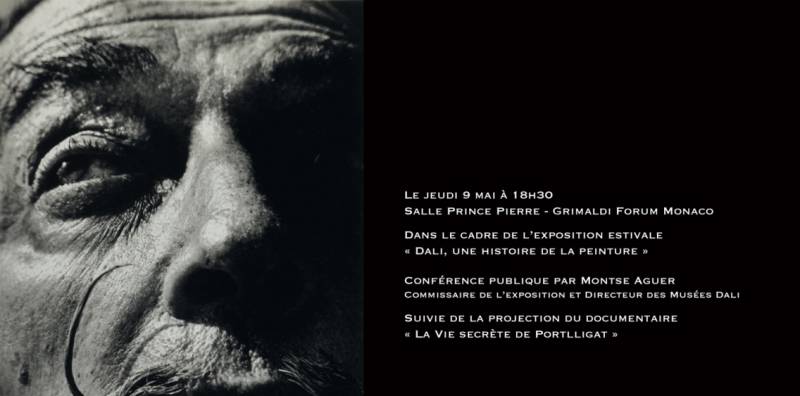 On May 9th, a special evening dedicated to one of the greatest artists of the twentieth century, a prelude to the big summer exhibition in Monaco
As part of the celebration of the 30th anniversary of the artist's death (1904-1989), the Grimaldi Forum Monaco is hosting a grand evening dedicated to Salvador Dali on Thursday May 9th, at 6:30 P.M. This evening, open to everyone, is sure to delight art lovers and, most of all, the devotees of the "revered giant."
To start, Montse Aguer, the Director of the Dali Museums and curator of the exhibition, will showcase the highlights of the Grimaldi Forum's summer event: "Dali, a History of Painting," which will open its doors from July 6th to September 8th, 2019. Through the presentation of some of the hundreds of works (paintings, drawings and photographs) exhibited this summer, the audience will be able to discover the various stages of the artist's creative process and recognize the imprint of the various painters who influenced him, and to whom Salvador Dali paid tribute. This unprecedented exhibition not only offers a retrospective view of Dali's work, but also reveals how the painter crafted his own place in the history of 20th century painting.
Thanks to the support of the Gala-Salvador Dali Foundation, next will come the screening of a 2017 documentary film directed by David Pujol and written by Montse Aguer. "The Secret Life of Portlligat" is a must-see documentary to understand the life and work of Salvador Dali, his house, his workshop and his surroundings. It received the Best Feature Film Award at the Fine Arts Film Festival (FAFF) in California.
Evening of May 9th, 2019 at 18:30. Open and free entry upon simple withdrawal of an entry ticket at the Grimaldi Forum box office, subject to available seating.
Reservations are also possible at +377 9999 3000 or ticket@grimaldiforum.com.