Show: Duel Reality
September 16

-

September 17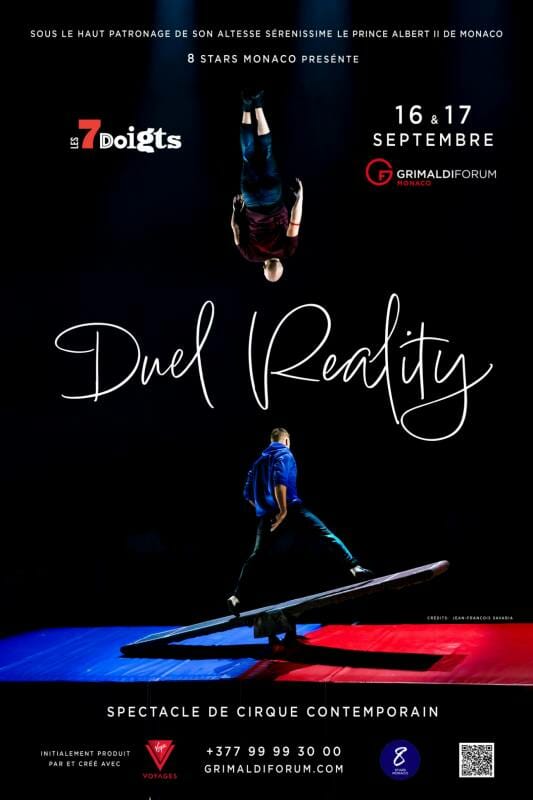 Show: Duel Reality – All's Fair in Love and War – by The 7 Fingers on Saturday 16 September at 8 pm and Sunday 17 September 2023 at 3 pm, in the Grimaldi Forum Monaco.
After the success of BOHEMIA and DELIRIOUS, this year's show is titled DUEL REALITY and will transform the prestigious Salle des Princes for two exceptional shows before launching a European and North American tour.
DUEL REALITY is a never seen before and captivating circus performance that tells the story of Romeo & Juliet in a unique way, by portraying two competing teams that will stop at nothing to come out on top. With breathtaking acrobatics and a modern twist on a classic tale, DUEL REALITY promises to be an unforgettable experience for audiences of all ages.
The show was originally produced and created by The 7 Fingers, the Canadian contemporary circus company, directed by Shana Carroll, in partnership with Virgin Voyages for the launch of Sir Richard Branson's cruise line.
In partnership with the Principality of Monaco's Department of National Education, Youth and Sport, and as part of its activities for the 2023 edition of the "International Children's Rights Day", 8 STARS Monaco will be commemorating the centenary of Prince Rainier III's birth by donating part of the proceeds to the Rainier III Preventorium in Madagascar.
Saturday September 16th – 8pm
Sunday September 17th – 3pm
Duration of the show: 75 minutes without intermission
Don't miss this captivating show that brings together romance, drama, and breathtaking acrobatics.