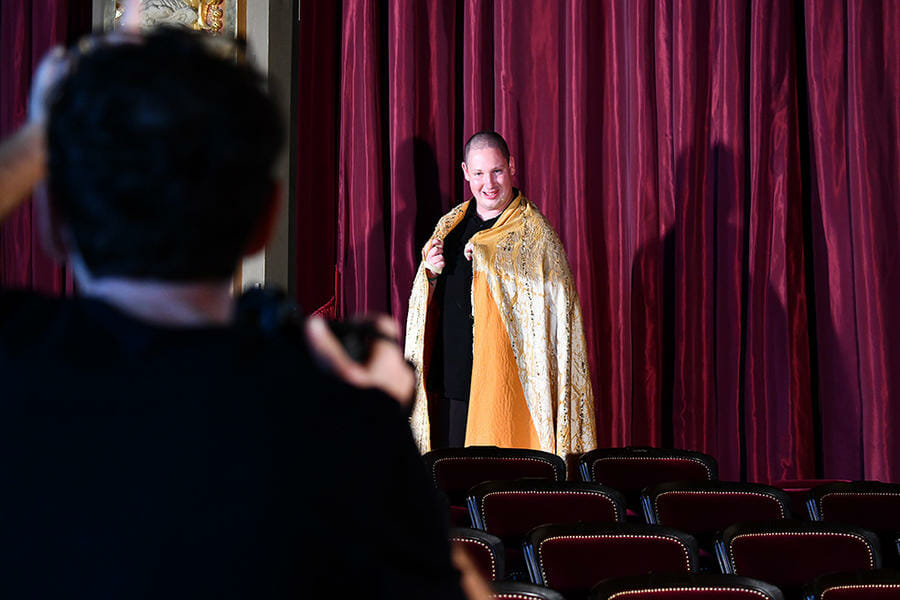 Since 2016, the New National Museum of Monaco has been collaborating with British artist Celia Pym on collections of stage costumes deposited at the museum by the Société des Bains de Mer.  This artistic project, entitled "The Wearing Sessions," is devoted to the most damaged costumes and fragments of fabric, which are not on the inventory, offering them a "last dance."
"Flying Gold Cape" consists of a series of performances based on a single artefact – a golden cape, embroidered with many sequins, which was initially created by the costume workshop of the Monte-Carlo Opera.  People in three different countries (Iceland, the United Kingdom and Monaco) are involved in this project.  The project offers people an opportunity to try on the cape and experience the feeling of being transformed by having contact with it, while enjoying the pleasure of handling an old garment without fear of damaging it, because it can always be repaired.
This afternoon, the beneficiaries of AMAPEI were able to wear the famous golden cape.  These "actors for a day" were filmed on stage at the Opéra Garnier and photographed.  Their poses gave new life to this artefact, which was restored by the artist herself, who is currently in residence in Monaco to undertake this project.
The resulting films and photographs will form a work by Celia Pym and will be kept at the NMNM.
Source: en.gouv.mc