Latest news
To spy or not to spy: utilities aboard a €65 million James-Bond-inspired superyacht and other yacht news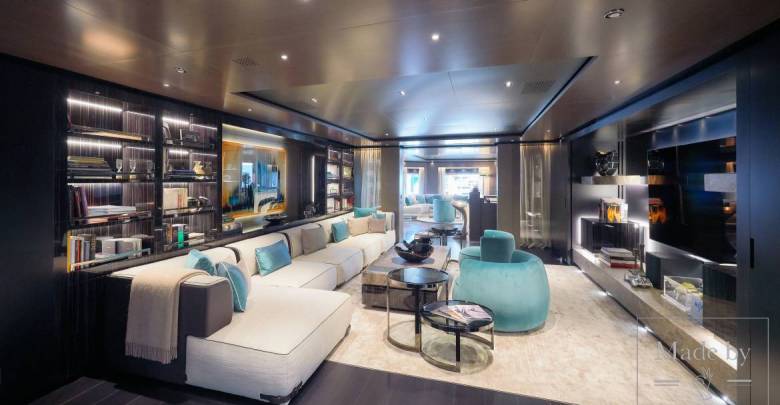 We selected for you top 5 yacht stories of the last week at Yacht Harbour.
To spy or not to spy: utilities aboard a €65 million James-Bond-inspired superyacht
Along with the recent press hype over the forthcoming episode of the James Bond film series, Italian Videoworks Group has revealed the technologies they deployed on-board a 69-metre James-Bond-inspired Benetti superyacht Spectre, delivered in 2018.
Even bearing her name after a James Bond film, the yacht represents a steel-hulled vessel with aluminium superstructure, pool and "touch ang go" helipad. Spectre features exterior design by Benetti, Mulder Design and Giorgio Cassetta, able to demonstrate a maximum speed of 21.2  knots.
The indoor design concept has been created by the Benetti Interior Style Department, while Videoworks has built a highly technological installation that comprises audio-video, network, telephony, home automation and CCTV systems. Below is more information on the yacht's amazing techno features.
The AV system is fully centralised, installed in a small dedicated rack room, with 7 full-height racks. Their super-customised frame has been specifically designed to fit into the available space (the cabins have only TVs, speakers and iPads).
A full-height rack is in the wheelhouse, whereas a small deck rack is dedicated to networking and communications.
Audio-video contents are transmitted via fibre-optics. In addition to the Kaleidescape film and music server, there is a server dedicated to the crew, who can access it via iPads. With the Kaleidescape provider, Videoworks has managed the pre-loading of approximately 1800 DVDs and Blu-ray discs (music and films), complete with covers, metadata, info on actors, trailers and special content. In this way Owners are guaranteed a customised service that is certainly convenient to use.
Every room in Spectre has its own HDMI socket near the TV, to display files from local sources. The skylounge hall in the upper deck has two TVs (with 75" and 49" screens) with independent audio systems, although they share the same group of sources. Everything is managed through a matrix that allows to configure the area with multiple combinations, depending on the purpose (party, show, institutional video + satellite channel, etc.). The Sea Tel 100 TV HD satellite dishes (SAT TV) can receive European and American HD channels. This kind of satellite dish works worldwide, which means there is no need for LNB replacement when changing hemisphere.
Internal and external LED lights are managed via Crestron keyboards and DALI protocol, with customised silk-screen printed buttons. Videoworks's sister company, Itworks, has created a customised software for light management, which allows to restore previously saved settings and to save the new configuration as setting, uploading it when requested. A 'secret' procedure, known only to the crew, allows to return to the original settings and to easily restore the system.
Owners can use an iPad to call staff from any part of the yacht; the call is received and displayed in the crew mess and in the pantry. The super-silent Lutron blinds can be controlled via Crestron touch-screen and iPad with customised silk-screen printed keyboards. NMEA navigation information (wind speed, direction, cruising speed, sea depth, etc.) can be viewed using the specific Myinfos App developed by Itworks.
Onboard network security (firewall, bandwidth manager, connection manager, etc.) is guaranteed by the Kerio NG500 system, which allows to surf securely while on board and to manage bandwidth as needed, e.g. if the Owner needs to work aboard, the system allows to limit bandwidth access and use. To guarantee the greatest security possible, the system uses Cisco products from the Catalyst and Aironet professional lines.
The closed circuit television system manages 10 cameras, two PTZ cameras (one interior and one exterior), a number of external fixed cameras and a 360° fisheye camera, two observation and management stations (one in the wheelhouse and one in the crew mess), through a dedicated Panasonic software and PC touch panel. The Network Disk Recorder allows the captain to make recordings for security, control and surveillance purposes. The CCTV system is integrated in the entertainment section through the Itworks 'Myinfos' app.
The yacht, which is a winner of the 2019 World Superyacht Awards category 'Displacement yachts between 500 and 1,999 tonnes,' was built for US entrepreneur John Staluppi (net worth $500 million, Celebrity Net Worth) with a passion for speed and technology in mind and as a part of his James-Bond inspired-fleet. Nevertheless, Staluppi sold Spectre in February 2019 asking €65,000,000.
$12 million futuristic superyacht Adastra now on sale
The 43-metre yacht Adastra, one of the world's most amazing superyachts thanks to her futuristic design, has been listed for sale. According to media sources, such as CNN Travel, the world's first luxury power trimaran of its size is owned by Hong-Kong-based billionaire and shipping tycoon Anto Marden.
This futuristic projectile was built by Australian McConaghyyard in Hong-Kong in 2012—at a reported cost exceeding $20 million, to cruise Indonesia and Southeast Asia. In the seven years since the launch, she has crossed the Atlantic several times, taking Marden and his wife around the globe. Her reported estimated price now might amount to $ 12,000,000, states Robb Report.
Designed by British studio Shuttleworth Design, Adastra was created with environmental impact in mind. Her aerodynamic wings help her float on the water, thus her drag is significantly reduced through only 20% of the vessel submerged in water. In light of this, the lightweight glass and carbon boat consumes only about 14% of the fuel used by more traditional yachts with the same specs. Before fuel and water, Adastra tips the scales at just 52 tonnes.
Hong Kong–based interior designers Jepsen Design developed the interiors for nine guests and six crew, offering five bedrooms, four bathrooms, and an open-air bar. One of her most innovative features is an option for remote control by an iPad from up to 164 feet away. Collecting several design awards, the yacht as also awarded Most Innovative Design at the World Superyacht Awards in 2013.
90m superyacht Voyager: the largest commercial ship converted in the USA
US yacht market player Voyager Maritime Alliance Group (VMAG), has announced the successful completion of the largest superyacht conversion on the territory of the USA. VMAG project managed a complex refit of a 90-metre commercial ship initially launched in 1997, to become a fully integrated ocean-going superyacht named Voyager.
The transformation work on the vessel began at Leevac Shipyards in Louisiana in 2015. Back then, Voyager was bought by Hornbeck Offshore, a company that provides logistics support and specialty services to the offshore oil and gas exploration and production, mainly in the USA. Then, a three-year conversion into an explorer yacht was ordered.
First works done on Voyager included the lengthening of the platform, redesigning the bow area, and adding several superstructure decks for a completely new look. Then, Voyager was towed to Fort Lauderdale's Dania Cut.
During completion works, the superyacht was impowered with the new generators and took a complete interior rejuvenation. Overall, the vessel now boasts six decks with a helipad, spa room, dive centre, and extensive storage for tenders and water toys.
Due to the complexity of the project, the delivery was postponed several times from December 2016. VMAG fitted the vessel with over 3,000 monitored points, a customised console with touch screen technology, multiple screens at the bridge enhancing view angles and displaying readability, integrated video switching that shows strategic areas of the vessel using laser detection sensors.
46m JinLong superyacht launched for Jackie Chan in China
Dutch yacht design and naval architecture company Jinlong has shared news on the launch of a 46.48-metre flagship superyacht of Chinese builder Jinlong. The vessel was designed for her owner, the martial arts movie star and producer Jackie Chan, who was also present at the ceremony.
The order on the new 46.5-metre vessel was signed in October 2017, with production taking place at Jinglong's Huludao Yacht Industry Park facility. Mulder design was responsible for both exteriors and interiors of the yacht, as well as her naval architecture.
Walt Disney's grand-nephew rescues competitors from sinking yacht in Transpac regatta
Roy Disney, the grandnephew Walt Disney, rescued the crew of a sinking yacht during the Transpac regatta. The boat of Roy Disney, Andrews 70 Pyewacket, which also took part in the regatta, picked up nine crew members from the sinking Santa Cruz 70 OEX boat, led by John Sangmeister.
The racing committee received SOS-signal from the OEX boat at around 2 am, on July 15, reporting that the yacht's rederpost was damaged and the vessel began to take on water.
An hour later, the OEX crew was picked up by its rivals on Roy Disney's yacht, with no one of 9 crews getting hurt. After that, Pyewacket with the rescued people on-board and its own crew of 10, including Roy Disney, returned to Los Angeles Marina del Rey, from where the Transpac race started.
With the reason of the steering axle' breakage still unknown, the OEX yacht eventually sank. meanwhile, her owner, John Sangmeister, is an experienced yachtsman that had won the Cup of America in 1986–1987. For Sangmeister this was the eighth Transpac race.
Transpac is a 2225-mile offshore race from Los Angeles to Honolulu. This year, the regatta has seen several more collisions, with Maserati trimaran Giovanni Soldini running into a huge underwater object. The crew, however, continued the race after stopping for repair.