Princely news
New Bike Jerseys for Prince's Carabinieri and other princely news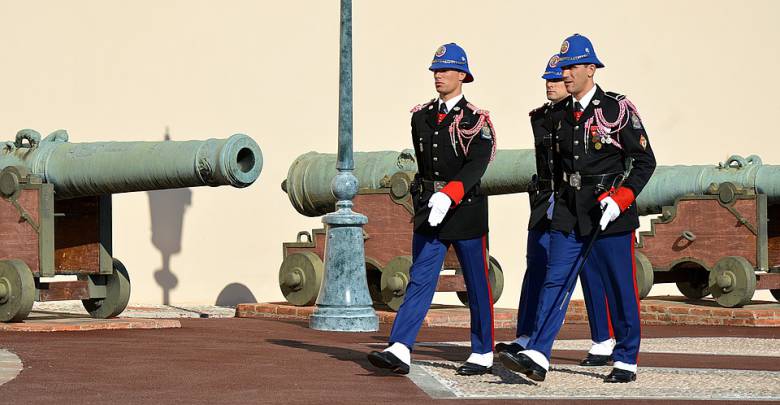 On 15 March, Prince Albert II and Princess Stephanie attended the presentation of the new Carabiniers du Prince cycling outfits, for the benefit of Fight Aids Monaco, at the Fairmont Hotel. The Highnesses also received their own personalized jerseys. Christian Prudhomme, director of the Tour de France, was also present for the unveiling and was happy to see that the carabinieri have chosen the bicycle as a pedalling force of a good cause. According to the director, champions are built through adversity, the same adversity that people with AIDS must overcome. The jerseys are currently available for purchase with 10% of the proceeds going to the association. 
One Year after Lockdown: Prince Albert's News Interview
One year ago, on 17 March 2020, Prince Albert II announced the implementation of a lockdown in the Principality to combat the COVID-19. One year later, the Sovereign Prince agreed to come back in front of news cameras to discuss how the Principality has been managing the unprecedented crisis. On Monaco Info, the Prince spoke about the pandemic's trying times, how he went through the illness, Monaco's future and Monaco's stimulus policy.
Princess Charlene attends King Goodwill Zwelithini Tribute
HSH Princess Charlene traveled to South Africa to attend the tribute to Goodwill Zuelithini, King of the Zulu Nation, who died at 72 after 50 years of reign. The commemorative ceremony took place on 18 March in Nongoma in the presence of South African President Cyril Ramaphosa and former South African President Jacob Zuma.
HSH Princess Charlene and HSH Prince Albert of Monaco announced via social media that they are saddened to hear of the passing of Zulu King Goodwill Zwelithini. Beyond the collaboration with the Princess Charlene of Monaco Foundation, King Zwelithini was a close personal friend of Princess Charlene, who shares South African heritage.
"King Zwelithini was an honourable man with a pure heart. We shared many special moments over the years which I will forever hold dear to me. I will miss my friend and pray that the Zulu Royal Family find solace and comfort during this time," said Princess Charlene.
Prince Albert celebrates St. Patrick's Day
On St. Patrick's Day, Prince Albert visited the Princess Grace Irish Library, located on the Rock. Students from the Prince Rainier III Academy of Music and Theatre performed a recital. Two harpists and two harpsichordists presented a program of traditional tunes and Irish pieces composed by Turlough O'Carolan. Comedians from the Monaco-Ireland Arts Society then performed a theatrical reading of a short story by Frank O'Connor. The afternoon ended with the presentation of an Irish cake decorated with a shamrock, created by students from the Lycée Technique & Hôtelier in Monaco.