Princely news
Prince Albert presented a donation check to Fight Aids Monaco and other princely news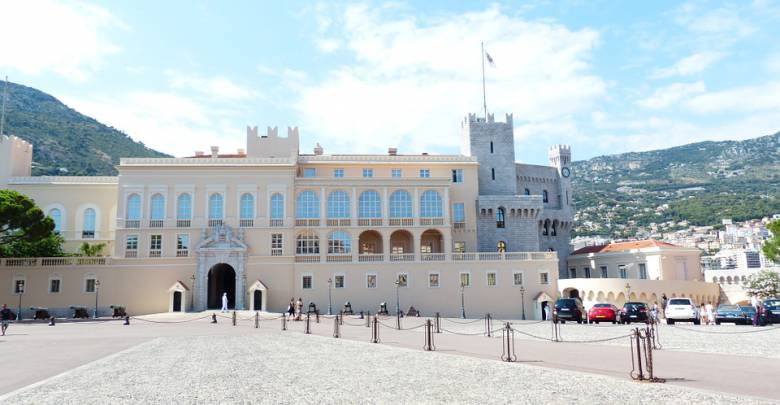 On Monday February 8, at the headquarters of the Monaco Red Cross, Prince Albert II, President of the Monaco Red Cross, presented a check for € 6,000 to Princess Stéphanie, President of Fight Aids Monaco. The check was donated within the scope of "A light for Christmas" donation campaign which was held from December 1, 2020 to January 31, 2021 by a solidarity operation between the Monaco Red Cross and Fight Aids Monaco in partnership with the Monaco City Hall. (source: www.newmyroyals.com)
Prince Albert and Princess Charlene attended the presentation of the Monaco Sevens 2021
On Tuesday, February 9, 2021, HSH Prince Albert and Princess Charlene attended the official presentation of the Monaco Sevens 2021 rugby tournament at the Yacht Club de Monaco. The virtual kick-off was given by rugby player Mathieu Bastareaud, French international and ambassador of the official presentation, after a pass of the ball between H.S.H. Princess Charlene and H.S.H. Prince Albert.
This men's and women's Olympic rugby sevens qualifying tournament for the Tokyo Olympic Games will see 24 teams compete on June 19 and 20, 2021 at the Stade Louis II in the Principality of Monaco. This event is organized by the Monegasque Rugby Federation, with the support of the Government of Monaco and institutional partners. The top two women's teams and the best men's team will be able to participate in the Olympic Games this summer in Japan.
Simultaneously, on 19th June 2021, the Sainte-Dévote U-12 rugby tournament will take place, organized by the Monegasque Rugby Federation with the support of the Princess Charlene of Monaco Foundation. The Monaco Sevens 2021 draw will be held in the Principality at the end of April. (source: Fondation Princesse Charlène)
"Grace Forever"
Installed in the hall of the Maternity Tower of the Princess Grace Hospital Center since December 22, "Grace Forever", a work by the Brazilian artist, Marcos Marin, was inaugurated today by H.S.H. the Sovereign Prince of Monaco Albert II in the presence of Didier Gamerdinger,  Government Counselor – Minister of Social Affairs and Health, André Garino, President of the Board of Directors of the CHPG, Benoîte de Sevelinges, Director of the CHPG as well as the artist, Luciana de Montigny, the President of the association "Brasil Monaco Project" and the representative of the patron – Ricardo de Caria.
This fine art portrait of Princess Grace is a large format painting that Marcos Marin, a great friend of the Principality, had long wanted to give to the CHPG. It was produced as part of the Grace Forever Project led by the artist and Luciana de Montigny.