10th International Monaco and the Mediterranean Meeting (RIMM)
March 12, 2020 @ 10:00 am

-

March 13, 2020 @ 5:00 pm

Free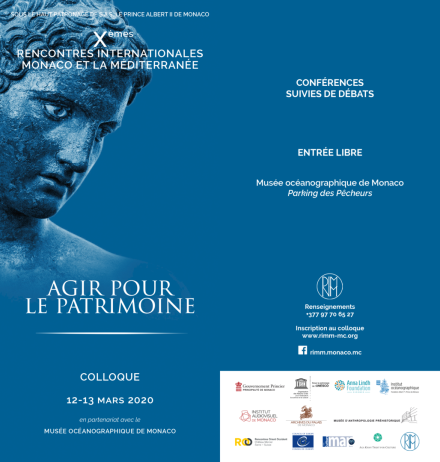 10th International Monaco and the Mediterranean Meeting (RIMM) organised by the Association Monégasque pour la Connaissance des Arts (Monegasque Association for the Appreciation of the Arts) on the theme "Taking Action for Heritage" on Thursday 12 and Friday 13 March 2020, from 10 am to 5 pm Musée océanographique de Monaco.
This symposium at the Oceanographic Museum will bring together historians, philosophers, and archaeologists, along with architects, politicians and personalities, to talk about their work on the ground and their latest achievements in terms of conservation, reconstruction and rehabilitation.
Open to the public, this biennial event brings together experts from all sorts of backgrounds, to consider the major contemporary issues affecting the Mediterranean region, and to propose potential solutions. Over the years, a number of important topics have been covered during the symposium, including the towns and cities of the Mediterranean, archaeological sites, and fresh water, the latter being devoted to artists and intellectuals.
This year, Prince Albert II, the High Patron of the symposium, will officially open the event and present the RIMM 2020 award. Audrey Azoulay, Director General of Unesco, and Xavier Darcos, Chancellor of the Institut de France and former Education Minister, will give the inaugural speeches, while the sympiosium wil be presented by Mounir Bouchenaki, Honrary President of the RIMM and former Assistant Director General for Culture at Unesco.