2e UPAW – Urban Painting Around the World
July 18, 2018

-

July 20, 2018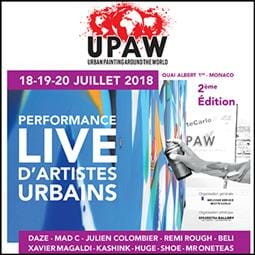 2nd UPAW (Urban Painting Around the World) – Urban Artists' Live performance organized by Welcome Service Monte-Carlo and Speerstra Gallery will take place on Wednesday 18, Thursday 19 and Friday 20 July 2018, on Quai Albert I.
The pop-up UPAW artistic performance – Urban Painting Around the World – is the highlight of summer 2018 in Monaco.  Each UPAW event takes a different artistic approach.
The artists will depict their artistic world on the chosen theme, in aid of a charitable association. They will be able to create a large work several smaller works.  The paintings will be created with paints that are not harmful to Man or Nature.
When the paintings are completed, they will all form an open-air pop-up museum.
Afterwards, the Artcurial auction house will be responsible for presenting and selling the artists' work.
Further Information: +33 (0)679284888