6th Monte-Carlo E-Rally
October 26, 2022

-

October 31, 2022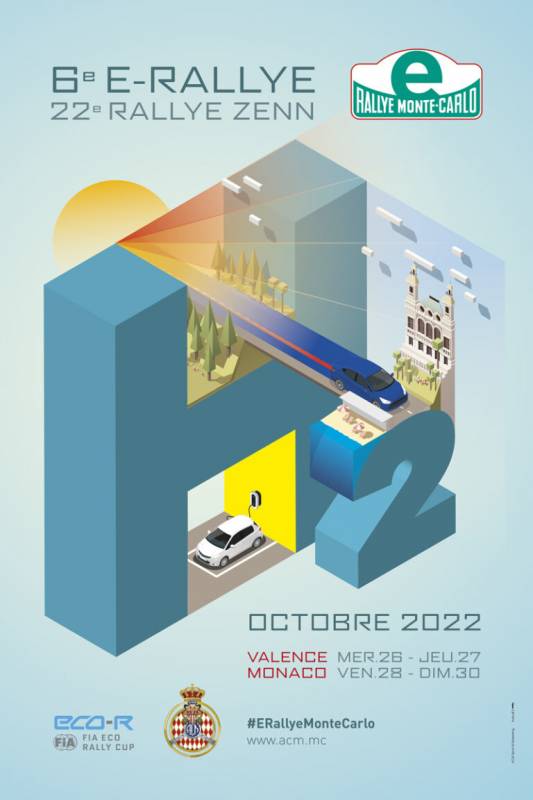 6th Monte-Carlo E-Rally / 22nd Monte-Carlo ZENN Rally / Zero Emissions No Noise – Since being renamed in 2016, following on from the Monte-Carlo Electric Vehicle Rally (1995 to 1999), the Monte-Carlo Fuel Cell & Hybrids Rally (2005, 2006), the Monte-Carlo Alternative Energy Vehicles Rally (2007 to 2011), and the Monte-Carlo New Energies Rally / Monte-Carlo ZENN Rally (2012 to 2015), this 6th edition of the Monte-Carlo E-Rally is an official stage of the 2022 FIA ecoRally Cup from Wednesday 26 to Sunday 30 October 2022, Valencia (26) and the Principality of Monaco.
This 2022 edition of the 100% electric & hydrogen version of Rally Monte-Carlo makes another step forward by adopting a new philosophy with regards to power charging points. So that a strong recommendation of the Organizing Committee is validated: nightly charging parks are replaced by daily mobile charging points.
The « Great Start » will be given this year from Valence, the emblematic city in the Drôme department and long-time partner of Automobile Club de Monaco over the past few years. The meeting point is set for Wednesday October 26 at 2 pm on the Champ de Mars Esplanade.
Destination Ardèche for the 2nd leg and heading for Privas, the prefecture of the department, on Thursday October 27. 
The next day, Friday October 28, the 3rd leg will be 500-km long heading South to  Monte-Carlo and will probably be a memorable one with four regularity stages on the menu.
The 4th and last leg, on Saturday October 29, will have a definite WRC tone, with a series of former traditional stages of Rally Monte-Carlo, in the departments of Alpes-de-Haute-Provence and Alpes-Maritimes, including famous passes such as Col de Bleine as a conclusion.