BIG ART FESTIVAL: Gala Evening with Valery Meladze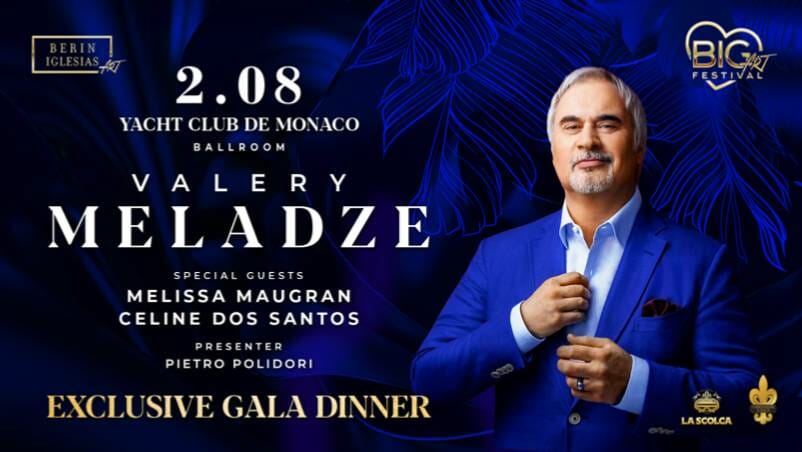 On August 2, the Yacht Club of Monaco will host a unique gala evening with the participation of Valery Meladze. The BIG ART FESTIVAL in the principality became a tradition gathering people from all around the world every year!
BIG ART FESTIVAL is a special phenomenon, an exclusive and unmatched format of events. Red carpet, diamonds' shine, celebrities and leading business figures. Events organized by BERIN IGLESIAS ART are often covered in major international glossy magazines.
Top artists and musicians from different countries are the star participants of the BIG ART FESTIVAL: Andrea Bocelli, Nicole Scherzinger, Seal, Jamie Cullum, HAUSER, Andrea Griminelli and others performed many times on the stage of summer BIG ART festivals.
A special highlight of the festival is the haute cuisine menu. The best chefs of top hotels offer the guests delicacies that could delight even most discerning gourmets.. Black caviar, champagne, lobsters – gastronomic delights and impressions are an indispensable part of every BIG ART FESTIVAL gala night. The red carpet is another beautiful festival tradition.
Here, in an atmosphere of prestige and exclusivity, a unique live concert of the main romantic of the stage, Valery Meladze, will take the stage. Valery Meladze is a mega-popular singer whose work wins the hearts of millions of fans. His lyrical ballads and incendiary hits are familiar to everyone, his charisma and vocal temperament are recognizable from the first notes, his performances always give the audience incredible impressions and amazing emotions.