Evening open air screening of Jodorowsky's Dune
July 22, 2021 @ 9:00 pm

-

11:00 pm

Free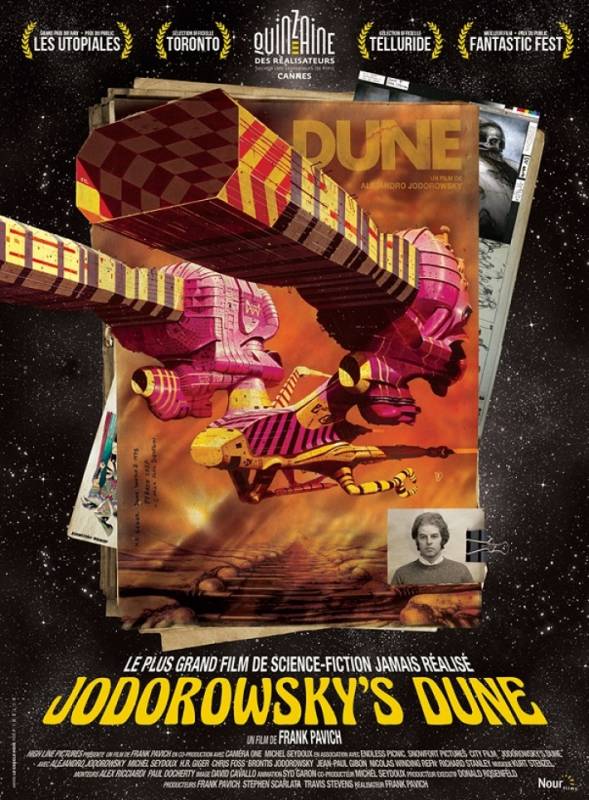 Evening open air screening of Jodorowsky's Dune, 2013 by Frank Pavich on Thursday July 22, at 9 p.m. at NMNM, Villa Paloma. Free admission.
Documentary, Science fiction
Released in 1965, Frank Herbert's book Dune was a worldwide hit and became the world's best-selling science fiction book. In 1975, the French producer Michel Seydoux offered Alejandro Jodorowsky a very ambitious adaptation of Dune, at the cinema. The latter, already director of the cult films El Topo and The Sacred Mountain, accepts.
He then brought together his artistic "warriors", including Jean (Moebius) Giraud, Dan O'Bannon, Hans-Ruedi Giger and Chris Foss who were to be part of all the science fiction cinematographic adventures of the turn of the century (Star Wars, Alien , Blade Runner, Total Recal etc.). The cast brings together Mick Jagger, Orson Welles, Salvador Dali, David Carradine or Amanda Lear, but also his young son Brontis Jodorowsky, Pink Floyd and Magma agree to sign the music for the film… The production team is looking for $ 5 million to finalize the budget and comes up against the fear of Hollywood studios who fear Jodorowsky's temperament …
Jodorowsky's Dune retraces the extraordinary epic of this ghost film which was to be "the greatest film in the history of cinema" and forever change the face of cinema.