Exhibition of "75 years of Porsche sports cars" at the Car Collection of H.S.H. the Prince of Monaco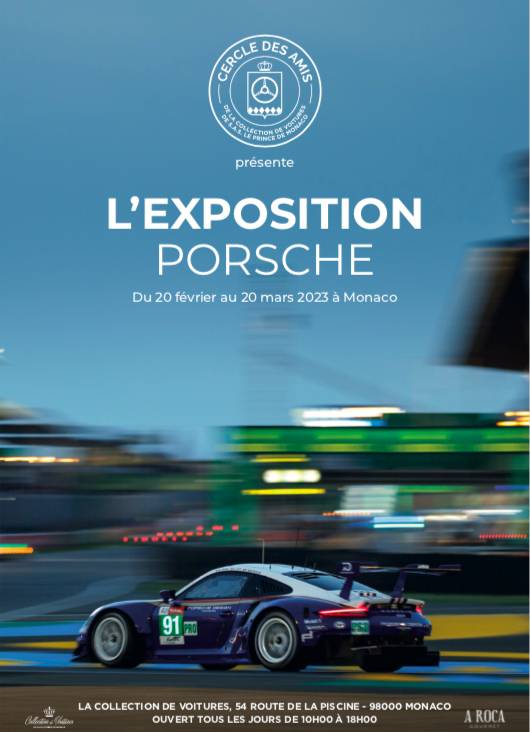 The "Cercle des Amis de la Collection de Voitures de S.A.S. le Prince de Monaco" is organising a unique exhibition of vehicles from the German sports car manufacturer Porsche, which is celebrating its 75th anniversary this year, from 20 February to 20 March 2023.
Founded in 1931 under the name "Dr. Ing. h.c. F. Porsche G.m.b.H., Konstruktionen und Beratung für Motoren und Fahrzeuge", the Stuttgart-based engineering office has become a cradle of automotive technology and has shaped international series and racing car construction for decades with its numerous innovations. In 1948, Ferry Porsche realised his dream of a sports car: with his team, he built the Porsche 356 'No. 1' Roadster. It marked the birth of this legendary brand and laid the foundation for an exemplary success story, for the Porsche legend.
The model which followed the 356, the Porsche 911, established the company as one of the world's leading sports car manufacturers. The Porsche 911, now in its eighth generation, has been constantly refined, with more than one million of this iconic car produced to date.
Porsche's spirit of innovation is closely linked to motor sport. As early as 1951, the young brand achieved its first class victory at Le Mans with the 356 SL. To this day, Porsche holds the record of 110 class and 19 overall victories in the Sarthe.
At this exceptional exhibition, the public will be able to discover twelve of Porsche's most legendary racing and sports cars in the new location of the Car Collection, which was inaugurated just a few months ago on the Port Hercule. Some of the cars are on loan from the department Porsche Heritage and Museum in Stuttgart. Among them, three famous types of the 911 and a 908 "long tail" will be accompanied by the 917 and 962 C models that won the 24 Hours of Le Mans, as well as the beautiful 911 GT1 in the colours of Champion Racing, which won the US championship in 1998. Another 908 "short tail" model from 1969 belonging to the Prince's collection will also be on display. This competition car was driven by Hans Herrmann and Kurt Ahrens in the 1968 Austrian Grand Prix.