The Evening Visitors
September 23, 2022

-

September 26, 2022

Free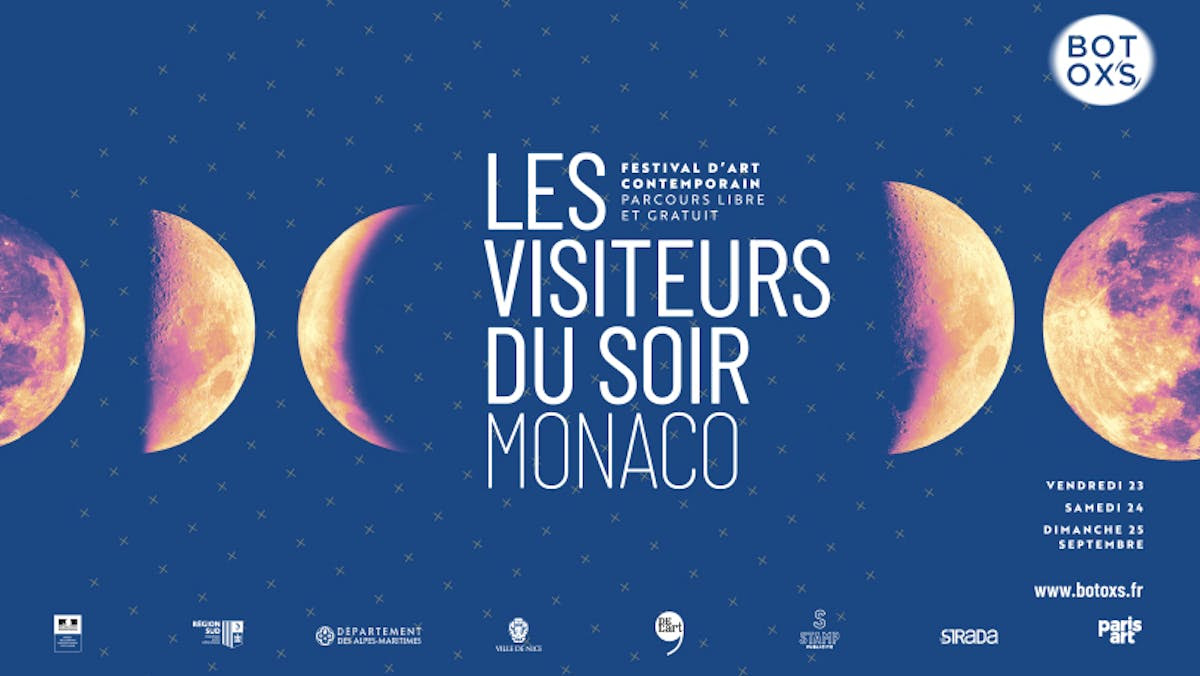 The Evening Visitors, organized by BOTOX(S), the Alpes & Riviera contemporary art network, have become a festival on September 23-25, 2022 in Monaco.
We look forward on the weekend of September 23 to 25, 2022 to discover Monaco's unmissable contemporary art venues.
Guided tours, openings, performances and meetings with artists are scheduled throughout the Principality. For 3 days, stroll for free and without registration, selected ten places in the Principality, some of which are exceptionally open at night!
Friday, September 23:
1. Pavillon Bosio – Superior School of Plastic Arts of Monaco
1 Avenue des Pins
Friday 5:30 p.m.: Opening of the "Garden Club #1" exhibition.
Opening time :
Friday 5:30-7:30 p.m., Saturday and Sunday 10:30-5 p.m.
2. NMNM – Villa Paloma
56 Boulevard of the Exotic Garden
Friday, from 7 p.m. to 9 p.m.: Free admission to the exhibition Christian Bérard, Eccentric Baby
Friday 7:30 p.m.: Public meeting between the artist Laure Prouvost & the author Mathilde Roman
Wine & Food truck "Le Raisin de Vivre"
Opening hours: Friday 10am-9pm, Saturday and Sunday 10am-7pm
Saturday September 24:
3. NM Contemporary
17 rue de la Turbie
Exhibition "Paolo Masi. The sign and the color"
Saturday 3 p.m.-7 p.m.: Guided tour
Opening hours: Friday 10 a.m.-12.30 p.m., 3 p.m.-6 p.m., Saturday 3 p.m.-7 p.m.
Close on Sunday
4. My Art Goes Boom
27 rue de Millo
Collective exhibition proposed by Joris Brantuas
With Jérémie Blanes, Théo Bonnet, Joris Brantuas, Loredana Denicola, Julia Maria López, Damien Ruvet, Francesca Sand, Dave Van Dorst, Carolina Zaccaro, Elisabette Zelaya
Saturday 5 p.m. and 10 p.m.: Performative reading * Micro Sausage * and hot-dog tasting
Opening hours: Friday 5pm-9.30pm, Saturday 3pm-11pm, Sunday 10am-7pm.
5. Hauser & Wirth
One Monte Carlo – Place du Casino
Exhibition "SWEET IS THE SWAMP WITH ITS SECRETS" by Roni Horn
Saturday 6 p.m.: Guided tour of the exhibition and cocktail
Opening hours: Friday 10am-6pm, Saturday 10am-8pm.
Close on Sunday.
6. The Logoscope
2 Place de la Crémaillère – Beausoleil
Research and creation laboratory
Ceramics and Transversal Practices
Visit of workshops, guinguette and exhibition of 10 artists:
Caroline Andrin and Etienne Fleury, Jossia Clément, Collectif non surtaxé, Yannick Cosso, Asier Edeso, Loeky Firet, Mimoza Koïke, Ilia Osokin, JP Racca Vammerisse, Agnès Roux.
Saturday 8 p.m.: visit followed by a culinary tasting.
Opening hours: Friday 5pm-11pm, Saturday 3pm-11pm, Sunday 10am-7pm.
7. Artcurial
Monte-Carlo Palace – 3/9 boulevard des Moulins
"Generation 21 by Artcurial"
Opening hours: Friday and Saturday 10 a.m.-1 p.m., 3 p.m.-7 p.m.
Close on Sunday.
8. NMNM – Villa Sauber
17 avenue Princess Grace
"Newton, Riviera" exhibition
Opening hours: 10am-7pm
Sunday September 25:
Places open on Sunday: Pavillon Bosio, NMNM – Villa Paloma, NMNM – Villa Sauber, My Art Goes Boom, Le Logoscope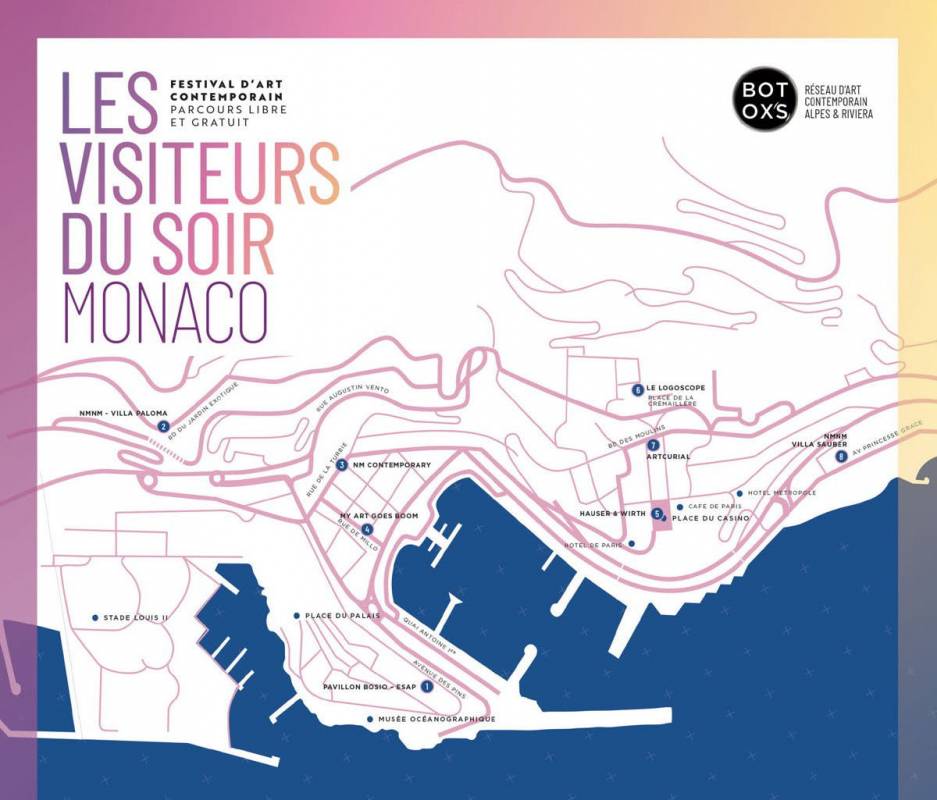 European Heritage Days in Monaco