The Grand Ball of Monte-Carlo in Burj Al Arab Jumeirah
March 17 @ 7:45 pm

-

March 18 @ 4:00 am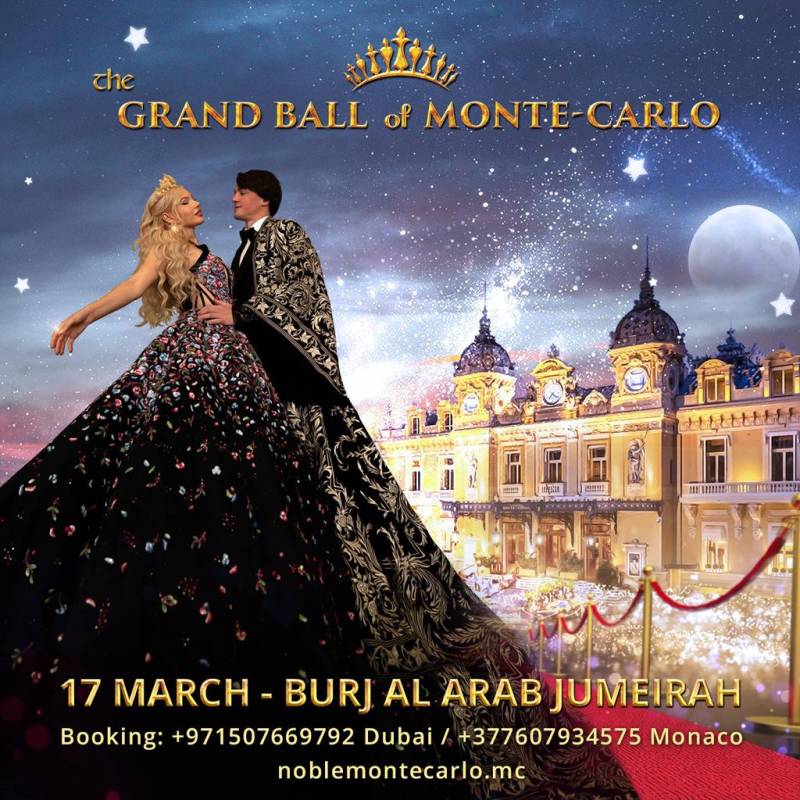 Dubai's most iconic venue and global icon of Arabian luxury, Burj Al Arab hosts the biggest event of the season, the Grand Ball of Monte-Carlo, on 17 March 2023.
One of the most anticipated events of Dubai season will unveil its magical charm on March 17th 2023. The incredible atmosphere of this luxurious event with a magnificent shows performed by international dancers, artists, singers, ballet stars and musicians is an opportunity to personally meet members of royal families, famous designers and stars of the big screen. From the stage through the ball, everything will resonate perfectly with the magnificent atmosphere. Guests will be part of an amazing story in the heart of Dubai thanks to the strict dress code: Ladies are required to dress up in fairy dresses such as Ball gowns while Gentleman can suit up in ceremony military uniforms and white tie.
Set to the princes and princesses' theme, a fairy tale happening is about to take place in Dubai, inspired by the charm of Monte-Carlo. The glamor of the sumptuous event will create an evening that will never be equalled again! A luxurious great ball will take place in Burj Al Arab, the jewel of Jumeirah.
The glamorous event is to be held in the striking Al Falak Ballroom, that is inspired by the grand decor of an 18th-century Viennese opera house. L'objective is to transform Burj Al Arab for one night, by creating a royal atmosphere, in which participants, with the soul of princes and princesses, deviate joyfully from everyday life, to enter the fantasies of fables and mystical dreams. The Gala will inspire guests to immerse themselves in the wonders before their eyes, celebrating the sumptuous life in the heart of Dubai. Princes and princesses from across the world will take part in a never-seen-before celebration of glamour and beauty. Grandiosity will be at its peak with the exclusive list of distinguished guests. Charming love, music, art, distinction, beauty and magic will reunite for a royal event.
Delia Grace Noble, opera singer and UNICEF Ambassador, is the artistic director of this project. Together with her team, she strives to turn the most magical creative fantasies into reality, thereby providing unforgettable emotions to the guests.
An event that promises to be iconic and timeless, The Grand Ball of Monte-Carlo is part of a big show. Wonderful artists, singers and dancers will win the hearts of guests. The evening will take guests to a fantastic world where fiction becomes reality.
Highlights of the happening are: exclusive artistic welcome, performance of international singers, live musical entertainment, ballet, performances, dance show, exclusive awards, live DJ set, glamorous late-night dancing and more.
Starting 7:45pm – Welcome on the red carpet
8pm – Reception around the princely thematic animation
8:15pm – Welcome cocktail on the theme of "Midsummer Night's Dream"
9:00pm – Opening of the Great Dance Ball
9:15pm – Gala Dinner
From 9:30pm – Artistic shows throughout evening (singers, dancers, performers)
About Midnight – The Ball
From 00:30am – Special dance set by the resident of Buddha Bar Monte-Carlo
2am – After party celebration