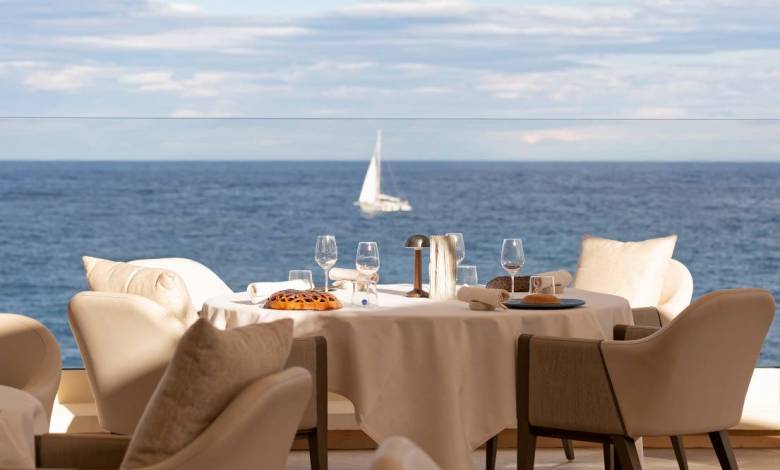 L'Hirondelle: Paradise for Adherents of Healthy Lifestyle
L'Hirondelle offers healthy and flavourful cuisine from a talented chef inspired by the Mediterranean. It is an exceptional place where gastronomy goes hand in hand with nutrition, offering delicious, balanced and immaculately prepared dishes that are aimed to be beneficial for one's health.
Nestled in the heart of Monaco at the Thermes Marins Monte Carlo, L'Hirondelle has a superb terrace which overlooks the sea and has a breath-taking panoramic view of Port Hercule and the Rock of Monaco (Monaco-Ville where the Prince's palace is located). From this vantage point, diners can enjoy the sensational scenery of the Principality of Monaco.
The light and tasteful Mediterranean menus brilliantly combine gastronomy and nutrition thanks to Chef Jean-Laurent Basile. Trained at Lycée Hôtelier de Bonneveine in Marseille, our chef Jean-Laurent Basile is a true ally of the region.
Interestingly the restaurant also offers gluten-free, vegetarian, detoxifying, sauce-free or sugar-free dishes. This modern and health-conscious culinary experience widely appeals to their regular business clientele.
After spending time in Paris, he decided to pursue his passion in Provence-Alpes-Côte d'Azur. He is now at the restaurant L'Hirondelle, where he crafts a cuisine that mixes tradition, creativity and wellness. A lover of his region, Jean-Laurent Basile enjoys adding variety to his dishes by using seasonal local products.
A Broad Choice of Vegan and Vegetarian Options
He concocts 3 menus that change daily and feature light, flavourful dishes dedicated to well-being, veganism and vegetarianism. Assisted by a young, energetic team and keeping your health in mind, the chef will astound you with his gourmet, healthy recipes. If nutritional cuisine is a priority for you then one of Monaco's best kept secrets, the Restaurant L'Hirondelle will definitely amaze you. The team of the Chef elaborates the menus in close collaboration with Véronique Liesse, nutritionist and micro nutritionist of Thermes Marins Monte-Carlo.
"The views, the atmosphere and the beauty surrounding this restaurant make it one of the most special and health-conscious dining locations in Monaco." – Bradley Mitton
The idyllic sun-filled setting is perfect for a delicious gourmet lunch that exudes wellness. The terrace and the restaurant are available for private venue hire and ideal for organising unforgettable private events.
The restaurant "L'Hirondelle" welcomes you:
from 12 to 3 pm, Monday to Thursday
from 12 to 3:30 pm, Friday to Sunday and bank holidays.