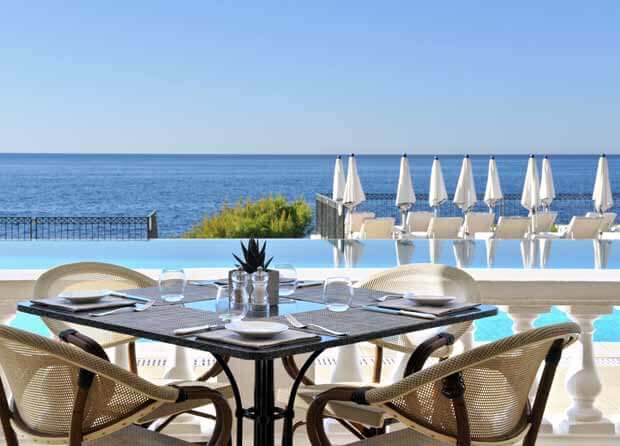 The Chic and the Shock at the Club Dauphin
Saint-Jean-Cap-Ferrat
A lunch, feet in the water, at the edge of a most legendary of the Riviera swimming pools. Thanks to a happy visual effect you have an impression of being at sea. These are among the exceptional moments that the Club Dauphin's pool-side Grill, at Saint-Jean-Cap-Ferrat, offers to its clients.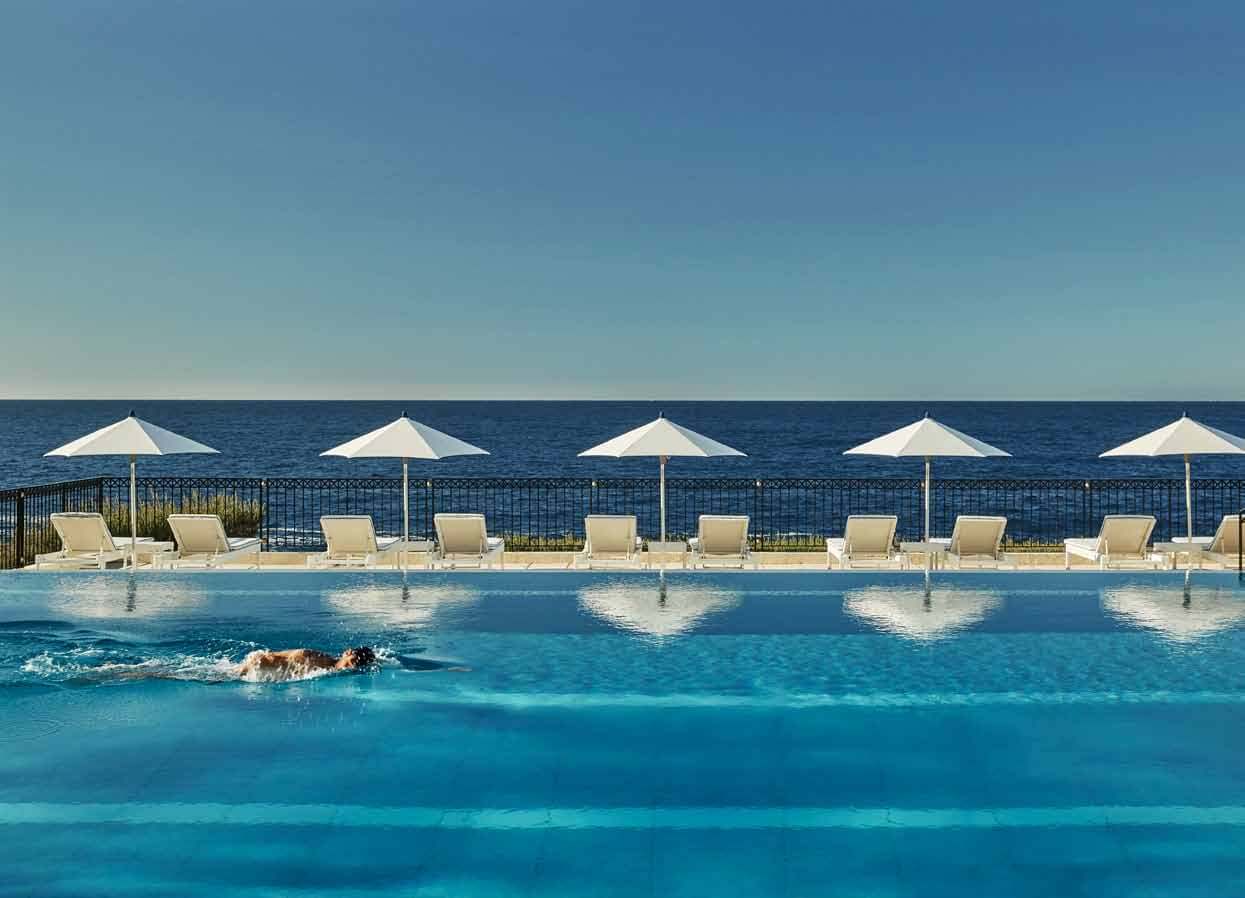 The chic and shock restaurant is a wonderful summer dining place for the guests of the legendary Côte d'Azur Grand Hôtel, but also for all the gourmets eager to taste refined dishes in a soft and bright setting. This is a small paradise clinging to a cliff where time seems suspended.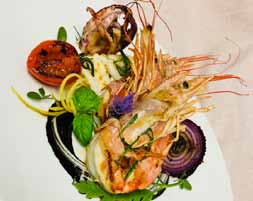 A dip in the Olympic seawater pool awakens your taste-buds. It is a happy parenthesis of wellbeing before embarking on yet another gastronomic journey. Start with a «frosé», the magnificent signature cocktail of the Club Dauphin that titillates your palate. It is a delicious subtle blend of rosé, fruit juice, crushed ice, enriched with a hint of Cointreau.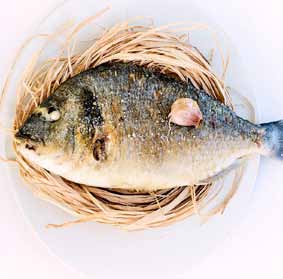 The Mediterranean flavours perfume the iodized air. There is a selection of young local vegetables, freshly caught fish and meats competing for stardom on the plate. Healthy dishes, in perfect harmony with enchanting surroundings. Some Asian notes complete this very versatile menu where you can also find vegetarian dishes such as Buddha Bowl Vegan or a vegan burger with tofu and spinach.
All these pleasures combined, you get the impression of being in paradise, out of this world, on another planet even.
Club Dauphin
71 Bd du Général de Gaulle, Saint-Jean-Cap-Ferrat
+33(0)4 9376 5021
Neapolitan specialties at Casarella
Roquebrune Village
Right over the Mediterranean, with Cap Martin and the Principality of Monaco in the background … The Casarella in the heart of a medieval village of Roquebrune offers this truly exceptional panorama. A small terrace, made comfortably private with a curtain, lets you enjoy this idyllic setting in complete discretion. For private dinners with a homely feel, it is perfect. Just around the corner, you can see the contours of a castle dominating your view in that direction — nothing but exceptional views from this local cosy restaurant.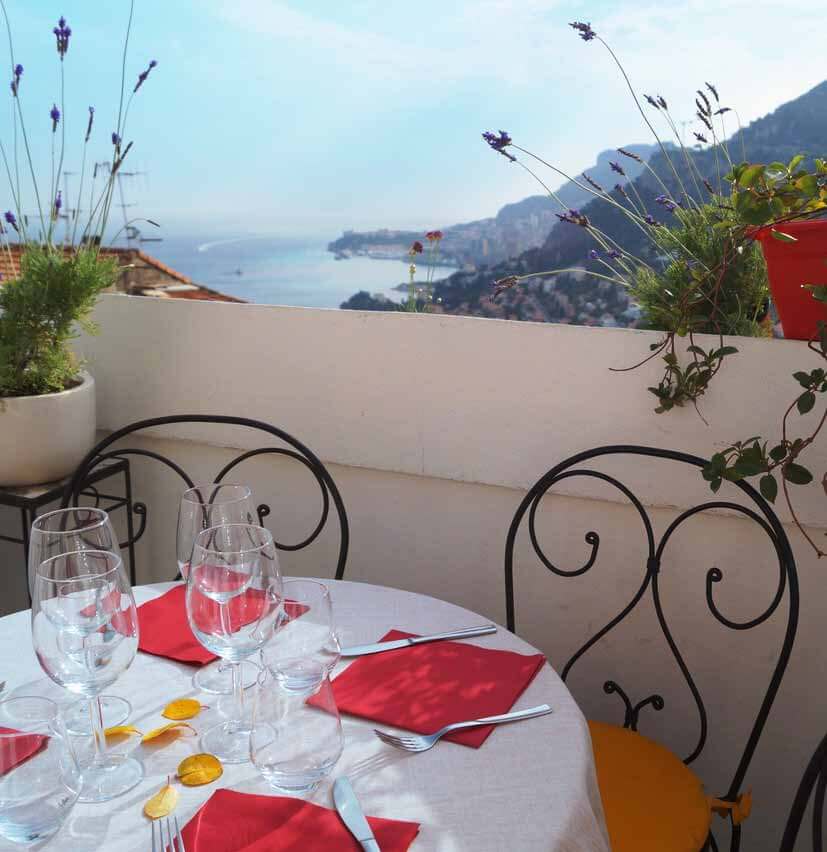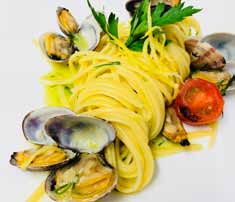 The plate full of flavors and colours of southern Italy is a blessing in itself. Rosario, their enthusiastic chef, takes you on a walk along the roads of Campania, from the iconic gray cone of Vesuvius to the Bay of Naples hemmed in by its crystalline waters. It is a symphony of clam pasta, anchovy fillets or seafood; schnitzel in white wine, grilled prawns or seabass Mediterranean-style… Fresh products are selected with the utmost care by Rosario who favours local and Italian producers and offers a simple yet refined cuisine, family-like but not devoid of invention. It is the best of Italy with a warm and friendly welcome.
Casarella
15 Rue Grimaldi, Roquebrune Village
+33(0)4 9335 0357 
Convivial, unique and cosy… Make a «DifferAnce»!
Roquebrune-Cap-Martin
No doubt, this place is one of a kind. Hung above the rocks, framed by the Principality of Monaco to the west and Cap Martin to the east, La DifferAnce definitely has its style. Warm, affectionate and bright.
This restaurant welcomes both local and international celebrities, but the guests only give their first names when booking. This is to preserve their anonymity, but also to avoid special privileges. Whether you are a VIP or a person like any other, you will be served in the same way! And, to be seated to enjoy the most beautiful panorama of the sea, do book in advance as the house is full most of the time.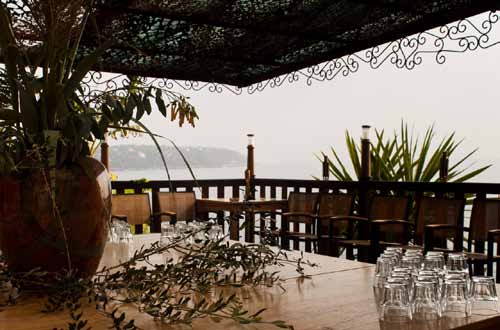 As to its cuisine, it has the same identity. Tasty but simple food, healthy, without fuss. The Mediterranean fish holds the high ground with a selection of small vegetables from the local producers and the Ventimiglia market. Local specialties are also featured on the rustic wooden tables. Barbagiuans, pissaladière, homemade gnocchi … all washed down with a Provençal wine often labeled organic. The desserts also bear this family spirit — unpretentious, but a feast to most gourmet palates.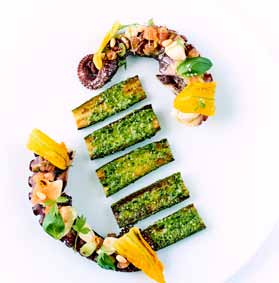 Do not look for glamour here! Come and rest in an idyllic setting, enjoying the horizon. By the way, do you know why the restaurant is called La DifferAnce? Because it stands out and strives for excellence in respecting everyone, including children «not like others» who regularly maintain its own plantations and gardens. The «difference» is uncharacteristically spelled with an «A» to highlight the «A» for the French word «Amour»…
La DifferAnce
Sentier des Douaniers, Roquebrune-Cap-Martin
+33(0)4 9207 3551
Parking du Country-Club