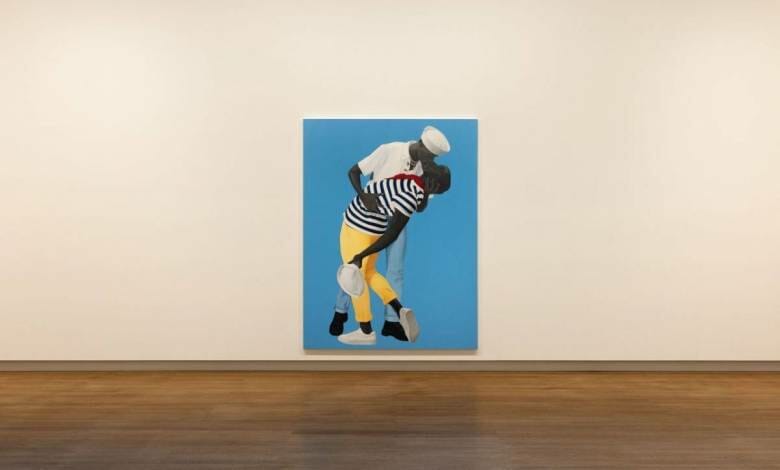 The world as seen by Amy Sherald at the Hauser & Wirth in Monaco
Until April 15
This is our time portrayed in large-size formats. The world as it is, as it should be, the way we build or foresee it. For the first time ever in Europe, we get captivated by Amy Sherald's art. One of the most famous American portrait artists, her career was propelled by the portrait of Michelle Obama in 2018. The first lady of the United States wearing a geometric-patterned dress evokes Mondrian's style. Beautiful and reassuring, she has assumed a non-academic pose. The portrait is not only stunning in itself, but with a certain social and political context behind.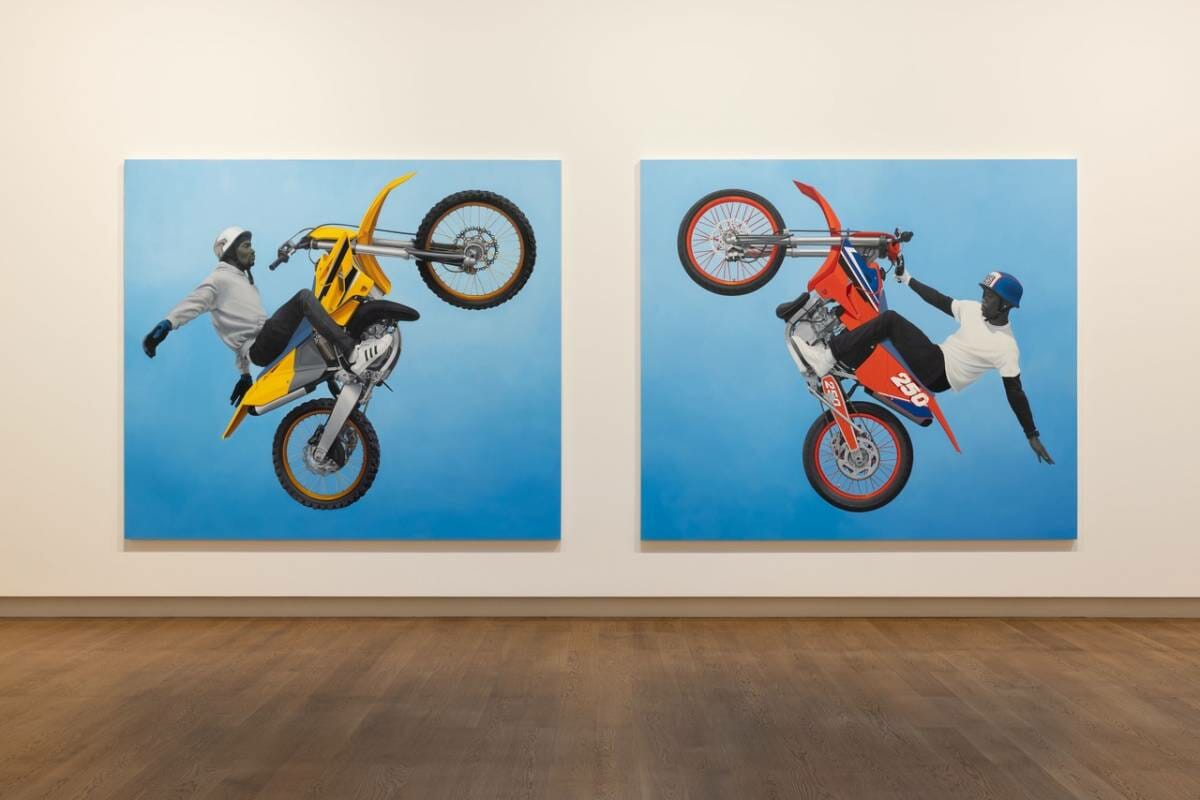 Amy Sherald's art is special indeed. Her works hanging on immaculate picture rails of the superb Hauser & Wirth gallery in the heart of Monte-Carlo stand out for their rare purity and power. Some of them were lent by the world's largest museums, like this image of a boy about to go down on a toboggan. He looks away, confident, sure of himself, ready for the future.
The Afro-American community is omnipresent in Amy's art, opening a vast space for reflection on the theme of "The World We Make". It is as if we are touching those faces with our glance, so real are they. Her portraits evoke a number of references from the history of art. For example, a photograph that went around the world in 1945 following the victory against the Nazis. This is a famous kiss caught on the spot by photographer Alfred Eisenstaedt in the middle of crowded Times Square in New York. In Amy Sherald's interpretation, it is attributed to a homosexual couple standing out against a hyperrealistic celestial blue. This is a way to place an iconic image back in time and to proclaim the right to love for all. Each painting calls for us to see it in a different way. The bodies portrayed are not black, but rather painted in soft and luminous shades of gray. The eyes seem empty and yet stare at us with an overwhelming intensity. The world that we build first and foremost requires to be envisaged from a different angle.
Amy Sherald. The World We Make
Hauser & Wirth Monaco
One Monte-Carlo, 1 Casino Square, Monaco
Pierre Cardin's muses at the Grimaldi Forum in Monaco
April 15–16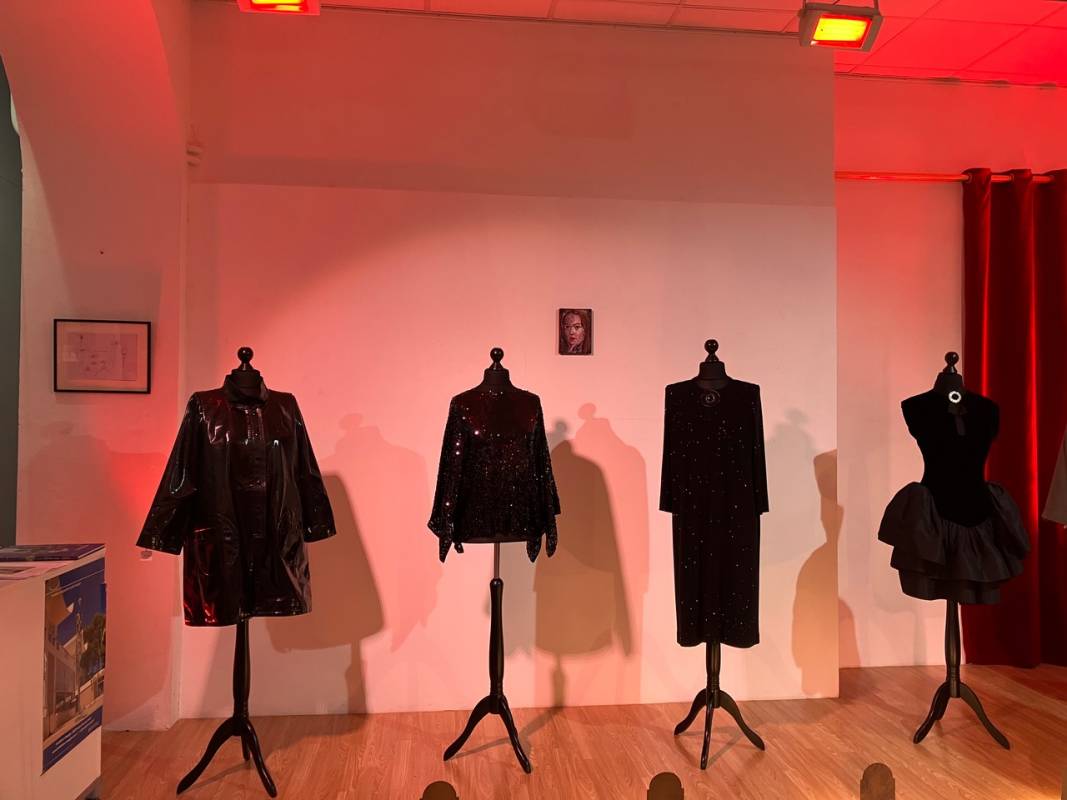 Pierre Cardin used to be inspired by two muses. The actress Jeanne Moreau greatly contributed to the launch of the great couturier's career in the 1960s while Sylvana Lorenz's body was the mold for his most astonishing creations. During an auction, the latter acquired a superb collection of unique models specially designed for Jeanne Moreau: a sequined pagoda tunic, a woolen coat lined with mink, a velvet and satin evening dress, a black vinyl raincoat… These pieces of clothing are the subject of a very theatrical exposition orchestrated by Bernard Barbero, stage manager at the Nice Opera. It is magically highlighted by Caroline Denis' watercolours, inspired by Pierre Cardin's fantastic estate — the Bubble Palace in Theoule-sur-Mer. A series of gouaches by Phil de Rodrigue is a cartoonist's honouring of the legendary couturier.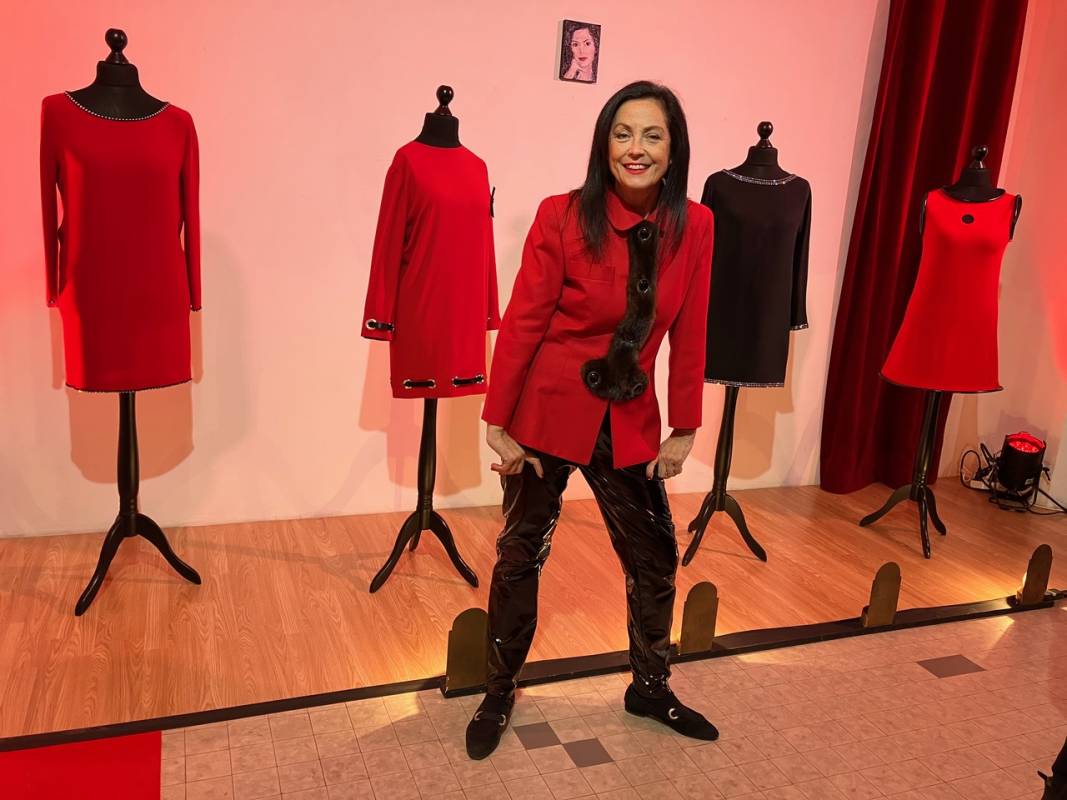 First presented at the Depardieu gallery in Nice, renowned for its inventive spirit and avant-garde artists, this original exhibition is a great complement to the Monaco Book Fair on April 15–16. Its centrepiece, "the vestal robe" in deep red, was designed for Sylvana Lorenz, a crowned high priestess of the Cardin cult for three decades. The couturier's second muse later wrote a biography "Madame Cardin. At the court of the last fashion emperor" recounting how she almost married the man who, according to her, "invented everything there was" in the world of haute couture. A wedding that, to her great regret, never happened.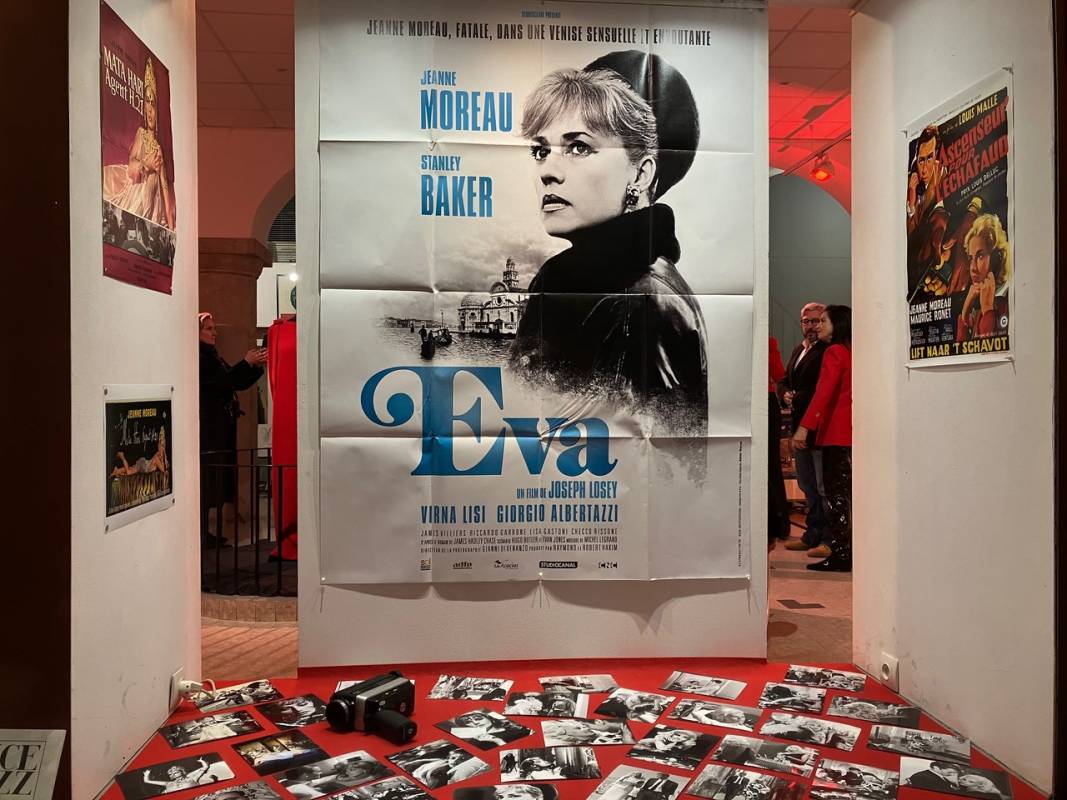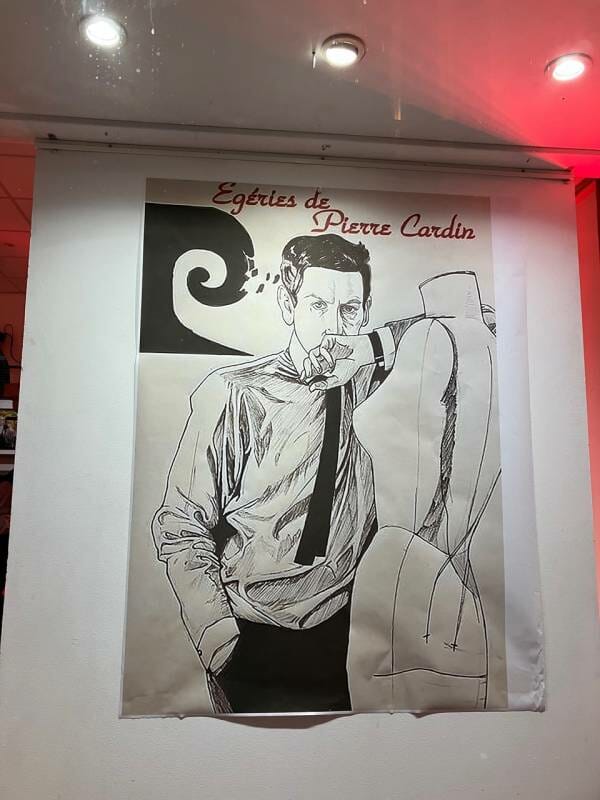 Grimaldi Forum,
10 Avenue Princess Grace, Espace Diaghilev
A contemporary outlook on Marc Chagall in the Museum of Nice
Until 30 April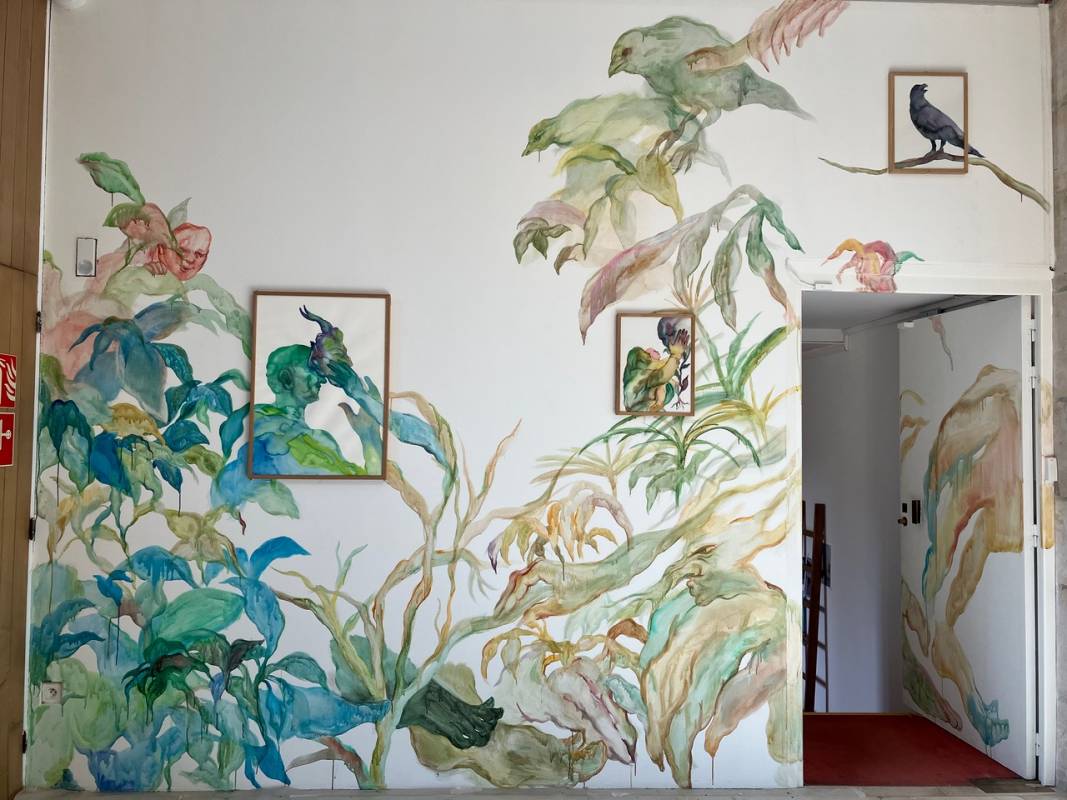 The first museum dedicated to a living artist was founded in Cimiez, Nice, 50 years ago. Marc Chagall was personally present at its opening. Since then, thousands of visitors have flocked from all over the world to discover his Biblical Message, a true ode to life. This year a number of celebrations are planned to mark this special anniversary, a three-segmented exhibition among them. Its first part this spring is inviting young artists to cast a contemporary glance at the iconic works of art.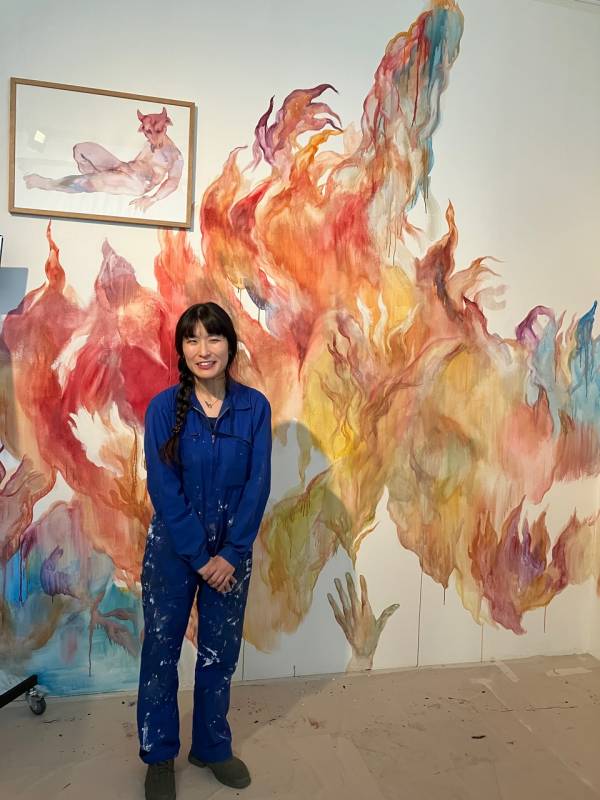 The colour is interepreted here as if it were living matter. Free, dazzling and cheerful. This explosion of blue, ochre and vermilion is a bridge between Marc Chagall and Japanese Makiko Furuichi. An entire room at the Museum is dedicated to watercolours and poetic, evanescent and phantasmagorical figures suspended in the air. These frescoes are facing the mosaic of the Chagall-signed prophet Elijah. Makiko grew up in Japan in a temple founded by her grandmother. This spirituality echoes with Chagall's childhood inspired by Hasidic rituals. Religion, interpreted with great freedom, is thus a leitmotiv for both artists.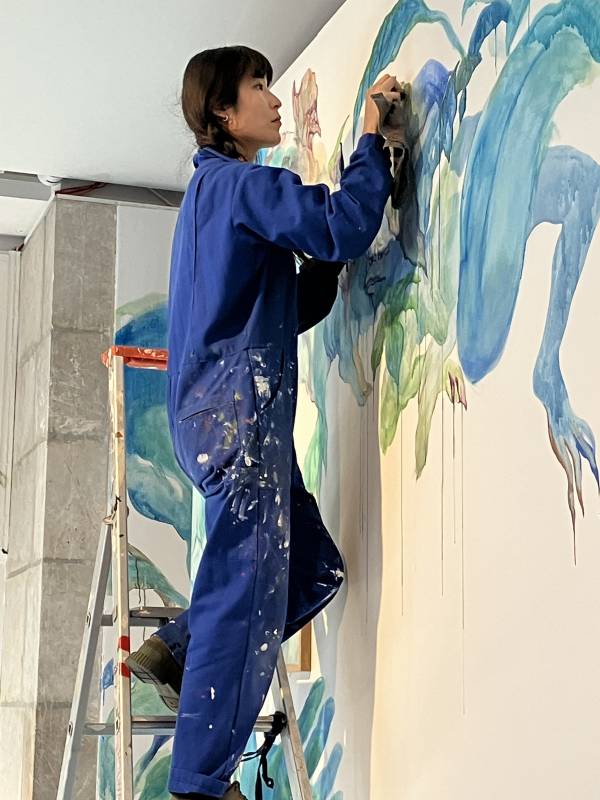 Another new perspective is that of the writer Stéphane Lambert. He is offering us an original display encouraging an encounter with another, intimate, secret Chagall. This "transfigured world" is taking us on a journey in the legendary artist's footsteps. Carried away on angels' wings, he is drifting away from reality to the realm of dreams.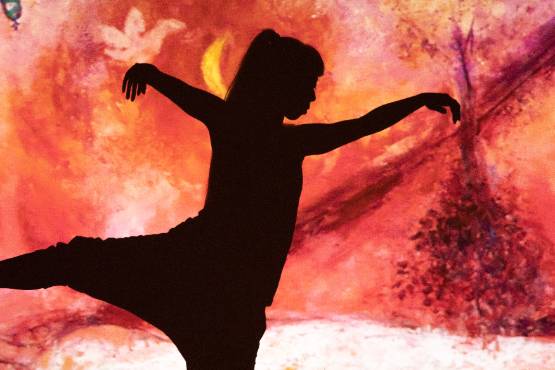 This first part celebrating the Chagall Museum's 50th anniversary also features two dancer choreographers, Mimosa Koiké and Asier Edeso. Their "crossed steps" in a co-production with the Ballets de Monte-Carlo is a moving interpretation of a universal Biblical message. The film projected in the museum's magnificent auditorium is an apotheosis of a happy dialogue between different arts.
Chagall et moi! A contemporary outlook on Marc Chagall
Marc Chagall National Museum
Avenue Dr Ménard, Nice
Tom Wesselmann, After Matisse, in Nice
Until May 29
This year the Matisse Museum in Nice is celebrating its 60th anniversary! This eventful period will be marked by a number of concerts, conferences and meetings. But above all, four major exhibitions will be shedding a new light on the great Master's legacy resting in peace not far from the museum, on the Cimiez hill.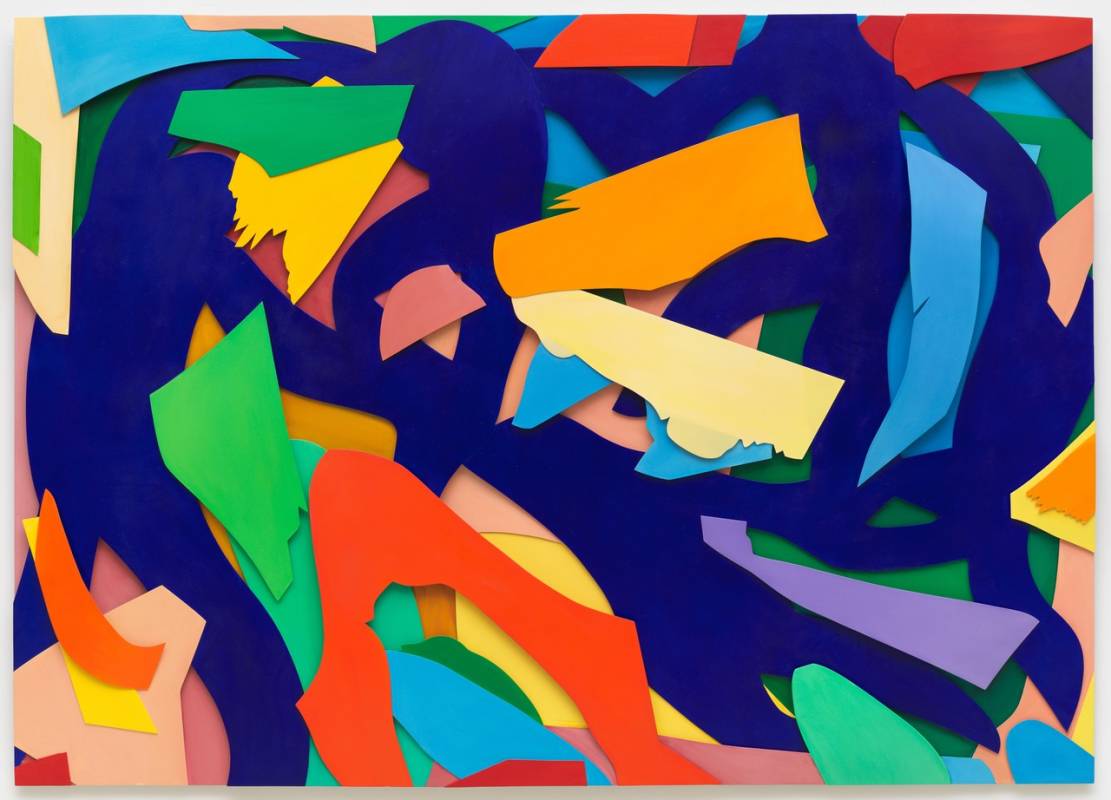 This spring's first highlight is around forty works by Tom Wesselmann. One of the most renowned representatives of "Pop Art", he positions himself as first and foremost a designer, with an obvious admiration for the precursor of Fauvism.
"What struck me about Matisse was how his paintings were overtly and surprisingly beautiful and exciting. One cannot look at a Matisse without a feeling of a certain excitement".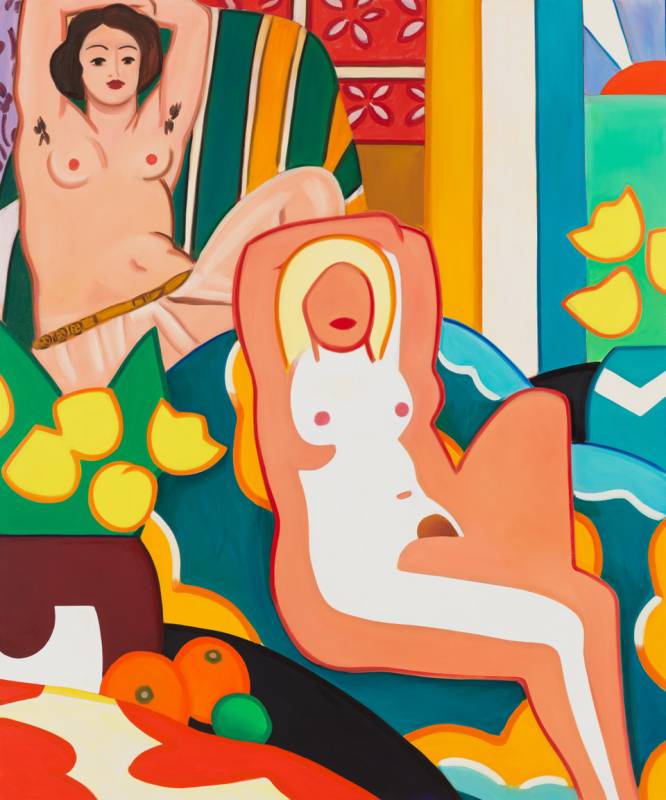 Orchestrated in four large ensembles, this first anniversary exhibition is a demonstration of how Wesselmann appropriated certain Matissian techniques. Starting with small formats, he ends up with vaster creations, mixing collage, drawing and painting. These four sections — the collages, the Great American Nudes, the Steel Drawings and the Sunset Nudes — create a fascinating dialogue between the two artists.
From the first years following Matisse's passing away, Wesselmann took a close interest in the Master's works, back then already famous in the United States. He declares in particular: "I learned a lot from Matisse. I remember spending hours studying his reproductions. In our imaginary conversations I would invite him to explain why he painted every single element the way he did".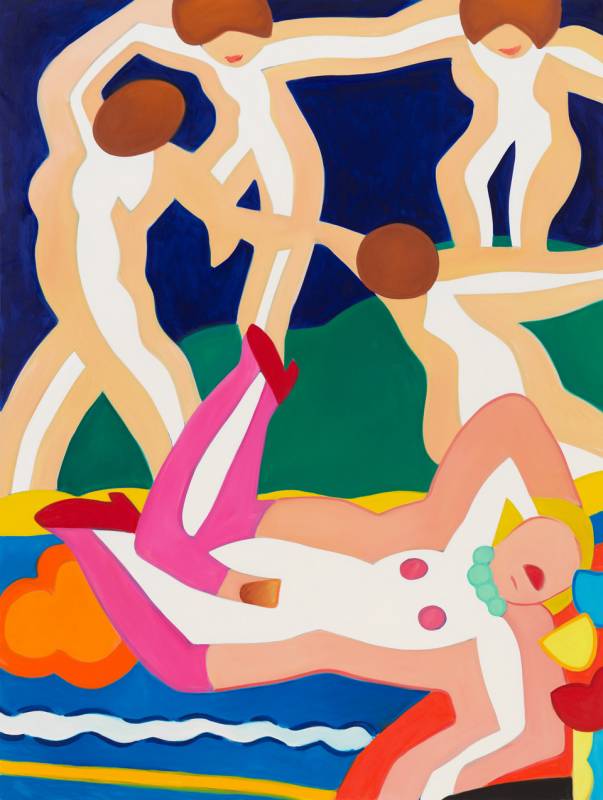 Later on, in 2003, the artist comes up with his own nudes and large odalisques in a masterful "Sunset Nude with Matisse Odalisque", transposed against a very famous, large-scale image of Matisse associated with a still life and a sunset in the background. A culmination of his vibrant tribute indeed.
Tom Wesselmann. After Matisse
Musée Matisse, 164, Avenue des Arènes de Cimiez de Nice