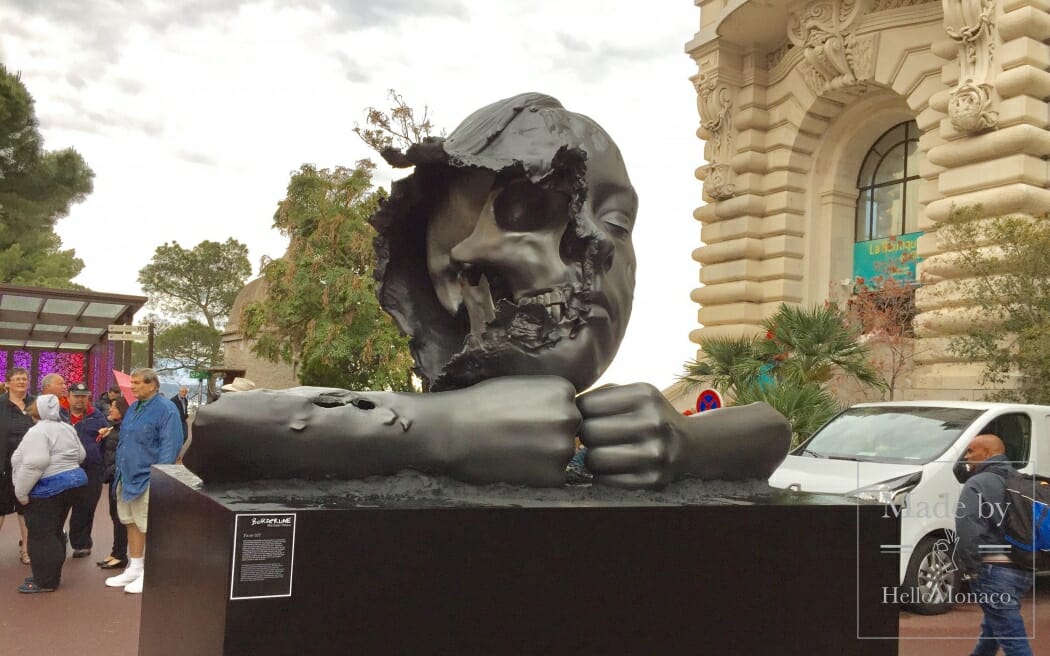 The Oceanographic Museum of Monaco has welcomed a truly monumental exhibition to its collection – it is on show from the beginning of May through to the very end of September. It's called the Borderline Exhibition and consists of gigantic custom-made works and sculptures by the artist Philippe Pasqua. The monographic pieces are placed alongside the mythical collections of the museum to create a sort of unprecedented dialogue. There are twelve monumental creations in total, including seven unseen works, which reflect the sincere and multi-faceted personality of the location, its grand architecture and environmental commitment.
Philippe Pasqua was born in Grasse in 1965, and began painting when he was 18, inspired by artists like Lucian Freud and Francis Bacon now his creations can be found all over the world. Incredibly, he is a self-taught artist that mainly specialises in painting portraits, a career that was also inspired by voodoo and fetishes that resonate in his nude portraits and vanities. He uses a range of techniques, which includes oil on canvas drawings, bronze and marble sculptures, and even tattoos, primarily inspired by the human body, sometimes portraying transsexuals and people with mental and physical disabilities to give emotion and true meaning to his paintings.
Pasqua's main goal is not to produce aesthetically pleasing pieces, but ones that evoke emotions, which is why he is known to produce such violent, powerful and imposing images, usually gigantic ones that can be 6 metres high. He fills his monumentally scaled paintings with loosely rendered, expressive brushstrokes that seem to 'make flesh and bone come alive'. As David Rosenberg explains, "the question for Pasqua is no longer to know when a painting is finished (by definition it will never be) but when the painting begins to exist – there lies the strength behind his creations".
As an artist, he enjoys experimenting with the notion of limits, or more precisely the absence of them in his art, which might be the meaning behind the exhibitions name 'Borderline', as Pasqua 'flirts with the brink, brushes against boundaries and breaks free of them'.
Many spectators have commented that his pieces, the ones in the Oceanographic Museum alike, are both disturbing and fascinating due to their raw features, placing the visitor in a dilemma: to gaze intently or to turn away, as a means of defense rather than of indifference. Robert Calcagno, the director of the Oceanographic Museum, explained, "Pasqua questions, raises concerns and unsettles his audience, but never leaves unmoved. His work provides the ideal trigger for raising awareness in favor of marine and terrestrial life".
In fact, through this particular exhibition, Philippe Pasqua seeks to challenge society about its relationship with nature. In the century-old aquarium that holds so much of the Principality's history, dedicating its collection to art and science, the artist 'expresses his sensitivity and questions his audience's relationship with nature, death, and rebirth. Through his majestic sculptures, he is confronting the audience with the current issues of biodiversity protection, an issue close to Prince Albert II goals and beliefs. With the reoccurring themes of nature, death and rebirth, Pasqua plays with 'the ambiguous connection between mankind and the marine world', a relationship defined by both fear and fascination – we are fascinated with our oceans and all that we are yet to discover, but at the same time we are all fearful of the unknown and what we could uncover in this vast universe.
The question of environmental protection, especially the waters surrounding the Principality and neighbouring areas, has always been at the core of the maritime Museum's values – through its exhibitions and displays, it seeks to promote sensibility to the issues at hand and encourage a more sustainable lifestyle. Pasqua's exhibition is no exception; the environmental concerns are reflected in his "Borderline" works that combine both artistic poetry and environmental commitment.
The grandness of the sculptures has the desired impact of shocking the audience, as the artist aims to create both an explosive and incisive vision. He has successfully combined contemporary art and ocean preservation through his XXL sculptures. One of the art installations found in the Salon d'Honneur, Wheel of Time, weighs 10 tons, and measures 7m in width and 6m in height – the museums structure had to be reinforced to accommodate it!
In this particular exhibition, he has utilised one of his more recent sculpting tools; first he creates the grand and imposing sculptures out of bronze, then he plunges his creations in chrome baths. The result is quite unique – the sculptures become mirror-like, almost blinding to look at, reflecting their surroundings and incorporating the new images onto its surface. Interestingly, when one approaches the sculptures, their own reflection appears, perhaps to send the message that we're all responsible for the protection of our ocean creatures and sea life.