Latest news
175-metre superyacht concept Acionna and other yacht news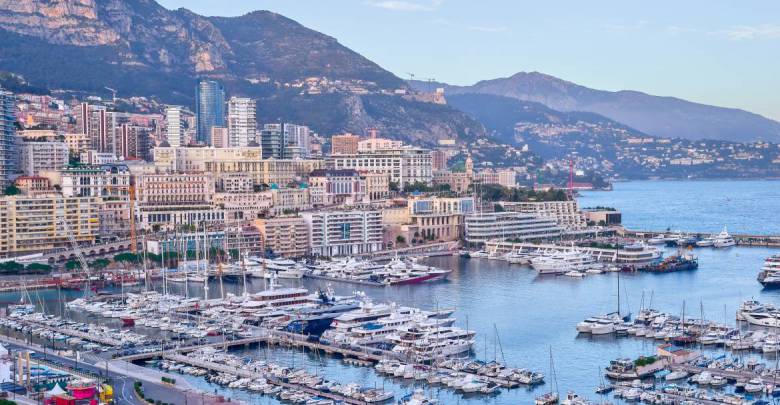 We selected for you top 6 yacht stories of the last week at Yacht Harbour.
175-metre superyacht concept Acionna
At 175-metre in length Acionna is the ultimate world cruising megayacht and challenges many of the preconceptions about larger yachts that are often said to be homogenous and conventional. At first glance it is obvious that Acionna is absolutely unique, her avant-garde styling a feast-for-the-eyes from every angle is exaggerated by her elegant proportions and sheer scale.
The interior space available within the design is colossal and could include almost any feature desired including potentially a full size squash court, helicopter hanger and a 20m indoor pool. Included in her 8 decks is a spectacular, double-height main saloon with panoramic curved glass overlooking the main aft deck pool.
This area of the design leading down to the swimming platform is highly unusual as it comprises of a central 'island' of communal areas completely surrounded by the pool and accessed via a tunnel aft and a bridge forward. The pool flows constantly down the sloped transom and into a lower pool of the swim platform, whether this is used as a method of egress is left up to the individual….
Slightly more space will be used for the propulsion system in comparison to conventional designs as she is planned to be powered with hydrogen using a similar system currently being trialled in cruise ships and ferries. If the power used to manufacture the hydrogen is purchased from renewable energy sources the yacht could be said to be 'zero impact'.
Hydrogen propulsion currently makes the most sense with larger vessels requiring long range capability (as battery powered electric systems require regular recharging) however at present there are only a few marine hydrogen facilities in the planning stage. Until vessels like this one are built there will be no way to increase demand for hydrogen thereby breaking the chicken and egg stalemate of supply and demand. (Building hydrogen facilities is not economic without the demand from numerous hydrogen powered vessels).
The Acionna concept is for those who see themselves as trend setters and game changers, those who appreciate the zenith of luxury but also want to have a positive impact.
Yacht collision with people aboard caused severe damage
The 28-metre tour boat Cornucopia Destiny, collided with the stern of a smaller moored yacht at a pier in Hoboken, New Jersey, across the Hudson from Manhattan. The Destiny had 95 students and 11 teachers aboard for Weehawken High School's senior prom at the time of the accident.
The Cornicopia Majesty (length 210ft) rear-ended the Sundancers (length 117ft), which was docked at the time, smashing it into Pier 14.
Video from the scene shows that the Destiny was parallel to the dock and approaching the stern of the moored yacht Sundancer, and Destiny failed to slow. After the initial impact, the Destiny pushed the yacht ahead until it allided with a pier. No injuries or pollution were reported, but both vessels were damaged.
Hoboken's fire chief told local TV that the Destiny was departing the pier at the time of the incident. The crash may have been caused by a mechanical failure: in the moments leading up to the accident, the Destiny's master was heard shouting that he had "no control," according to local media.
Zlatan Ibrahimovic's €8-million superyacht
Zlatan Ibrahimovic is a Swedish professional footballer who plays now as a forward for LA Galaxy. Ibra has showed no signs of keeping a low profile life as he shared with his fans one of his last big purchases. An excellent striker shared a picture on Instagram to show off a luxury yacht under construction with the caption reading: "Almost there". What is there, is the 30-metre yacht by the famous Italian shipbuilder with the price starting from €8 million.
So what's seen on the picture is Riva 100 Corsaro. Riva has announced the construction start of this series of flybridge yachts back in 2016 and the first hull was launched by the end of that year. Then some more details were revealed, before the first yacht from this series was delivered to owner in Hong Kong.
The yacht features large hull windows with integrated portholes on both sides flood the area with natural light, offering spectacular views from the saloon. Her alluring amenities on board include a large beach club at water level, a garage which houses a tender of up to 4.45 metres and jet skis, an al fresco dining area next to a cocktail bar on the flybridge.
The Riva Corsaro 100 can sleep up to 10 guests three double suites and a twin located below on the lower deck. The 29.9-metre yacht is offered with two engine configurations. The twin M93 2435 mhp will provide a maximum speed of 27.5 knots while the twin M94 2638 mhp can produce up to 29 knots.
110-metre Project 1007 launched by Feadship
In December 2016, 110-metre Feadship Project 1007 made a splash. Then YachtHarbour wrote about Feadship's largest project to date on the move. And again, largest Feadship superyacht to date spotted in North Holland.
Michael Leach Design is responsible for interior design, as well as Brian McCarthy Inc., with the naval architecture by De Voogt Naval Architects.
Project 1007 is a four-deck displacement yacht, has steel hull and aluminium superstructure, is built to Lloyd's Registry standards and boasts an outstanding curve in the exterior design, which connects the main deck with the upper deck. Hatches in the topsides hint at a side-loading tender garage and a fold-out superyacht beach club, although those features are yet to be confirmed by the yard.
When completed, Project 1007 will rank among the world's largest superyachts.
Opulent lifestyle : Tiger Woods' $20 million 47-metre yacht Privacy spotted
Privacy is a  47-metre superyacht built by Christensen in 2004, purchased by Tiger Woods for $20 million. A 14-time major champion in golf, with net worth of approximately $700 million, Woods will be hoping for a 15th honour in US when the competition starts on June 14. His yacht Privacy was spotted in docks in Gurney's Montauk Yacht Club, approximately a one-hour drive from Shinnecock Hills Golf Club, the home of this year's US Open. But now, the yacht is located in West Palm Beach, according to MarineTraffic.
The world's highest paid athlete's yacht is a tri-deck fiberglass motor yacht with a 9-metre beam. Propulsion on the yacht is from a pair of 1,800 hp MTU/Detroit Diesel motors, while two 99 kilowatt Northern Lights generators providing electrical power. Capacities are 12,000 gallons of fuel and 2,000 gallons of water, and Tiger Woods' yacht usually carries three SeaDoos, two ocean kayaks and two Vespa scooters. It's know that Woods' 47-metre vessel requires a crew of nine to operate and costs $2 million a year to run.
On the boat's deck is a large bar and a 8 person Jacuzzi. The yacht also has a station to fill scuba tanks and an inflatable decompression chamber. The interior of the yacht is filled with cherry woodwork. The VIP stateroom is aft with two queen size cabin amidships and a twin cabin.
The second twin cabin has been converted to a workout room with a treadmill, exercise bike and free weights. The sweeping staircase has transparent stairs and a cherry handrail. The main living area is an open floor plan with only a single divider between the saloon and the dining room. Along with a staircase there is an elevator that will hold three people. In 2011, Woods tried to sell his yacht.
Fifth Custom Line Navetta 37 launched for the Brazilian owner
The new semi-displacement flagship built for a Brazilian yacht owner took to the sea in Ancona. A few days since the launch of the fourth Navetta 33 vessel, Ferretti Group's Superyacht Yard in Ancona hosted yet another landmark event on 4 June: the fifth flagship from the Custom Line semi-displacement series sailed the seas for the first time, captivating onlookers with its dynamic and elegant lines.
This "debut on the waves" shows once again the tremendous commercial success of 28-42 metre Custom Line vessels, whose state-of-the-art technology, performance and design have long been renowned for their excellence. Navetta 37 applies the qualities of seaworthiness, comfort, safety and customisation – all part of Custom Line's DNA since the very beginning – to a revolutionary product in terms of its style and spaces, offering an excellent range which places it at the top of its class.
This yacht is the product of the joint efforts of the Product Strategy Committee, headed by Piero Ferrari, the Group's Engineering Department and the Zuccon International Project Studio, which designed its exterior lines, and features harmonious contours that make the most of the plasticity of the materials to create new stylistic features. Its clean, streamlined and light design also conveys great stability and strength.