Latest news
8th Environmental Symposium: ​On course for a responsible yachting industry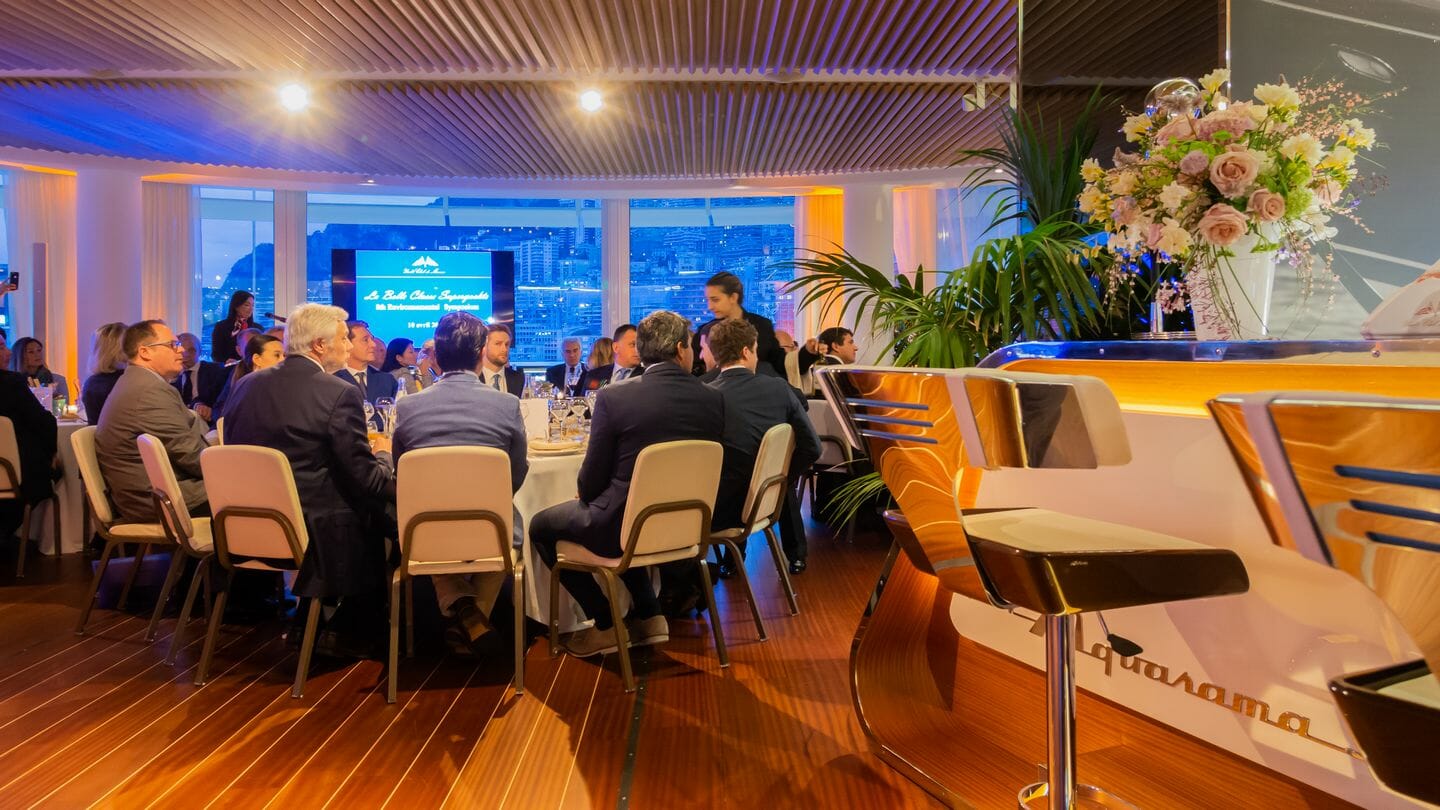 On the opening day of Monaco Ocean Week (10-14 April 2018), the aim of which is to better understand the threats facing marine environments, the Yacht Club de Monaco held the 8th La Belle Classe Superyachts Environmental Symposium. Organised in the form of a dinner-debate, the meeting discussed the many initiatives in the yachting world designed to protect the environment, including presentations on new projects presaging vessels of the future.
Actions by the Prince Albert II of Monaco Foundation for a sustainable Mediterranean
H.E. Mr Bernard Fautrier, Vice-President of the Prince Albert II of Monaco Foundation, opened the debate with a presentation on projects supported or initiated by the Foundation. He cited the bluefin tuna as an example: "In collaboration with ICCAT (International Commission for the Conservation of Atlantic Tuna), we launched a programme in 2008 to protect bluefin tuna which was close to extinction due to overfishing and excessive quotas. We managed to gain more control and this resource has increased. Today, scientists agree that this species is no longer in danger of extinction."
The latest battleground for the Foundation is the monk seal which features on the 2018 Monaco Ocean Week poster: "This species is seriously under threat. It has disappeared from the Western Mediterranean and today there are no more than 500 individuals. We have created new Marine Protected Areas and raised awareness among local people and fishermen that these mammals must no longer be seen as an enemy." The goal is to have 10% as Marine Protected Areas by 2020.
Acutely aware of the Foundation's programmes, the Yacht Club de Monaco is always keen to support them and in October last year signed the Mr Goodfish agreement to promote responsible consumption of seafood. In practical terms, it means the YCM is committed to proposing sustainable seafood on its Restaurant's menus.
Boats of the future: at the forefront of innovation to better respect the environment
During the debate, a new generation of vessels offering innovative solutions to reduce pollution was presented.  For example, Jérémie Lagarrigue from the Hydros Foundation introduced his flying boat project "the foiler": "At the time when I wanted to develop my flying boat, no one believed in it, the price of fuel having dropped. In Saint-Tropez' harbour no one was asking the question when buying a boat if their yacht was going to pollute or not, consume fuel or not. But Bernard d'Alessandri was one of the first to believe in us. Thanks to the America's Cup and Vendée Globe the public are much more aware of foils. These underwater wings which lift the boat above the water reduce fuel consumption by 30-40%. Sea sickness and noise almost disappear."
The Hydros Foundation is working on a new foiling boat project that could go five times the speed of wind, crossing the Atlantic in under three days, perhaps enabling freight containers in the future to cross oceans without CO2 emissions.
The Hydros Foundation is also behind the Hydrocontest in Saint-Tropez, the first competition for students on energy efficiency at sea which requires the engineers of tomorrow to work on boat hulls. The Yacht Club de Monaco has also partnered with the Hydros Foundation to develop its Solar and Energy Boat Challenge (12-14 July 2018) by opening it up to other clean energy sources. This year, contestants have been given a one-design boat and have to devise the most powerful propulsion system for a given quantity of energy.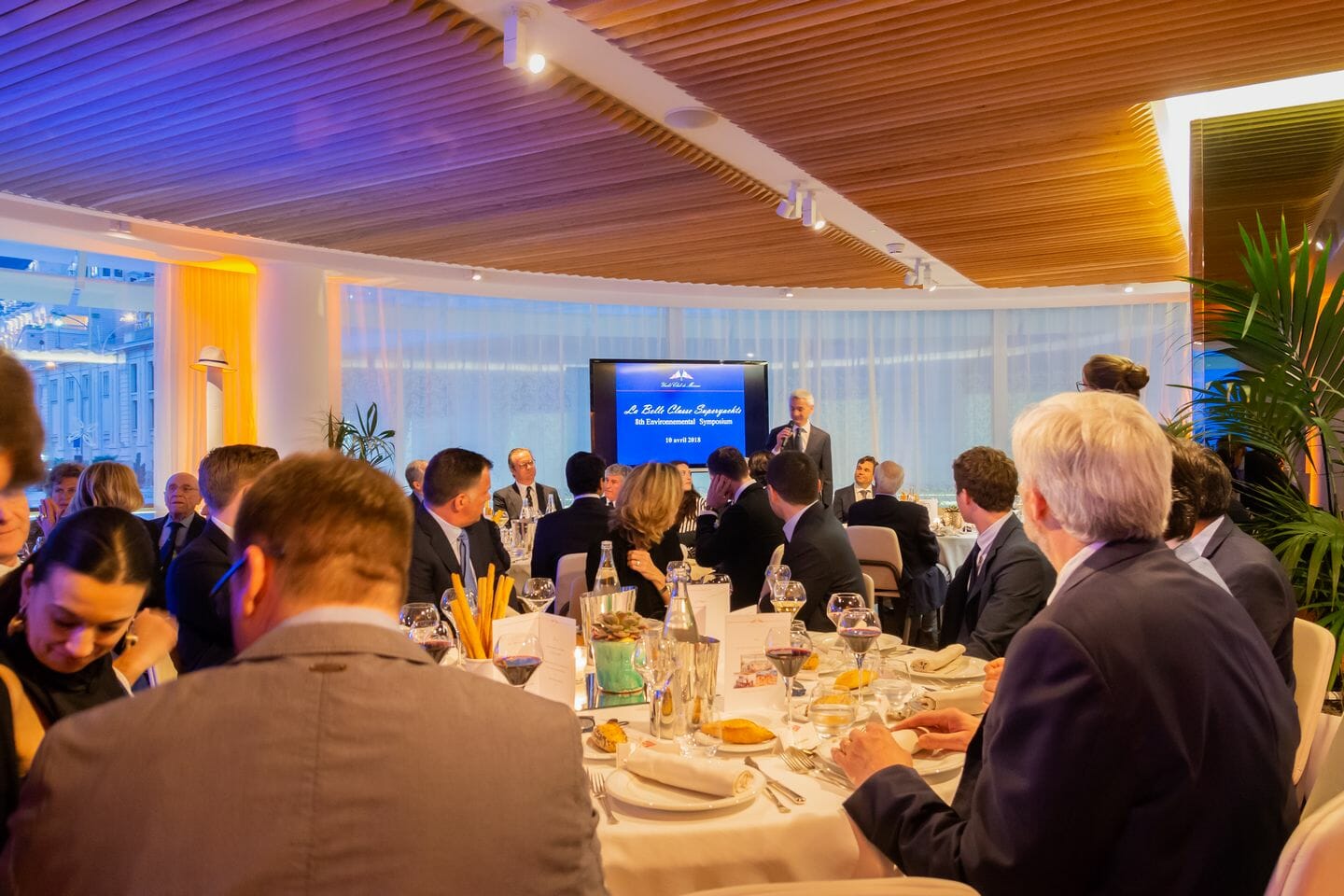 Peter Murray, President of the YPY (Young Professionals in Yachting) association asked: "The fuel cell has been around a long time. Why is it not more present in our daily lives?"
Jérémie Lagarrigue replied that it had been around for 40 years, but was still very expensive, and that he hoped with the Solar and Energy Boat Challenge, industrialists will respond by installing fuel cells in the one-design to test and develop their usage.
Anna Khramstova, founder of Azur Sur Mesure, wanted more explanation on how the foiling sailboat worked and what happens if there is no wind. Jérémie Lagarrigue replied with a very graphic image: "The sailboat is like arm-wrestling with the wind, water is 900 times denser than air. With the foil, you need 900 times less force to sail, so it works even when the wind drops."
Still on boats for the future, Bertrand de Lesquen, Director of Marines et Océans and Fabien de Varenne from Sea Proven, presented Sphyrna, the largest civilian surface drone in the world. The design of this asymmetrical multi-hull is based on Polynesian dugout canoes which have great autonomy and are very energy efficient. Bertrand de Lesquen explained the concept: "Our goal is to create an armada of drones of different sizes that could be made available to scientists and maritime countries to better understand the oceans."
With this in mind, the drone, which will be moored at the YCM pontoon during the Solar & Energy Boat Challenge, and the vessel Solar Odyssée will be used for a mission to monitor in real time marine mammals in the Pelagos Sanctuary. This is an 87,000 km2 area shared by Italy, France and Monaco which has more than eight cetacean species. Sphyrna and Solar Odyssée will help limit the number of collisions between ships and mammals which can be high in the busy summer season.
Mrs Merckx, Yacht Club de Monaco member and boat owner asked: "There is a risk of collisions with the big cruise ships but is it so great with recreational yachts?"
H.E. Mr Bernard Fautrier replied: "I invite you to see the exhibition in the Galerie des Pêcheurs which features lots of photos of cetacean victims of collisions with all types of boat, including sailboats. I also invite you to go on one of the excursions in the Pelagos Sanctuary, organised by the YCM to observe fin whales and sperm whales just an hour's boat ride away from the coast."
Riccardo Bonadeo, Yacht Club Costa Smeralda's (Sardinia) Commodore spoke up to find out how the boat behaved in waves. Fabien de Varenne replied that this was a mono-hull "with a horizontal keel that functions like a multi-hull with the same lightness."
Antoine Althaus, senior broker at Fraser Yachts added: "I looked after Yersin for four years. At present, a growing number of our clients want to buy an explorer yacht and bring scientific equipment on board. Is it possible to reduce the size and therefore the costs of your drone without compromising data capture quality?"
Fabien de Varenne: "The size and technologies of the drone are flexible and can be transposed to precede an exploration vessel sailing in unchartered areas, but what is expensive is not the size of the vessel but the technologies onboard."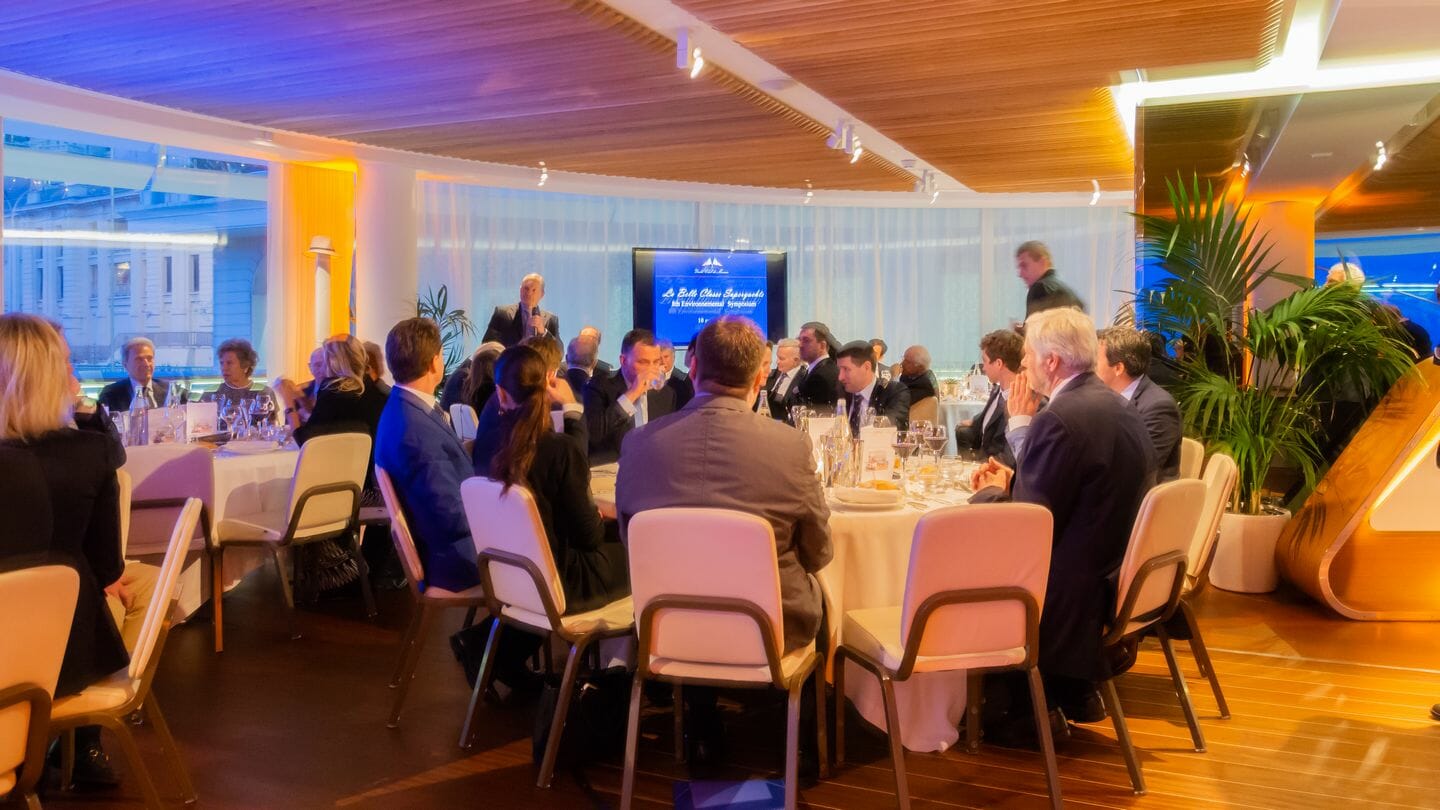 Recycling waste as a means of clean propulsion
Simon Bernard from the Plastic Odyssey project presented his concept: "Every minute, plastic waste the equivalent in weight of three elephants finds its way to the oceans. Plastic Odyssey is a round the world expedition on a lab boat totally powered by recycling plastic waste. Waste will be collected at each port of call and recycled on board, the aim being to demonstrate that it is too valuable to end up in the ocean." 
Eric Wittouck, owner of a 50m yacht and La Belle Classe Superyachts Ambassador, was interested in the technical aspect: "Your boat must have to work with alternative energy sources, so do you burn the waste to create fuel?"
Simon Bernard: "No, the idea is not to burn the plastic as that generates polluting micro-particulates. In fact, we heat it by a process called pyrolysis breaking down the molecules in a closed circuit which does not produce toxic particles and makes for a better quality of fuel."
Mr Wittouck then shared his experience: "I have sailed all over the world and when we called into Borneo we could not get our tender out as it was blocked by a huge quantity of plastic rubbish. It seems more important to encourage local people not to throw away plastic: educating the new generation is the biggest problem in developing countries."
Sylvain Staels, Captains Club member: "I heard plastic was difficult to recycle: can you use all types?"
Simon Bernard was interesting on this point: "In fact, most plastic waste spends time in the water or in the sun and sometimes it is too degraded to be recycled, to make new objects for example. But it is precisely this type of waste that we can turn into fuel."
Roberto Giorgi, President of Fraser Yachts added: If we educate everyone in the industry, be they in offices or on boats, not to pollute but also to take action to clean-up the shores, an initiative that is growing among the new generation, we can contribute to a cleaner world."
Margarett Hepburn, CEO of Hepburn Biocare: "We offer workshops and sustainable solutions for the shipping industry as, as Mr Giorgi explained, we want to change attitudes together and stop producing plastic: we cannot carry on like this if we want to save the oceans."
Erin Clarck, owner's representative of the 790 expedition yacht project at the Norbisbruk shipyard, also presented what the future of the yachting industry could look like: "As a captain, I saw the environmental disaster of the eighties, it's why the vessel we are building now is a long-term project that is very close to my heart. This 80m explorer yacht has electric batteries and every possible eco-friendly innovation, allowing her to have one single engine to sail at an economical cruising speed. With an autonomy of 20 to 23 days, even with guests on board, this yacht will be able to access the remotest areas without having any impact on the environment."
Training the key to reaching the new generation
Katia Richomme-Huet, Professor of Strategy, Sustainable Development and Entrepreneurship, congratulated the explorer yacht project "which sums-up well the practical application of economic and environmental problems we are addressing with our students in business school. In particular, we have a database project for Mediterranean countries with owners, captains and industrialists to list best practices and evaluate the economic impact of what we are doing."
Cristina Ruiz, responsible for La Belle Classe Superyachts, took the opportunity to promote the Yacht Club de Monaco's training centre, La Belle Classe Academy, for yachting professionals, owners and crew, which could in the future host new courses on best environmental practices.
In conclusion, innovation and training are the two key areas that will help the yachting industry become cleaner and more responsible, thanks in particular to initiatives of a new generation of owners but also students who will be the engineers and yacht designers of tomorrow.
Source: Yacht Club de Monaco