Latest news
Fire breaks out at Lurssen damaging 100m+ new build and other yacht news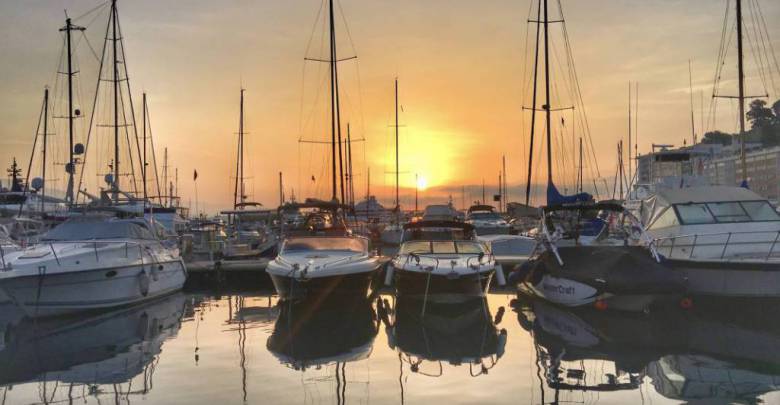 We selected for you top 5 yacht stories of the last week at Yacht Harbour.
Fire breaks out at Lurssen damaging 100m+ new build
Earlier this week, a large fire broke out at Lurssen's Bremen shipyard in a floating dock and building unit where a 100-meter+ yacht was under construction. Over 110 firefighters were dispatched to the site, no one was injured during the incident but the new build is expected to have taken serious damage.
According to initial reports in the German media, the fire broke out around 02:00, the cause of which is still being investigated. Three of the yacht's deck are believed to have caught on fire. 35 to 40 vehicles were dispatched on site according to a spokesman for the local fire department.
130-meters long and 30-meter wide according to German media, the floating dock caught fire early morning and was evacuated immediately, the new build inside also caught on fire as was confirmed by Lurssen to NWZ Online.
For the moment it is unclear what new build was damaged by the fire. This morning, additional fire crews were requested to join the scene bringing the total to 170 people as the fire fighters are trying to get the situation under control. Throughout the night a large cloud of smoke was spreading out of the building hall.
Seen on images outside the facility, it is know that the 135-meter Project Shu was not the new build in question to be damaged. The 135-meter Crescent was also already out of the shipyard and delivered by the time of the fire. The larger Project SASSI could have been candidate for the new build that burnt down.
Brand new 52-metre yacht Seven Sins by Sanlorenzo
Launched in 2017, semi-custom 52-metre Seven Sins is the new flagship superyacht by the highly renowned Sanlorenzo shipyard, one of the most successful yards in Italy, with its innovations and build quality. Seven Sins is a part of the yard's 52Steel range, combining refined elegance with technical innovation under 500GT. 52-metre superyacht Seven Sins is a World Superyacht Award Winner in 2018 and is the largest yacht ever built by Sanlorenzo, with features expected from 62-metre, which makes her unique in her size. She is a rare opportunity to own a brand new 2017 launch and already has proven charter record, offering excellent charter potential for a new owner.
She boasts design by Officina Italiana, with outstanding indoor and outdoor living spaces. Clever use of glass throughout includes an innovative aft area, featuring a glass bottom swimming pool on the main deck which allows light to filter down to a huge beach club area below. The beach club itself is a vast entertainment and relaxation space with fold-down side balconies and a fully equipped gym & sauna. Accommodation on board is for 10 guests in 4 double and 1 twin rooms, as well as crew quarters for 11 people.
Nobiskrug 80-meter hybrid superyacht project to be unveiled in Monaco
The next Nobiskrug advances state of the art with new technology features reflecting Owner's focus on minimizing environmental impact. Nobiskrug's Project 790 is one of the first yachts built under the new strict IMO Tier III emissions regulations. The name and visionary design of the 80-meter hybrid superyacht will be unveiled at the Monaco Yacht Show.
Less than a year away from completion, Nobiskrug's Project 790 will be one of the first yachts built under the new IMO Tier III low emissions regulations with an array of first-of-their-kind technology features and engineering advances that reflect the Owner's desire to create an experience as breath-taking as the seas it explores. For example, the Owner understood the significant efficiency, environmental and comfort advantages of Electric Pod propulsion using a DC bus system with both batteries and variable speed Diesel-Electric generators. Among the other significant efforts taken to protect the environment: the use of solar panels and a large battery storage system allows the vessel to operate for a limited time with no internal combustion engines operating; an electric pod propulsion combined with a dynamic positioning system can hold position without dropping anchor to protect sensitive sea floor; waste water can be re-used as technical water.
In addition to environmental and advanced technology unprecedented in this class of vessel, the 80-meter superyacht's distinctive exterior created by Gregory C. Marshall Studio features large architectural windows and noticeable design elements that create a distinctly remarkable profile. The composite superstructure and the special use of large custom and curved glass – the highest ratio of glass used to date in this size category – further differentiates this striking superyacht. Her exceptional interior was designed by the passionate and creative team at Reymond Langton Design – a studio that has been involved in the exterior styling and interior design of many award-winning superyachts. The design model of Project 790 as well as her name will be unveiled at this year's Monaco Yacht Show.
Richard Branson sells 32m Necker Belle
Richard Branson, the prolific British billionaire and mastermind behind the Virgin brand, has now sold his 32-meter catamaran, Necker Belle at an asking price of $3,000,000. This follows her being listed for sale in 2014 asking €8.5 million. Launched in 2003 by CMN, the 32-meter catamaran features a total of 4 cabins for a maximum of 10 guests. Stretching over a beam of 14 meters, the yacht was refitted in 2009. Powered by Caterpillar engines, she could reach a top speed of 20 knots.
Lately part of Branson's Virgin Limited Edition collection, Necker Belle was available for charter from $60,000 per week amongst other assets such as his private Necker Island in the British Virgin Islands where she was often based or his estate in Switzerland.
Branson, a billionaire since the 1990s, purchased the catamaran in 2009, when she was named Lady Barberetta, at an asking price of £5.3 million, before renaming her to Necker Belle, after his island in the British Virgin Islands. In 1986, Branson had broken the record for a Transatlantic crossing on a motor yacht on the Virgin Atlantic Challenger 2.