Latest news
Flavours Of Japanese Culture: The Very First "Made In Japan" In Monaco Expo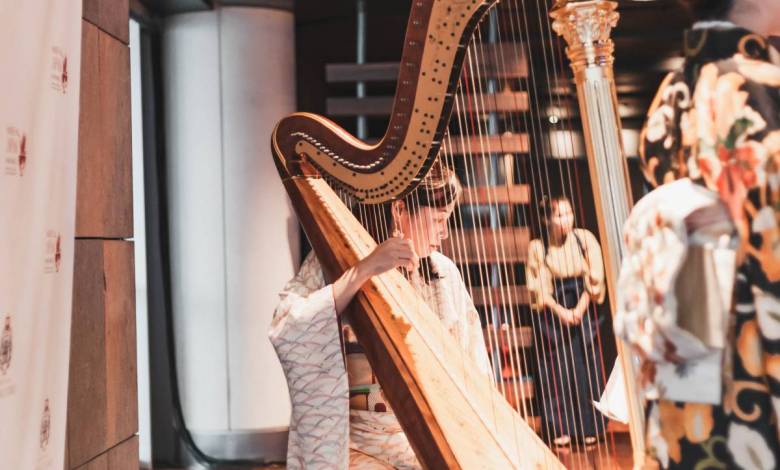 Made in Japan in Monaco has had the courage to launch its premier event in this challenging time in 2020. Fortunately it is also the moment when our optimism is building toward a time when "barrier gestures" will hopefully be a completely redundant phrase in our social gatherings.
But at this juncture in 2020 the one thing we must be assured of at Grimaldi Forum is that every event is secure with all health precautions taken – and this is one of them. Irreplaceable, essential, highly anticipated, Made in Japan in Monaco is the first trade-fair specializing in Japanese products in Monaco.
This three day event having opened successfully on Friday December 11th can be visited this weekend December 12th and 13th between 10 am and 6 pm (last entry at 5pm). Admission is only 5€. And as you enter Indigo Expo area in the Grimaldi Centre there is definitely a unique oriental feel to the layout. It has a clean minimalist ambiance with relatively small tables spread about in the Expo each laden with oriental products.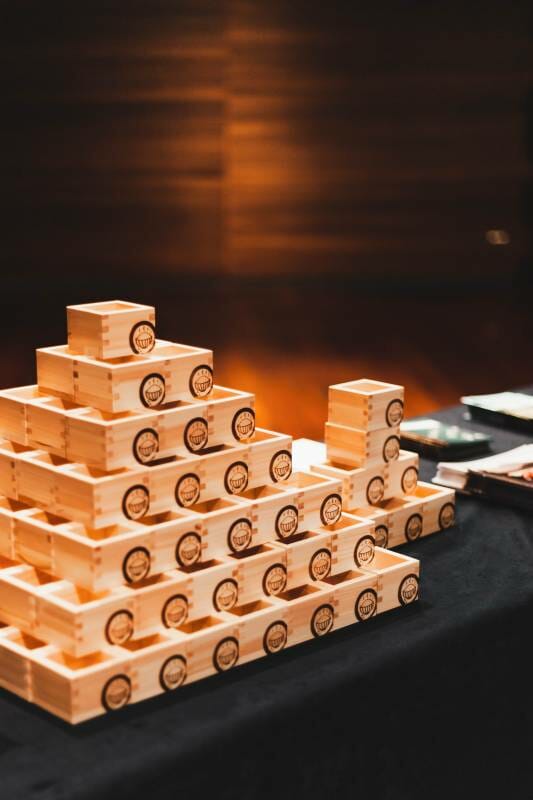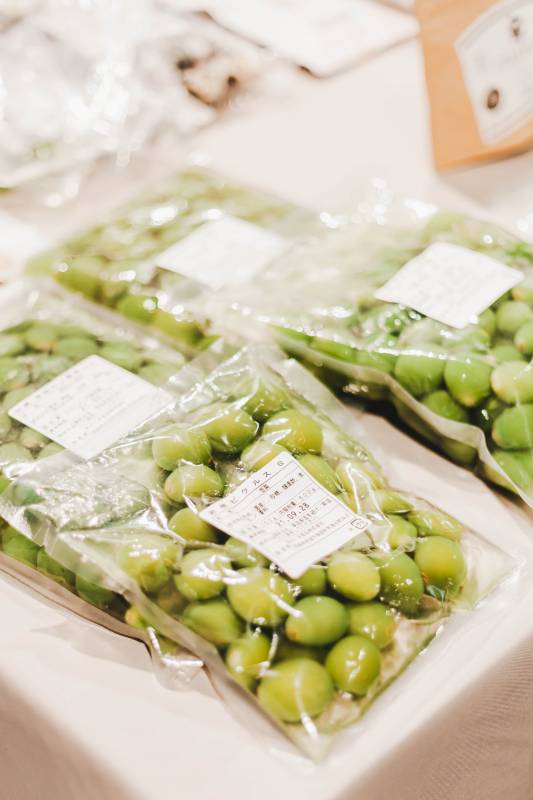 You will find silk kimonos, sandals, spices and condiments of every variety, exotic foods with which we in the West are not so accustomed – and, of course Sake. Some of the products seem dauntingly different but are flavourful on tasting which is the whole point of going. 
There are at least 10 stands: SAKE From Akita, Premium Taste of Japan, Wa Sakura, Kagura Decanters, Takesumi no sato (carbon extract of bamboo and pepper sauces), Association Monaco Friends of Japan – a good place to make friends – and additional expo tables – up to 25 exhibitors in all with misos galore (fermented soybean), seaweeds, black garlic and myriads of spicy condiments.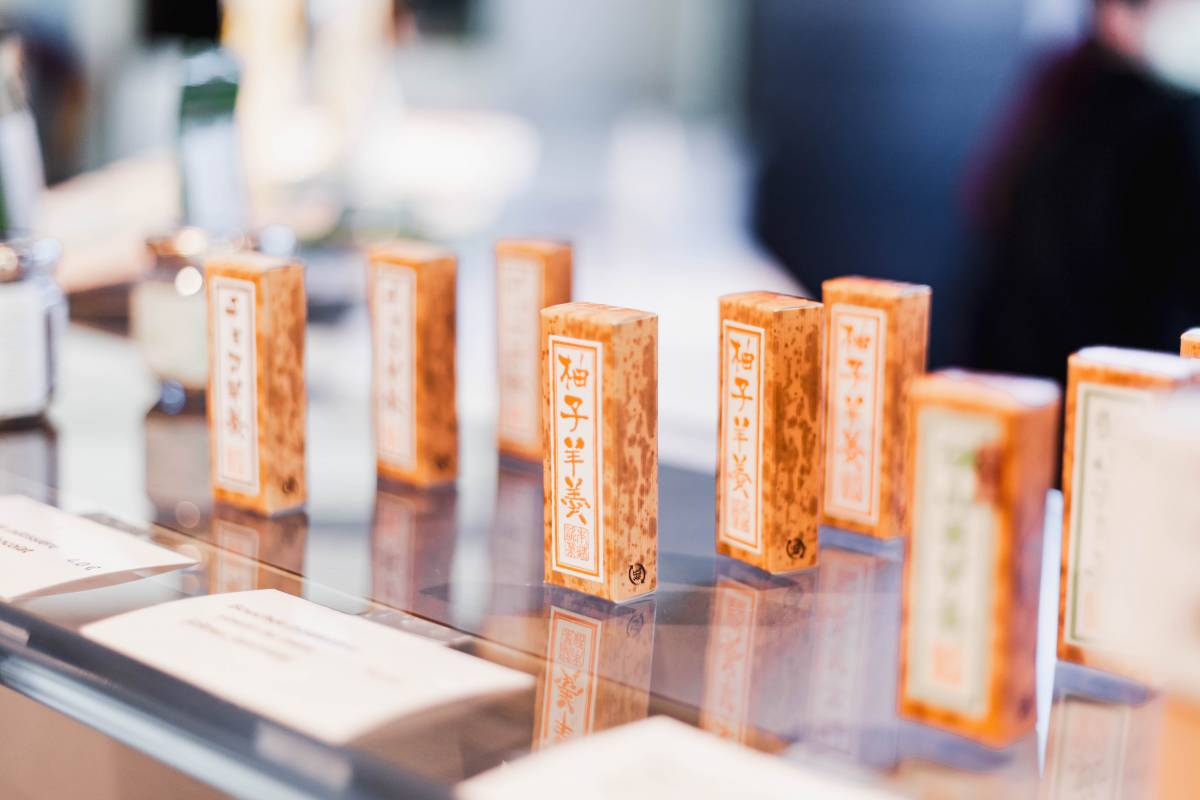 Discover specialties, teas, and find the beauty of traditional luxury handicraft products, and secrets of the healthy living way. This is the unique and unforgettable moment to feel the real Made In Japan quality in Monaco. Look at the Monaco EMU site to see the rich variety. The Entertainment program which was always rich in promise more than delivers.
There was a demonstration of Dojo KENDO. These warriors have bamboo lances and their demonstration of Dojo Kendo would put even the Russian Knight champions to the test. Challenge them if you are brave enough to participate. Then IAIDO Concert of the group Ensemble Iris (Soprano and Harp). The harp isn't exclusive to Japan but the gilded instrument plucked gracefully by oriental fingers blends beautifully with the voice of the soprano. A thoroughly delightful piece of entertainment delivered in traditional costume which captivated and ends with rapturous applause. 
Then follows a demonstration of Japanese calligraphy, SHODO. Always beautiful in miniature or in framed scripts, calligraphy in the Expo reaches a new dimension with these giant curvaceous strokes on a two massive canvasses – performed by a demure Japanese artisan. Synchronised with the music of a Harp the glyphics are masterfully painted onto the first canvass and match our expectations even if it tantalizes our brains, enhancing the enjoyment.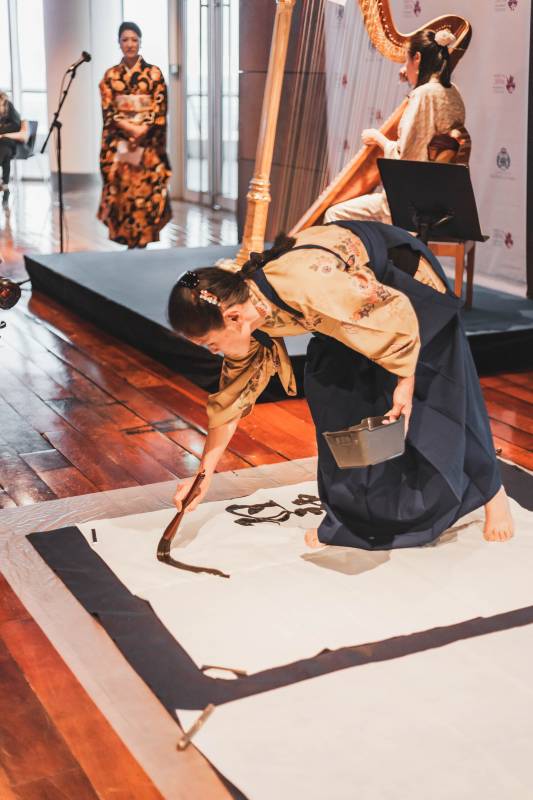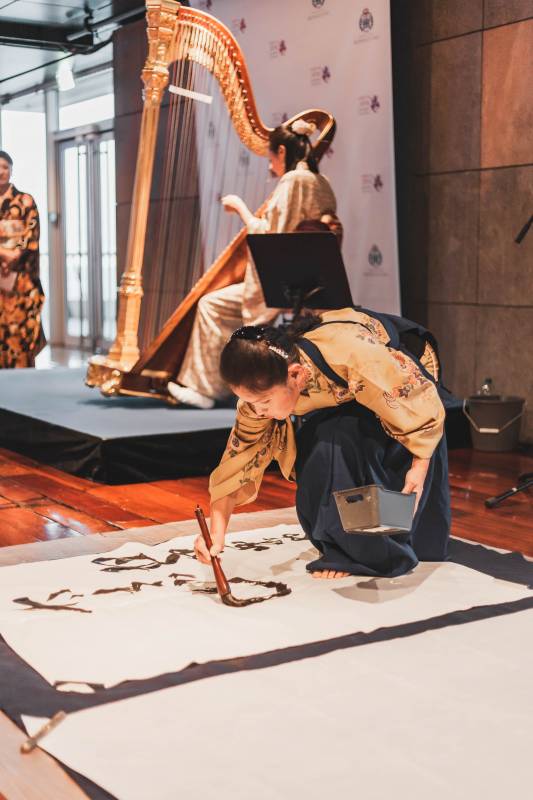 This Expo will give you the opportunity to discover and approach the land of the rising sun. In this first edition, you will discover selected products – a brand new selection of Japan food.
Tastes of Japan 
Tasting Japanese food has an extra twist for many of us – completely new experiences, different tastes and textures. At Made in Japan in Monaco you don't find yourself surrounded by sushi – that would put us in the comfort zone of what we already know. Instead, presented on the different tables are dozens of new products, foods familiar to the Japanese but about to be launched on the market. What this journalist thought were olives turned out to be a really delicious plum/peachy oval fruit. Yes, it was neither a plum or a peach with a very agreeable taste somewhere between the two fruits we know.
At another table you see filters in the shape of black carbon rods sitting in flasks of water. Offered some water to taste this journalist expected a fresh-tasting glass of nature's best. Instead, and much more interesting and challenging to look at, one is offered a black looking liquid which is in fact a type of comestible carbon powder added to water.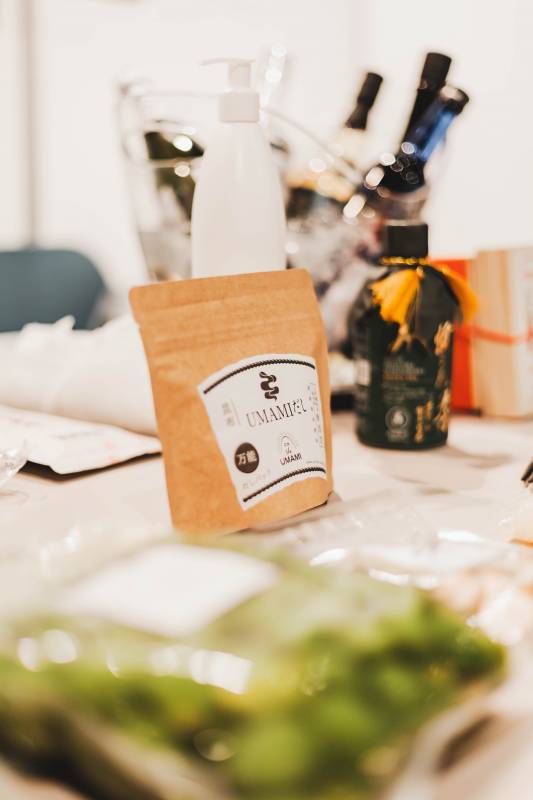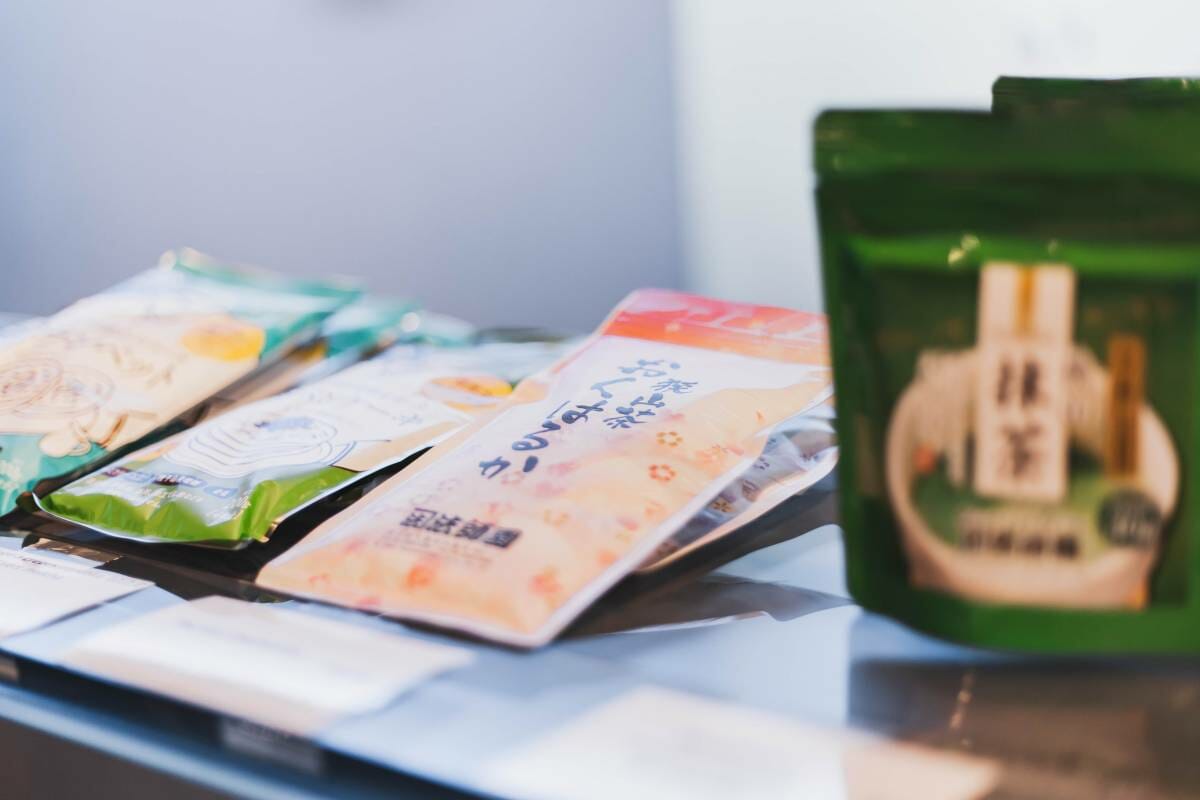 Be brave – drink this black concoction; it indeed tastes very fresh and starts you on a discovery of how carbon extract of bamboo is healthily used in cooking and foods and drinks in Japan. It is indeed a very strange experience to drink black carbonized water and to discover you can cook with this product.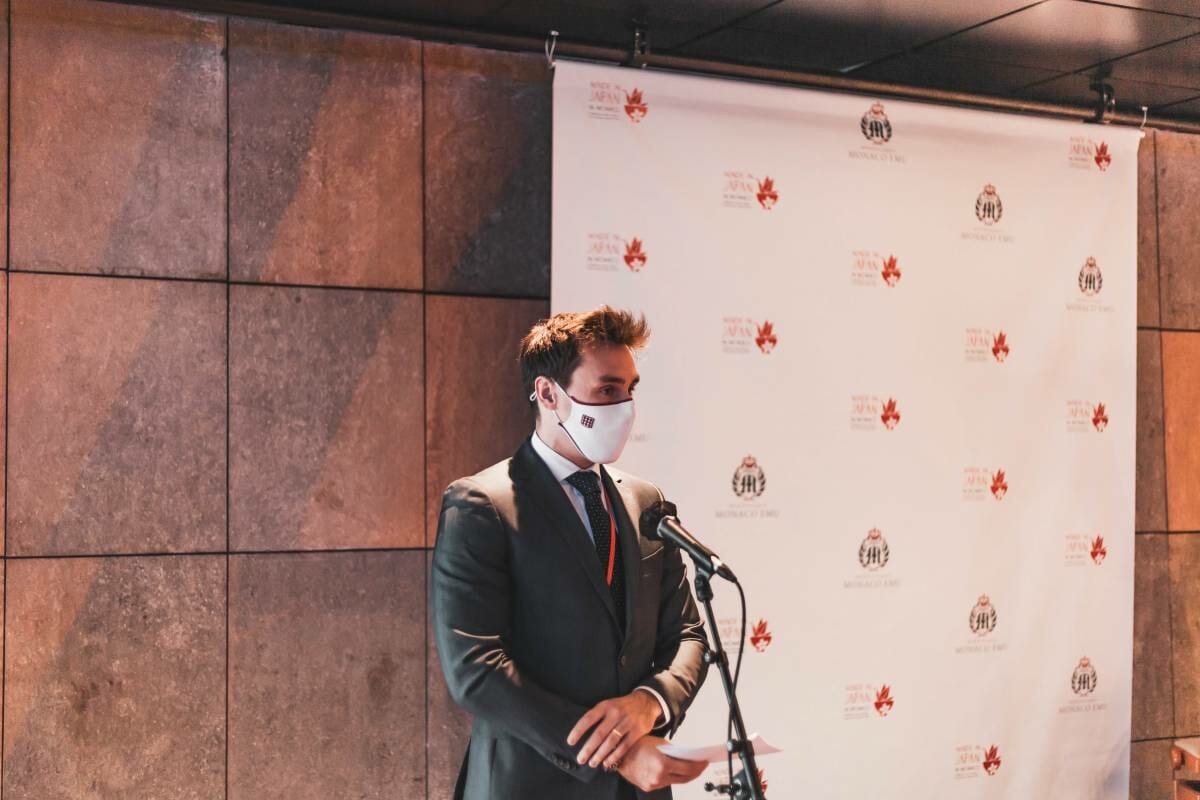 Louis Ducruet, son of Princess Stephanie makes a high profile VIP guest appearance and HelloMonaco joins him at a tasting of a selection of savoury foods. If you are not a gourmet of Japanese food let the presenters guide you. What is excellent is that the tastes and textures are so different. New sensations – definitely a learning experience as we wade into miniature helpings of seaweed, and a type of comestible bamboo and miso. The seaweed even has a slightly sweet taste, the bamboo "stalk" is very crunchy and pleasant on the palate and my miso (fermented soybean) is not at all salty; in fact this one is also slightly sweet.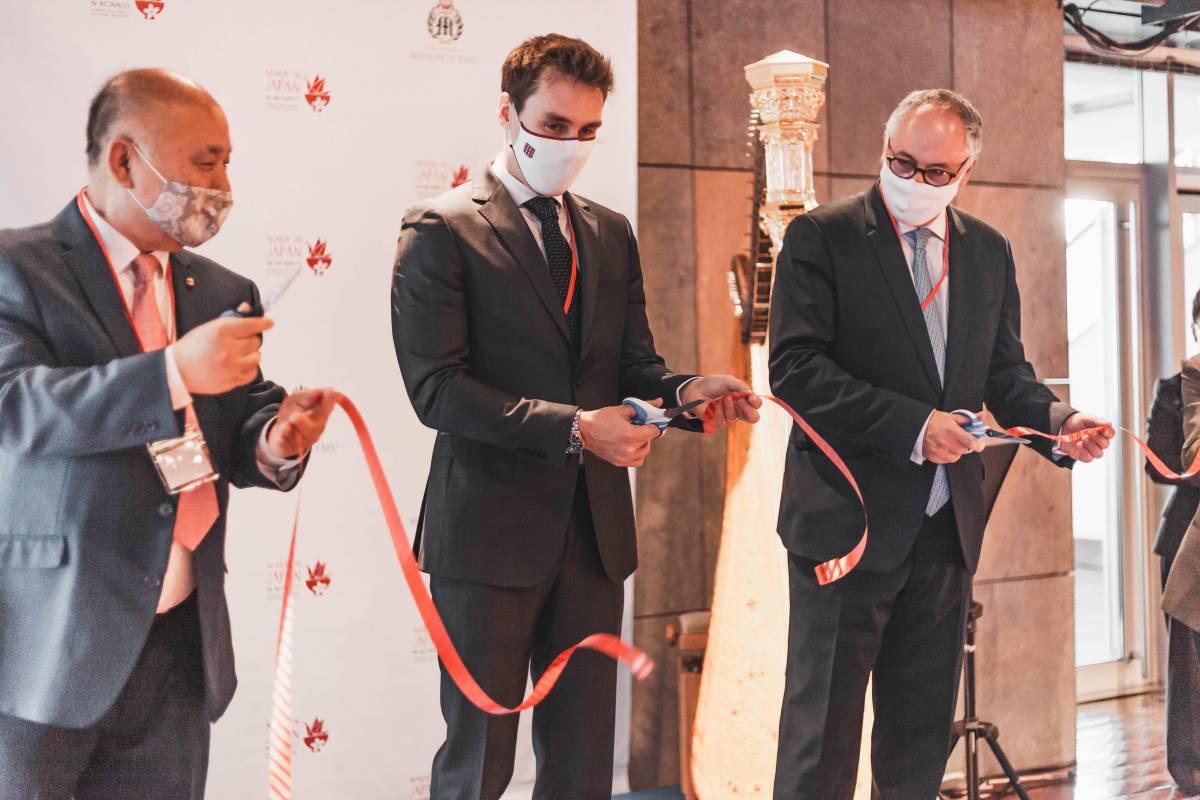 Sake, Sake and more Sake
We may all have experienced drinking Sake; here in the Expo you can try a much greater variety and like great wine Sake comes in a range of prices. Try a "vintage" sake from a bottle that sells at 200 euros, it is offered free. Sake has a slightly greater alcoholic content than wine so be careful driving home if you decide to make Sake one of the focal points of your visit!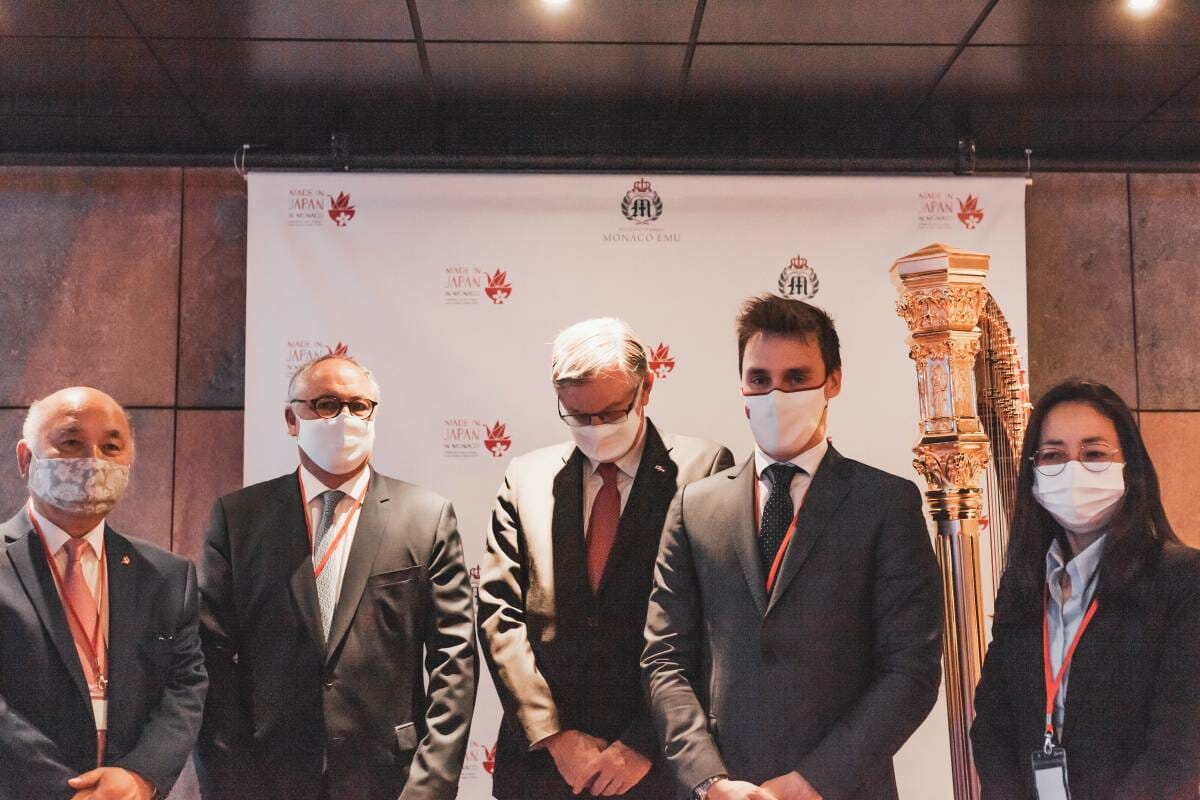 This is the first Expo of Made in Japan in Monaco. There is so much to taste, drink and explore it takes more than one visit. We look forward to their future Expos to take friends and go deeper into this ancient culture and explore all their delicacies.