Latest news
Gradual changes being introduced to free television service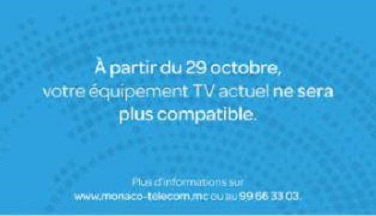 From 29 October 2018, the 19 TNT channels offered to users whose televisions are directly connected to a wall socket will no longer be accessible.
The service will be replaced by free access to more than 80 French-language and international channels, many of which will be in high definition.
To access these channels, television sets must be compatible with the DVB-C standard or equipped with a DVB-C decoder.
Residents can check whether their television is compatible by switching to channel 18. If your set is not compatible with the service, the following message will be displayed on the screen: From 29 October, your current television set will no longer be compatible. More information is available from www.monaco-telecom.mc or by calling 99 66 33 03.
This change does not affect subscribers who have a Monaco Telecom box.
For full information and further explanation, please see the website: www.monaco-telecom.mc /tnt
Or contact the dedicated telephone number: 99 66 33 03.
Source: en.gouv.mc