Latest news
Grand launch of the Monaco One mini-catamaran in the Principality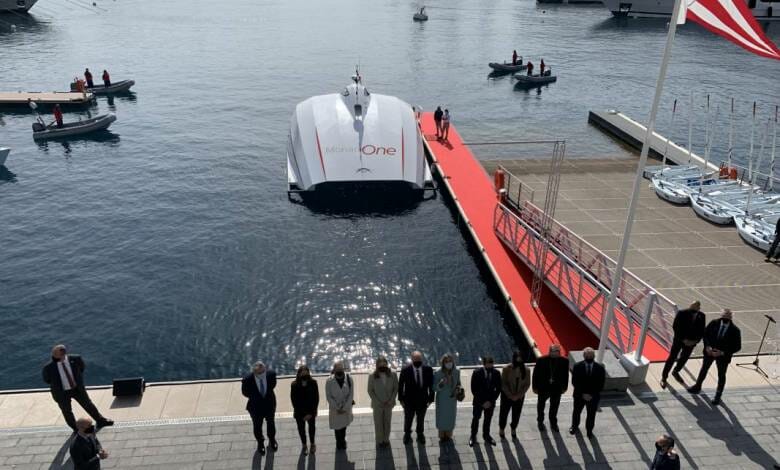 An unusual guest arrived at the Port Hercule on 4th February 2021. Even the world's most luxurious yachts, docked in the neighborhood, did not attract as much public interest as this 12-metre-long catamaran. Monaco One did not only impress Monaco with its futuristic design, but also shortened the journey from the Principality of Monaco to Italy to 15 minutes. 
On the morning of 8th March, the Monaco Yacht Club welcomed its guests. Prince Albert II of Monaco, President of the Ports of Monaco Aleco Keusseoglou, Managing Director of the Port of Ventimiglia Giovanni Battista Borea d'Olmo, Director of Port Cala del Forte Marco Cornaccia, Mayor of Ventimiglia Gaetano Scullino and former Mayor (now Regional Councillor) Enrico Ioculano arrived at the launch.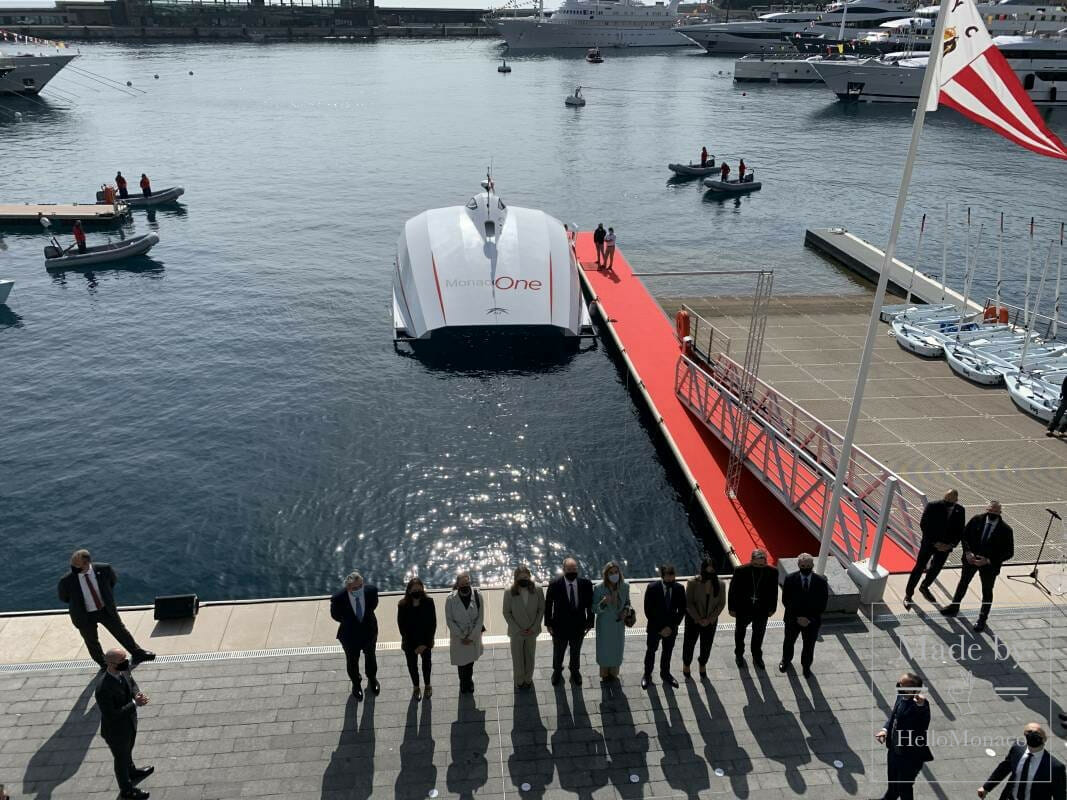 Camille Gottlieb, younger daughter of Princess Stephanie and niece of Prince Albert II of Monaco,  became the godmother of the shuttle Monaco One.
After a religious ceremony, held by the Archbishop of Monaco, Monsignor Dominique-Marie David, Camille Gottlieb broke a bottle on the side of the ship. The ceremony was also attended by Princess Caroline of Hanover, Princess Stephanie, Pauline and Louis Ducre and his wife. The members of the royal family were the first to be invited aboard and embarked on a sea voyage from the port of Hercules.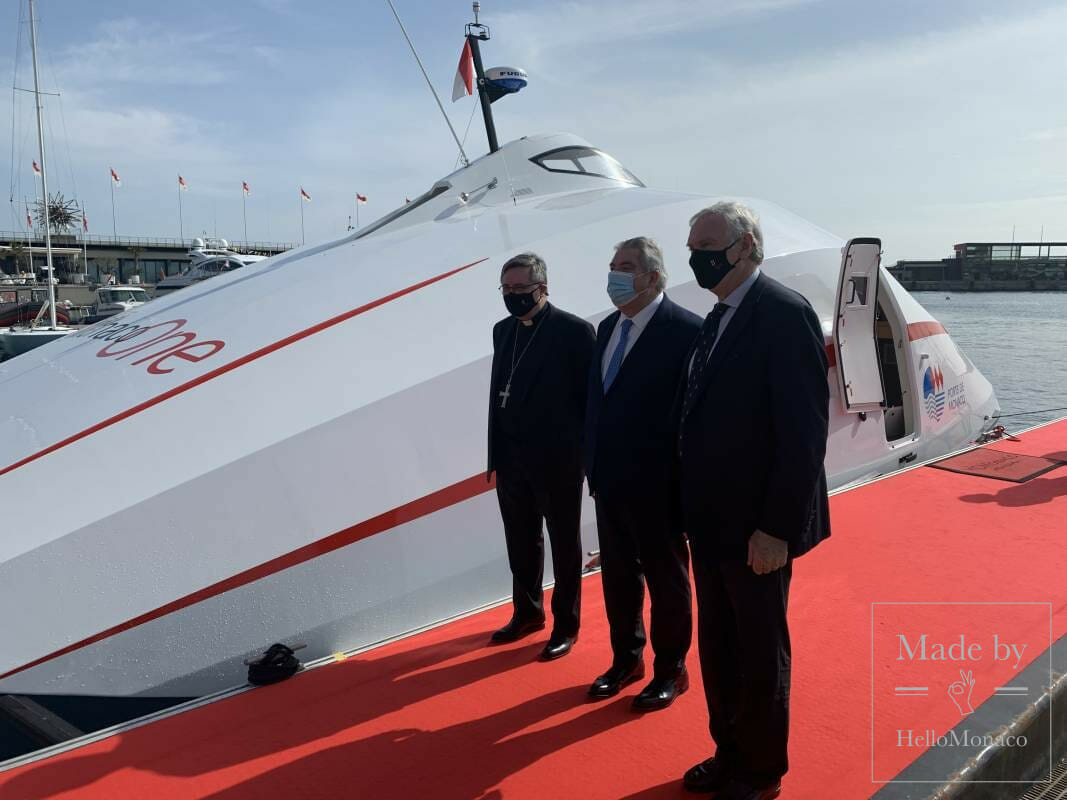 Appearance and environmental care
The unusual space design of the catamaran provides not only high speed: 45 nautical knots, but also reduces fuel consumption, making the ship reliable and stable. A 15-minute sea voyage to Ventimiglia can be performed simultaneously by 12 passengers. 
The catamaran is equipped with a dedicated real-time tracking system for large marine mammals, contributing to the protection of marine wildlife.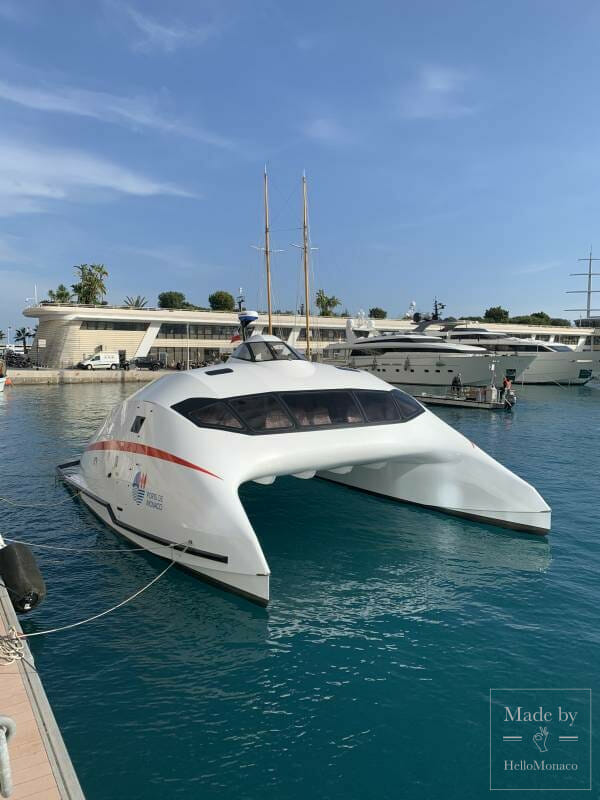 Monaco One was designed and built by Advanced Aerodynamic Vessels in La Rochelle, France. The new acquisition cost Monaco about a million euros. The company has already sold its transport catamarans to Swiss and African customers. The first vessel, with a capacity of 25 seats, was sold to Gabon and reportedly runs some 300 nautical miles six days a week.
Cala del Forte at Ventimiglia became the third seaport of Monaco. Already, this ambitious project is called the most modern and safe port on the Mediterranean coast. This is where the Monaco One catamaran will take tourists from the port of Hercules.