Latest news
Inauguration of new monument by Giuseppe Ducrot in tribute to Prince Albert I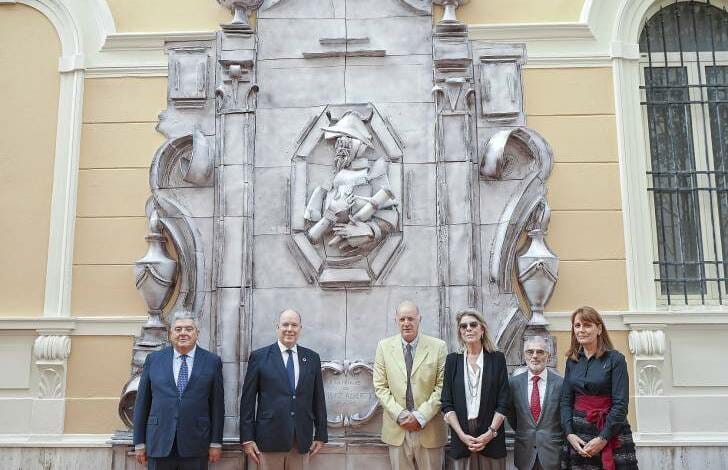 H.S.H. the Sovereign Prince and H.S.H. the Princess of Hanover have just inaugurated a monument in tribute to Prince Albert I, commissioned from the Italian artist Giuseppe Ducrot and installed outdoors on the façade of Albert I High School in Chanoine Franzi Alley, Monaco-Ville.
After a period dedicated to painting and drawing, Giuseppe Ducrot, born in 1966 in Rome, where he resides and works, turned his attention to sculpture, a medium he later explored using a wide range of techniques such as terracotta, glazed ceramics, marble, and lost-wax bronze. His work draws inspiration from the classical art of Imperial Rome, Hellenistic sculpture, and the Baroque era.
This commission was conceived in commemoration of the centenary of Prince Albert I's passing. The artwork, crafted in white ceramic, stands a little over 5 metres in height and approximately 3 metres in width. It features a bust of Prince Albert I at its centre.
Placed along the path leading to the Oceanographic Museum, another iconic structure from Prince Albert I's reign, this artwork will now serve as a reminder for future generations of the Prince's numerous contributions in the fields of education, science, and the arts.
Prince Albert I
Albert I of Monaco reigned from 1889 to 1922. He is considered to be the father of modern oceanography.
Nicknamed the "Scholar Prince" or the "Navigator Prince", Albert I of Monaco was a rigorous scholar, an advocate for the sciences and an environmental awareness pioneer with a passion for the ocean.
From 1870, Prince Albert II's great-great-grandfather developed an intense interest in ocean exploration. The numerous scientific expeditions undertaken on his schooner L'Hirondelle, and later the Princesse-Alice, which took him all the way to the Arctic, the study of the seabed and ocean currents, and the discovery of new species prompted him to build the Monaco Oceanographic Museum
By Prince Albert II:
In our world today, where the environment is under threat, where the human values that are key to any policy are too often ignored or are called into question, the messages contained in Prince Albert I's pioneering work have, more than ever before, something critical to teach us.