Latest news
Inauguration of the beautiful new premises of the Rainier III Academy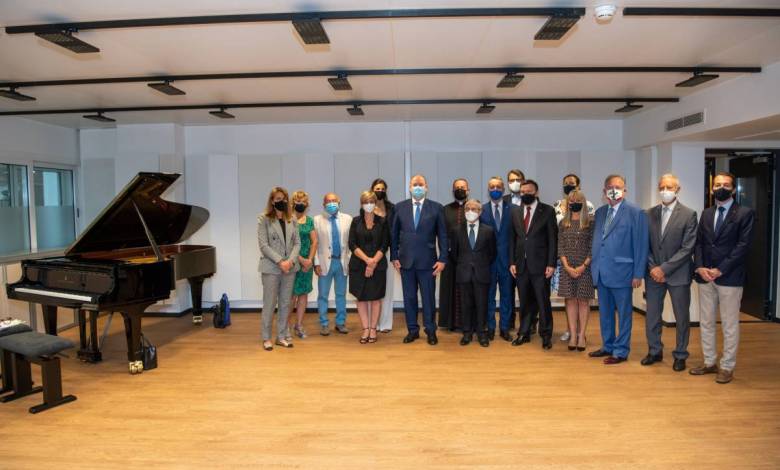 It was in the presence of HSH the Sovereign Prince and Mayor Georges Marsan that the inauguration of the new premises of the Rainier III Academy took place.
The building, completely rehabilitated, was delivered on time for the start of the new school year, recently started. Indeed, the building has been completely redesigned and refurbished and as specified by Georges Marsan, "… today we have a coherent, modern and aesthetic structure with quality acoustics."
At the end of the Mayor's speech, as tradition dictates, Monseigneur Paris, Vicar General, proceeded to the blessing of the place before the Monegasque Hymn played by the professors of the Academy.
The Mayor then invited HSH the Sovereign Prince and all the officials present for a guided tour of the premises.
Thus, new areas have been created within the Academy with, in particular, a space entirely dedicated and suitable for under 6s, enhanced security and even a meeting room for staff who can also eat there. 
Modern Digital Equipment 
There is also room for modernity with the integration of digital – tablets positioned at the entrance to each room, installation of hi-tech equipment and a digital workshop.
The administrative team benefits from a beautiful space where all the offices have been refitted.
Finally, students and teachers will soon find new rooms dedicated to Musical Training and to different disciplines and instruments (Old Music, Strings, Percussions, Musical Awakening …).
Only levels -1 and -2 of the Academy have not yet been rehabilitated: the electroacoustic room and the auditorium should be the subject of further work as soon as the necessary budget has been validated.
At the end of the visit, a musical interlude was offered in the orchestra hall by two professors from the Academy, Héloïse Hervouët and Mark Sole-Leris, gathered for a four-hand piano. And it is in all spontaneity that Shani Diluka, renowned pianist and former student of the Academy, visiting the Principality and guest at the inauguration, offered a second musical delight by performing "Mad Rush" by Philipp Glass. An emotional surprise that portends great moments to come within the Academy.
In his speech, the Mayor wished to underline the excellent collaboration between the various entities that worked on this major project and to send them his warm thanks. 
Patrice Cellario, Government Counselor-Minister of the Interior representing the Minister of State, Mgr. Guillaume Paris, Vicar General representing the Archbishop, Stéphane Valeri, President of the National Council, Céline Caron Daggioni, Government Councilor-Minister of Equipment, Environment and Town Planning, as well as representatives of Monegasque institutions, were also present for the occasion- this after nine months of work led by the Public Buildings Maintenance Service of the Prince's Government, in close collaboration with the Municipal Technical Services (STC) and François Lallemand, Deputy Mayor, Delegate to STC and with the invaluable support of the staff of the Rainier III Academy under the leadership of its Director Jade Sapolin.