Latest news
Italian Night with Anna Netrebko and Yusif Eyvazov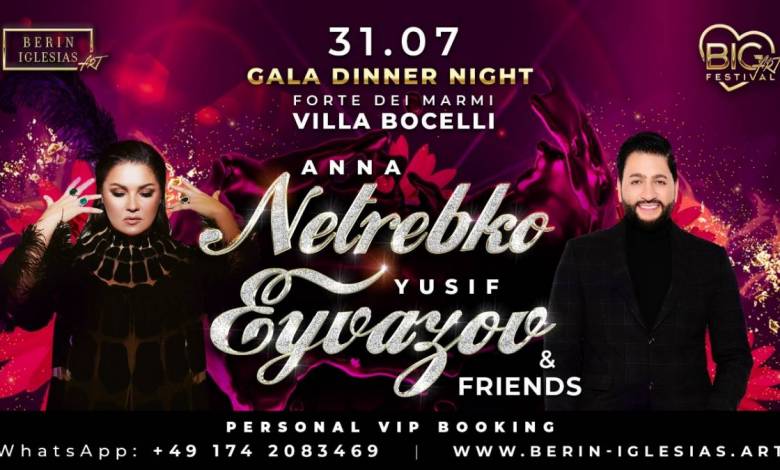 For the second time in a row, and after a huge success in 2021, Big Art Festival invites to an exclusive concert with Anna Netrebko and Yusif Eyvazov in Forte dei Marmi. Villa Bocelli will be opening its gate to its splendid garden for this unique event with the undisputed dream couple of opera,– Don't miss the most luxurious event of summer 2022.
Anna Netrebko and Yusif Eyvazov are the most fascinating operatic couple of our times. On July the 31st, the soprano and the tenor are invited in Italy to give a concert in the Italian singer's villa. Located in the middle of a breathtakingly beautiful landscape at the shore of the Ligurian Sea, the large garden of the grand estate will be the stage for one of the most important high-class events of the year, combining extraordinary music, haute cuisine by renowned chefs and a distinguished service.
Anna Netrebko and Yusif Eyvazov will render some of the most beloved arias of Italian opera. The programme that will be exclusively compiled for this occasion will include Anna's and Yusif's fa- vourite compositions from opera, international art song, Neapolitan song and operetta. The Italian Tenor will also share the stage to pay tribute to the power of music and the seductive beauty of Italian summers.
Married in real life, applauded as operatic couple
Anna Netrebko is acclaimed worldwide as the prima donna of our era. The soprano has triumphed at La Scala, the Metropolitan Opera, the Opéra National de Paris, the most important concert halls and festivals such as Salzburg. Praised by no other than Plácido Domingo for his high notes,Yusif Eyvazov is one of the most renowned contemporary operatic tenors and applauded for his passionate interpretations. Married in real life and devoted to the music of Giuseppe Verdi, Anna and Yusif have received enthusiastic ovations for their appearances as a couple in the most popular operas of the repertoire.
BIGART Festival
BigArt stands for the most exclusive events, luxury, red carpets, popping flashlights, celebrities and a passion for art. The festival is organized in cooperation with the top five star hotels. The events are especially designed for the VIP-guests they address and guarantee unforgettable eve- nings among friends at the most beautiful places on the planet.
The festival format includes a gala dinner served at lavishly decorated tables and stage technique of the highest standards. The programme can embrace different formats such as a concert of a famous pop star, a stand-up comedy show or even a gala concert with several soloists and bands.
BIG ART is expanding: The festival currently takes place in Monaco, Dubai, Moscow, Courchevel, Sochi, Saint-Tropez, Odessa, Marbella, London, Cyprus, Porto Cervo, Forte dei Marmi, Mykonos, Budva, Aktau and Tashkent.