Latest news
Jubilee: 110m Oceanco sold as largest brokerage deal of 2018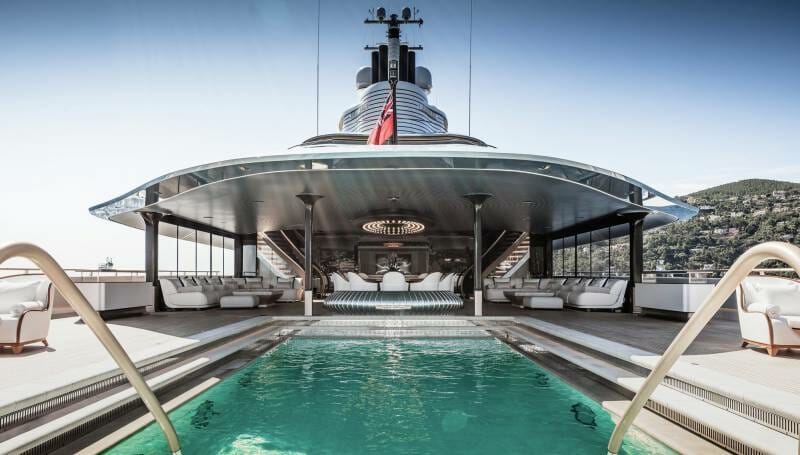 We selected for you top 4 yacht stories of the last week at Yacht Harbour.
Jubilee: 110m Oceanco sold as largest brokerage deal of 2018
Jubilee, the 110-meter Oceanco delivered in 2017 as the largest yacht built in the Netherlands, has now been sold at an asking price of €275 million according to Burgess. This makes the deal, the largest brokerage yacht sold so far this year.
Built by Oceanco for the late, former emir of Qatar, the yacht was put on the market shortly before its delivery at an asking price of €275 million. Designed by Russian designer, Igor Lobanov, the yacht's exterior features fake, intermediary decks that make the yacht appear larger than it is when looked at from afar.
Now owned by an American billionaire according to several industry sources, Jubilee can accommodate up to 32 guests in 16 cabins and carry a crew of 45. Key amenities onboard include a swimming pool with a built-in aquarium, a helipad and a large beach club.
55-meter Amels 180 sold with summer 2019 delivery
Dutch shipbuilder Amels has announced the sale of a new 55-meter Amels 180 from yard's Amels Limited Editions range. The sale highlights the ongoing success of the Amels Limited Editions approach, combining individual design choices with fast delivery. The new Amels 180 superyacht will be delivered in summer 2019.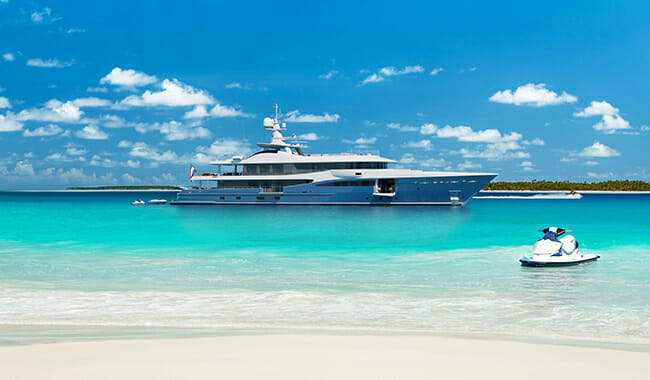 The Amels 180 has proven full displacement naval architecture with a large volume (671 Gross Tonnage), offering strong and stable seakeeping behavior for excellent comfort and global range. The logical layout and properly-sized storage for equipment is a direct result of the larger volume, ensuring no compromise for journeys requiring extended periods of full luxury service at sea.
The next available Amels 180 is now under construction and scheduled for summer 2020 delivery. Favorite features of the Amels 180 include the impressive 1,938 sq ft Sun Deck (180 square meters), the Main Deck Owners Suite with folding balcony, plus a wide-body Bridge Deck Sky Lounge.
Introducing the Sunseeker line up for boot Düsseldorf 2019
Sunseeker will be displaying an exciting range of motor yachts at the 50th anniversary of Boot Düsseldorf from the 19th – 27th of January. Visitors to Europe's leading boat show will have the opportunity to view eight of its exquisite models, including the stunning new 74 Sport Yacht, which will be joining the dynamic Predator models, through to its luxurious Manhattan and Yachts range.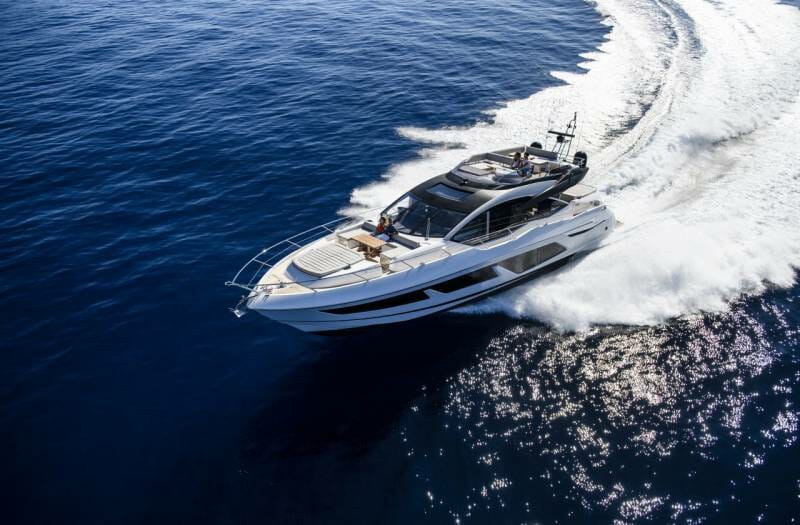 Sunseeker will also be displaying a selection of its exclusive merchandise range, named the 'Sunseeker Collection' at Boot Düsseldorf. 
Sporty and sleek, the brand new Sunseeker 74 Sport Yacht, with 38 knot capability, boasts the latest Sunseeker design cues and sporting prowess as the recently launched Predator 74. However, while maintaining her dynamic look, the in-house design team at Sunseeker has created the 74 Sport Yacht with an exceptional flybridge – almost unperceivable within her profile lines.
Designed to offer the ultimate experience, the yacht's exterior enjoys oversized pillarless' windows down to the side deck and a helm sunroof which flood the interior with light and provide exceptional views from the saloon in all directions. She enjoys a truly versatile layout throughout and the spacious flybridge makes her a true class-leader, not only offering an additional helm station, but a perfect entertaining space with plentiful seating, dining and sunbathing options and a convenient drawer fridge as standard, along with optional bimini and wet bar upgrades.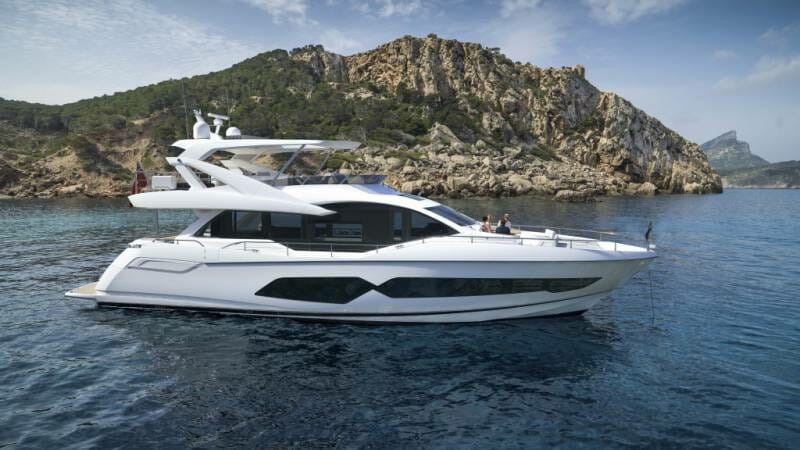 The below deck configuration offers complete flexibility for owners with an option to replace the lower dinette with a walk-in wardrobe for the forward VIP or an additional twin guest cabin which would allow the yacht to accommodate up to eight guests in a four cabin arrangement plus a dedicated twin crew cabin.
The vast foredeck with its superb sunpad for soaking up the rays and spacious lounge seating with optional canopy and drawer fridges, caps off what promises to be another incredible success for Britain's biggest boat builder.
Second 42-meter sailing yacht E-Volution sold by Perini Navi
In December, 2017 YachtHarbour has reported that Perini Navi ventures into hybrid yachts. In July, 2018 first 42-metre sailing yacht E-volution sold by Perini Navi.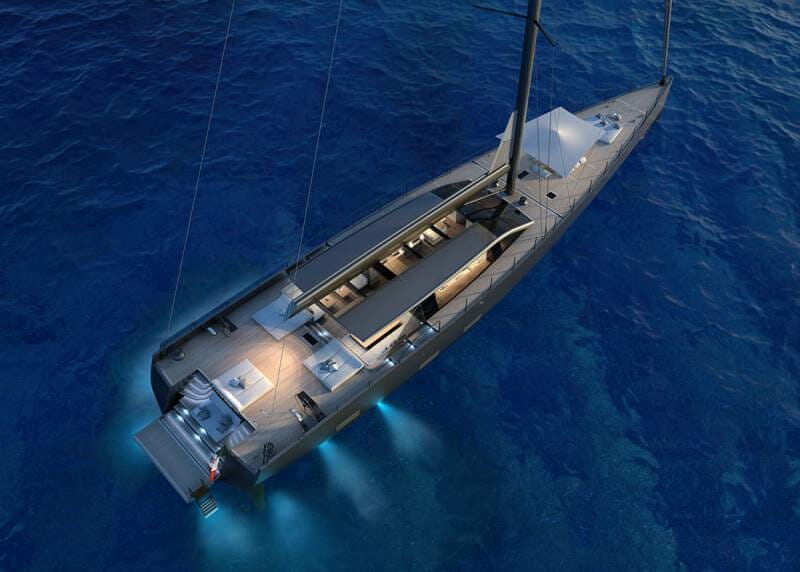 Now, Perini Navi announced the sale of the second 42-meter sailing yacht in the E-volution line. She is the first unit in GTS series, and has been sold to an experienced European owner. She is planned to be delivered in spring 2021. Second E-volution unit will be combined from aluminium and carbon, delivering the superior performance on the technical platform developed for the first 42-meter E-volution, with a concept and styling by Perini Navi and naval architecture by Reichel Pugh.
Her naval architecture has been modified in several aspects, for example the keel and the sail plan. The mast has been increased to "Panamax height" (62.5 meters) and the keel extended to a maximum depth of 7.40 meters. The new sail plan features a square top mainsail, an extended boom and a 4-meter bowsprit to maximise the sail surface. To improve performance still further, a series of changes have also been made to significantly reduce the displacement. They include work on the deck house and the use of carbon for various fittings, as well as the optimisation of the propulsion system and structural features.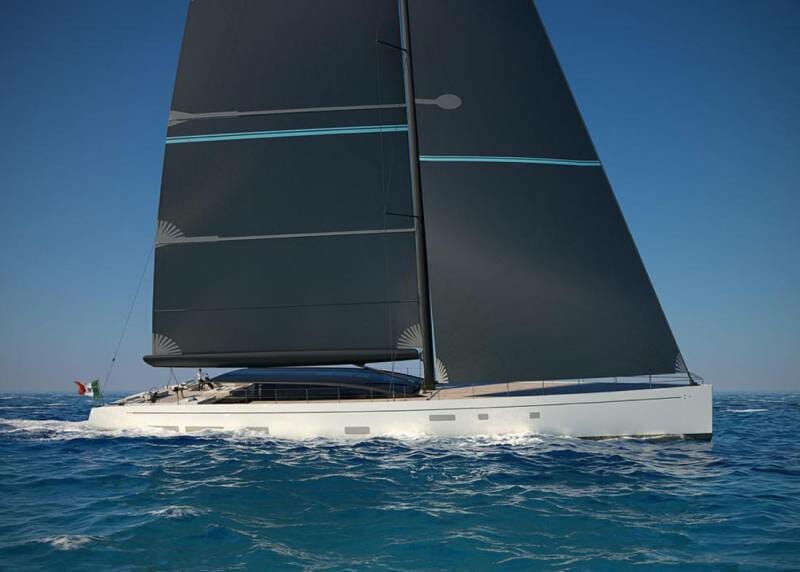 The new design combines the characteristics of the 42m E-volution series, including clean lines, ample space and a big stern platform, with a more streamlined deck house as requested by the owner. The interior design will be created by Barcelona-based firm GCA jointly with Perini Navi.