Latest news
Launch of the 28-metre Wally 93 sailing yacht Nahita and other yacht news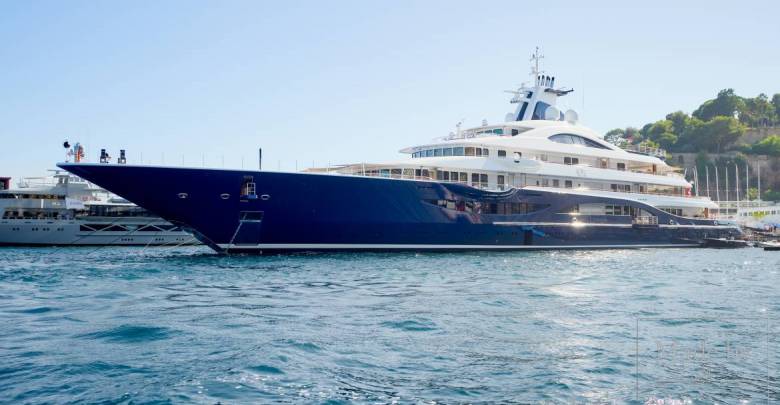 We selected for you top 5 yacht stories of the last week at Yacht Harbour.
28-metre Wally 93 sailing yacht Nahita launched
The new cruiser-racer 28-metre Nahita, developed for an existing Wally owner who is a keen racing yachtsman from Europe, was successfully launched right on schedule, in the presence of her team and the shipyard workforce. The yacht features the latest hull lines with the distinctive large stern and big interior volumes, resulting into the new generation superyacht, dazzlingly fast and very comfortable, providing the ultimate experience in high performance sailing.  "The new Nahita fully reflects the Wally DNA to combine exceptional cruising capabilities and maxi racing performance" describes Luca Bassani, Wally and Wally Class president "Additionally, the deck is ultra-clean with huge living areas." The new custom superyacht boasts the proven Wally hallmarks and the Judel Vrolijk naval architecture.
"A Wally is the perfect syntheses between a high performance cruising yacht and a competitive racer " says Rolf Vrolijk of Judel Vrolijk & Co., responsible of the Wally 93 naval architecture "This new design is streamlined for the Wally Class racing circuit, that is the most competitive racing in high performance cruising yachts in the Mediterranean."
Additionally, the salon has more privacy than in the standard layouts because it is separated from the access to downbelow: the companionway leads to the passageway of the crew and guest cabins and to the galley area.  Enhanced privacy also for the owners area, located  forward the salon, while the two guest cabins are aft. The new Nahita is built using the most advanced composite technology, providing for the reduced displacement and increased rigidity. The building materials are like those used in the America's cup boats: high modulus unidirectional carbon fiber, and CNC female carbon fiber mould. The breakthrough superyacht will make her debut at the Maxi Yacht Rolex Cup 2018.
190-metre ultra-luxury cruise ship by Ritz-Carlton
The Ritz-Carlton Hotel has announced itineraries and shore excursions for its Luxury Yacht Collection. Three luxury cruising yachts are scheduled to sail in 2020. Ritz-Carlton will start taking reservation from May 21 from its loyalty members and those of its parent company Marriott International. The very first voyage will sail out of Fort Lauderdale, Florida, on Feb. 1, 2020, for a 8-night cruise in the Caribbean. The yacht will travel to Bimini, Bahamas, and Key West, Florida, before returning to Fort Lauderdale.
In its inaugural season, The Ritz-Carlton Yacht Collection will offer 40 different voyages, most ranging from 7 to 10 nights. Number of experiences will be available, such as visiting a renowned winery in Bordeaux, France, learning how baby oysters are grown in a private farm in Sete, France or even emeeting with a spiritual shaman in the Grenadines. The shore excursions will be grouped into five categories: Iconic Sights (art and culture); Stirring the Senses (wellness); Cultural Connections (wild life); Active Explorations; and Epicurean Experiences. The trips "illustrate our commitment to providing rare opportunities to today's luxury traveler," said Lisa Holladay, global brand leader for The Ritz-Carlton, in a statement.
The unique designed yachts will measure 190 meters, with 149 suites accommodating up to 298 passengers, which is more like superyacht than an actual cruise ship. Each stateroom has its own private terrace. The yachts will also feature two 158-square-meter penthouses, each with its own private whirlpool, modern craftsmanship and interior finishes jointly designed by The Ritz-Carlton and design firm Tillberg Design of Sweden. Prices have not yet been released.
49-metre Flying Dagger launched by Rossinavi
The 49-metre superyacht Flying Dagger was launched in Viareggio on April 21 by Rossinavi. Previously known as Project FR036, Flying Dagger was sold in May 2016. This aluminium motor yacht boasts interior and exterior design by Enrico Gobbi at Team For Design. The design focuses on minimizing noise emissions to give greater comfort during crusing and wide windows and skylights to allow natural light to flood into the interior and offer guests superb panoramic views.
Guest accommodation is divided on two decks, with the full beam owner's suite on the main deck forward, and 4 double suites located on the lower deck. As Flying Dagger was built for speed, she will reach a maximum speed of 27 knots, fitted with three 2,600hp MTU engines and three KaMeWa waterjets. With a cruising speed of 23 knots and her range will be 3,300 nautical miles at 12 knots. The aft tender garage is complemented by a foredeck Jet Ski locker.
57-metre Amels 188 yacht Volpini 2 launched by Amels
57.7-metre Volpini 2 was launched by Dutch boatbuilder Amels this month. It is the first hull in their Limited Edition 188 series, which was presented by Amels at the 2015 Monaco Yacht Show. The project was sold in September 2017.  Volpini 2 is a displacement yacht with the exterior design by Tim Heywood and interior of 970 GT by the Reymond Langton design studio.
The innovative Volpini 2 combines advanced solutions like hybrid electrical power, which the yard believes that this system could offer a €150,000 ROI over a 3 year period. The smart layout maximises guest enjoyment – from open decks with generous outdoor spaces to the lure of the 30 square-metre Beach Club and the Wellness Centre's gym, sauna and Turkish steam shower. The design duo of Pascale Reymond and Andrew Langton created an interior design with living, breathing spaces that invite you inside. The full-beam Owner's Suite covers almost 80 square metres, and features a large folding balcony and mid-beam sliding doors for privacy.
Architectural features include electronic cables concealing in flying buttress in the centre of the boat, moving the hand rails and guard rails outward aft, which makes decks look grander, windows added in the aft door, which makes the natural light flood in.
Sixth Benetti Fast 140 yacht launched – 42-metre Ironman
Ironman is a 42-metre yacht from Fast 140 series, being the sixth model launched by Italian yard Benetti Yachts at their facilities in Viareggio. The yacht is built to RINA standards from GRP and carbon fibre, boasts exterior design by Stefano Righini and interior design by US-based designer Alfred Karram Jr and his studio  AKJ Design Concepts, with the naval architecture developed by the Azimut Benetti Research and Development centre and features a D2P – Displacement to Planing hull with wave piercer, designed by Pierluigi Ausonio.
Large glass windows in the main deck saloon makes natural light flood in and makes interior bright, also providing great sea views. Main deck area is divided into zone for relaxing and for dining, with room for 12 guests around central table.
On board, she accommodates up to 12 guests across a 6 cabins, including a master suite on the main deck, 2 VIP cabins and 2 twin cabins on the lower deck, as well as an additional VIP suite accessible via one of the twin cabins.  Crew quarters is up to 7 people.
Ironman is fitted with twin 3,650HP MTU diesel engines, reaching a top speed of 23 knots and cruising speed of 18 knots, and when switched back to economical speed of 12 knots, Ironman will have a range of 1,800 nautical miles, thanks to her fuel tanks of 35,000 litres.