Latest news
Monaco Fire and Emergency Service Has a New Technical Tool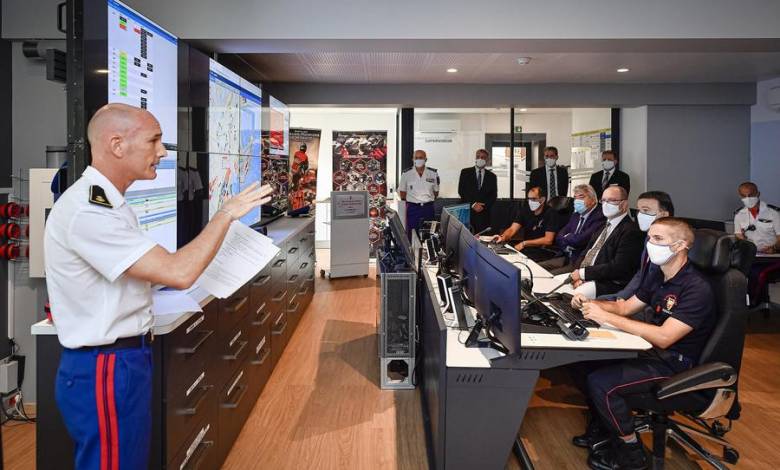 On Monday 21 September, H.S.H. Prince Albert II, accompanied by H.E. Mr. Pierre Dartout, Minister of State, Patrice Cellario, Minister of Interior, Didier Gamerdinger, Minister of Health and Social Affairs, Stéphane Valeri, President of the National Council, Colonel Tony Varo, Supreme Commander of the Military Force, and Lieutenant-Colonel Norbert Fassiaux, Head of the Fire and Emergency Service, inaugurated the Centre for Incident Management and Emergency Operations (CGECOS).  This technical management tool will enable Monaco's fire and emergency service to deal with emergency requests 24 hours a day, seven days a week.
This centre will oversee the deployment and monitoring of emergency resources in conjunction with its various partners, such as the DPUM's  Integrated Mobility Management Centre, the Police Department's Monitoring and Operational Command Centre, the Emergency Department of the Princess Grace Hospital and Monaco City Hall, as concerns remote alarms.
This Operations Centre is equipped with new features, both in the field of operational management (such as mapping, CCTV feedback and drones) and in the functioning of the system itself, with a real capacity for adaptation and development. It thus brings the Fire and Emergency Service into the digital age, for the benefit of populations in emergency situations on the Principality's territory and in neighbouring French towns.
In particular, the CGECOS will make it possible:
To use on-board computing in vehicles, by means of connected tablets;
To deploy a mobile app for smartphones, for the use of all personnel, where each person can view their daily and weekly schedules, holidays, receive operational and administrative alerts, monitor interventions, etc.
All these features are designed to save time and assist with forward planning.
Source: gouv.mc