Latest news
Monaco's Festival of the Sea: a Paradise of Sea, Sun and Fun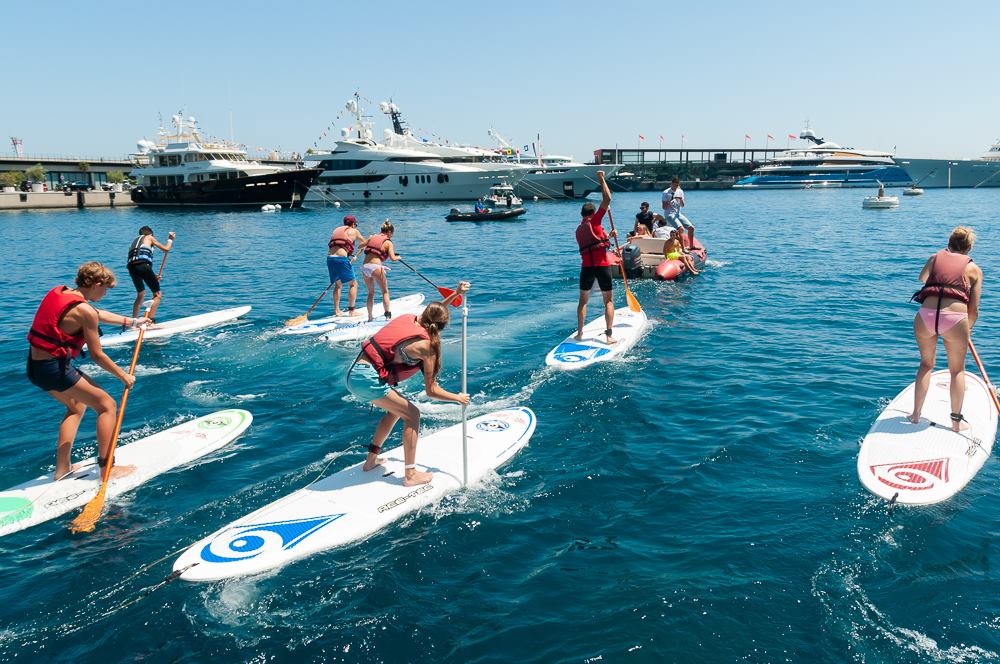 "Good Day Sunshine" goes the upbeat Beatles hit song and it certainly was that way for the Festival of the Sea at Monaco's acclaimed Yacht Club this weekend. It was if an invisible hand had decided to create the perfect day to be at the sea, in harmony with it, swimming in it, sailing on it, partying by it. The Festival of the Sea brings the community together to celebrate one of life's greatest gifts in Monaco, our marine environment – it is one of the happiest days of the year. So many of Monaco's institutions have banded together with the Yacht Club to organize the festivities for the day that the range of activities on hand for families and children are truly mind-boggling.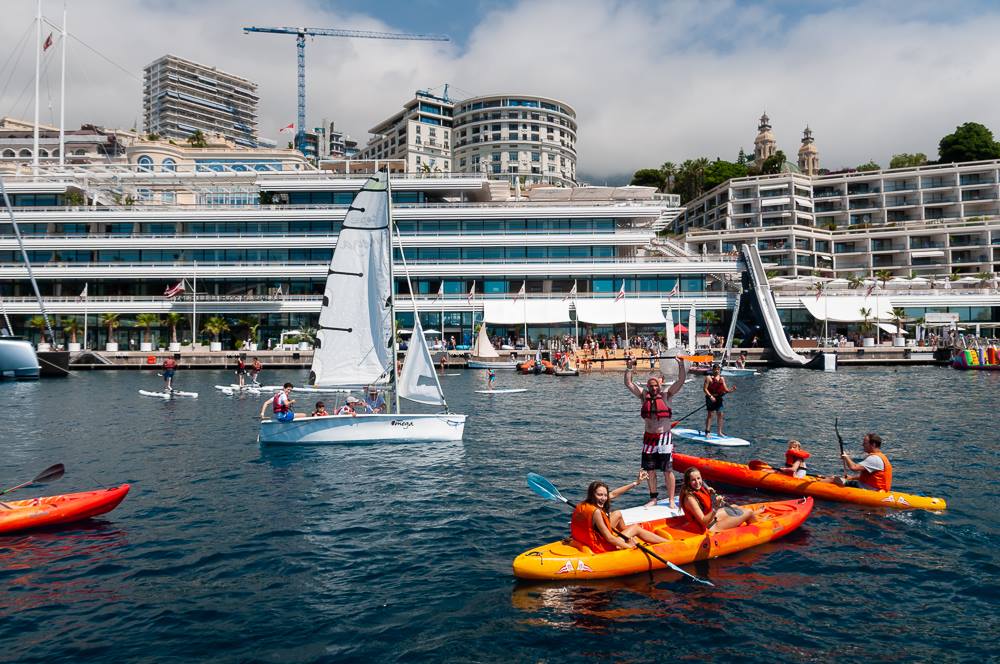 HelloMonaco was there at the outset when swarms of happy faces descended on the Yacht Club with their hands-up signing on for myriads of fun things – sea-trips, sessions of sailing or virtual surfing, sea kayaking, kite-surfing, paddle boarding, scuba-diving, water biking and water-walking balls for tiny tots. The registration desk, staffed by young volunteers in attractive boaters and marine jerseys, was swamped by eager young revellers. The laughing and excitement of the children was almost palpable as they run around in their swimming costumes.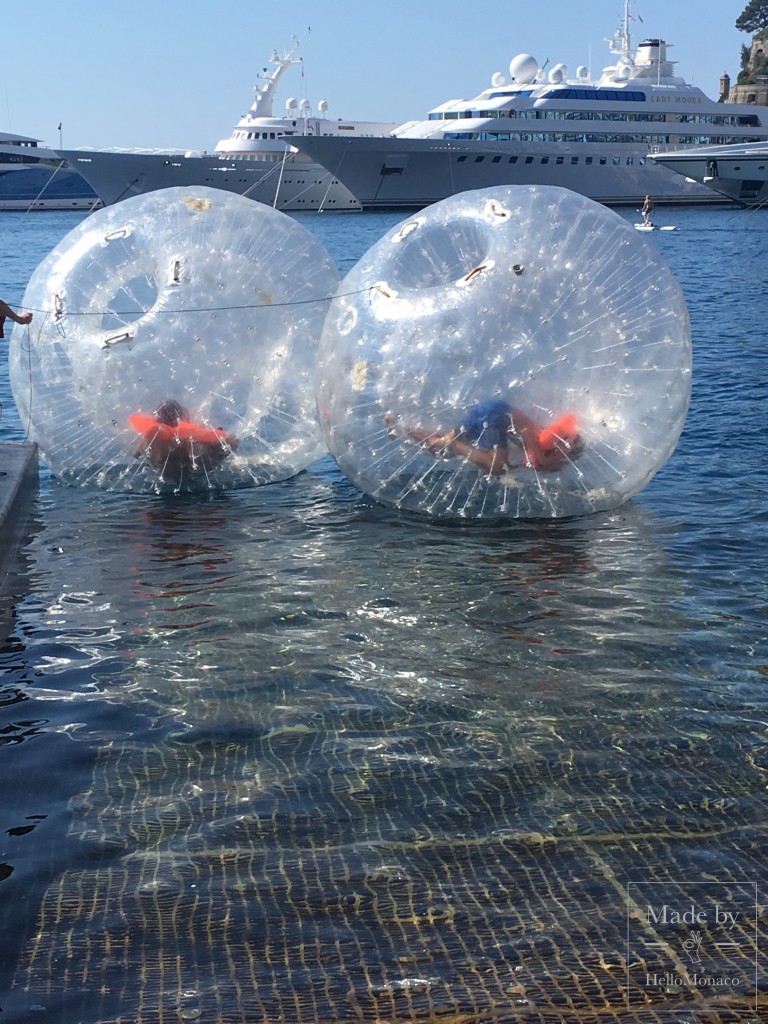 Imagine the scene, the walkways and jettys from the Yacht Club promenade are bustling with activity. In every direction families – a lot of children but many mums and dads too – are climbing on water-bikes, into yachts and kayaks. You name it, whatever the shape of boat or vehicle, if it sails on the sea, then the Yacht Club had trained volunteers helping the party-goers put on life-jackets and go for a trial run.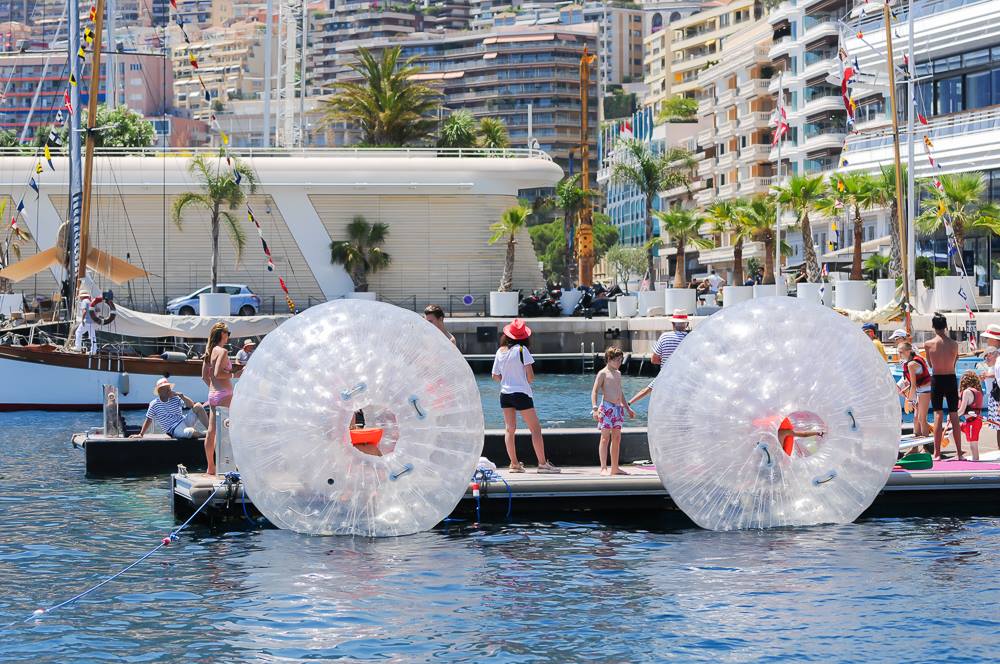 High-Tech was represented too. Want to surf, but the actual sea is too calm – there is a virtual surfing studio on the shoreline with queues eagerly waiting for try-outs. Watch boys and girls strut their stuff with virtual masks on balancing – and sometimes unbalancing – on the surfboards. It's a little unnerving watching them. They are in a virtual world, you the onlooker cannot see what they see in their high-tech masks, as they move their bodies balancing to deal with the virtual waves.
What's a festival without a parade! This is what everyone is pausing to see. It's not a normal parade but a wonderful marine parade of boats from Monaco's two harbours. They put on a fine show, circling to applause from everyone.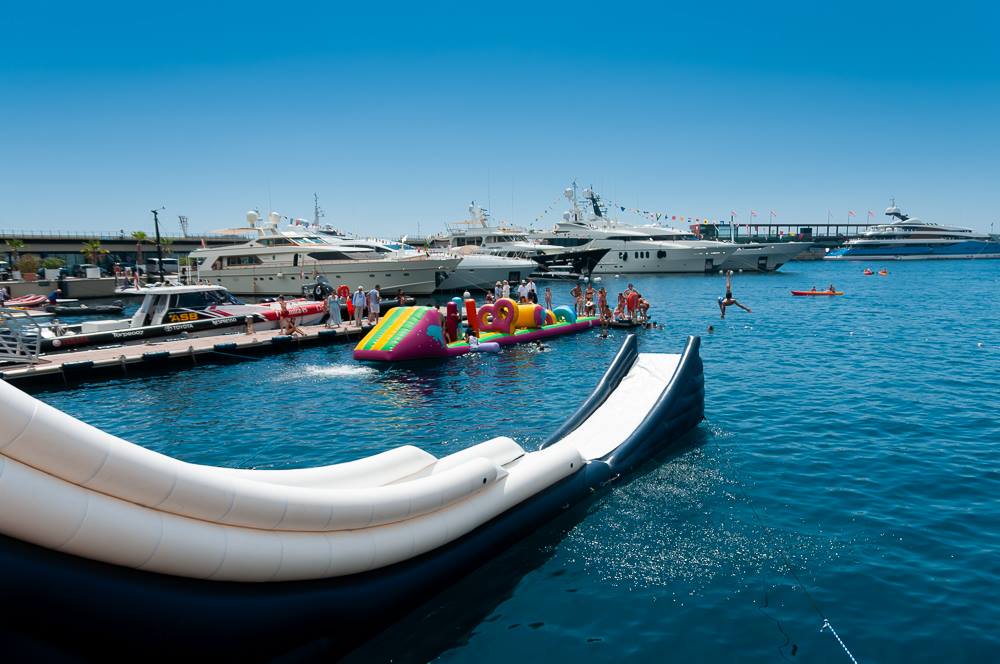 For the occasion the YCM's two flagships, Tuiga (1909) and the 60ft IMOCA Malizia II, opened their decks to the public for 20-minute sea outings. A rare privilege. And also new for this year, a Jet à Bras exhibition by World Speed Vice-Champion Lisa Caussin-Battaglia, a book-signing with Gérard Aubert, author of Des Abysses au Paradis, and a Sea Championship with a ranking that combines all the activities on offer to reward the most enthusiastic and active.
On the dockside promenade the fun continues non-stop. It's France versus Argentina in the World Cup in Moscow and it is being played out on the "football-table" as well in the Yacht Club by Monaco teenagers. Almost better than being in Moscow. Diego twists his wrist and scores for Argentina. France eventually wins both in Moscow and at the Yacht Club to roars and screams of delight from the teens. Or was one of the screams from the "Soak and Splash" next to the "footie-table" where a beanie bag just hit the target unleashing a torrent of water on the "captive" hostage's head.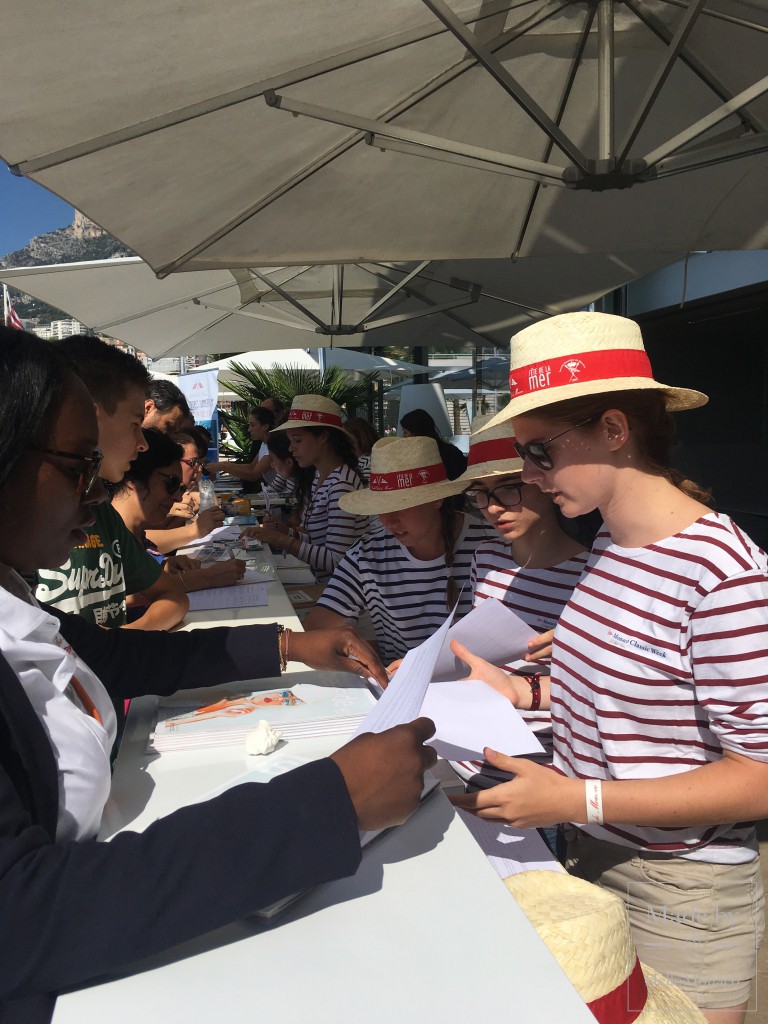 With all this fun there is a lot of subtle learning going on. Enjoying the sea means a clean sea. If you want to visit marine sanctuaries and see whales and dolphins in their natural habitat then that means respecting nature. There's life-saving to be learned. And if you want to be healthy and participate in sports then being super-fit helps. Have you ever seen synchronized pilates performed to jazz music. You will at the Festival of the Sea with adults and kids doing it in unison to Monaco's Jazz Academy's rhythm.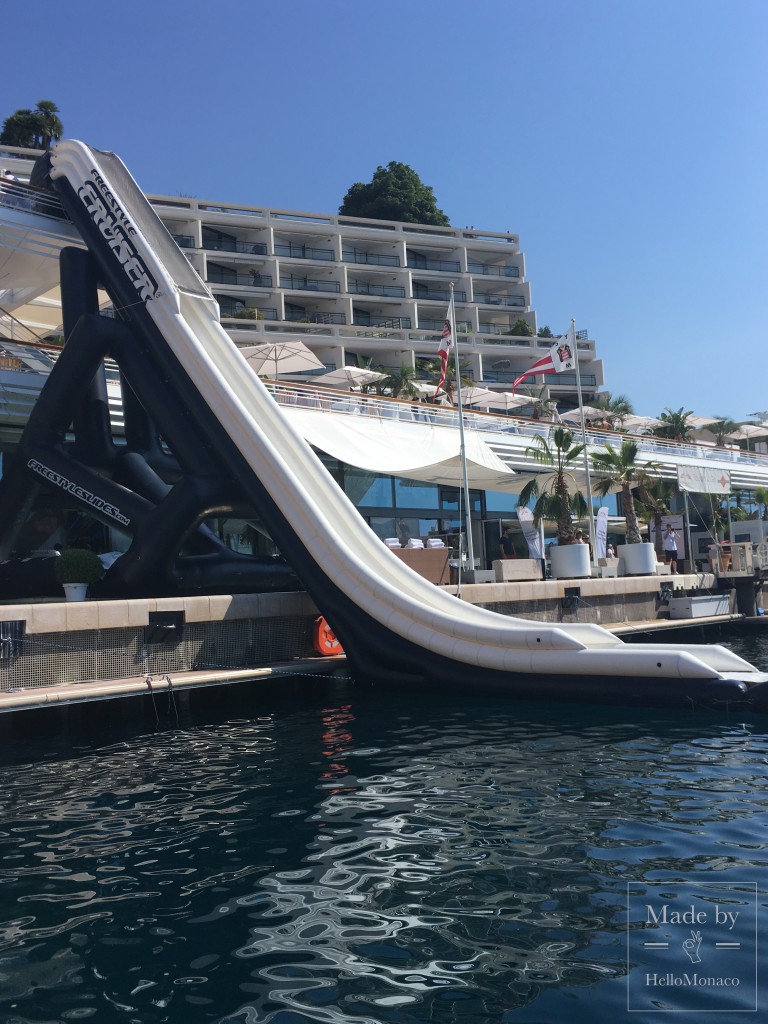 It is no surprise that one of the summer's most fun celebrations, particularly the one centred around our magnificent marine environment, does not happen without an enormous effort by Monaco's leading institutions. All credit to: Monaco Mairie (city council), Société Nautique de Monaco (rowing club); Pontons de Monaco Association; and other Monegasque institutions linked to the sea including the Prince Albert II of Monaco Foundation; Oceanographic Museum; the scuba-diving Club d'Exploration Sous-Marine de Monaco; and the Association Monégasque de la Protection de la Nature.
There are even events like the Inter-bank Challenge Regatta to Cap d'Ail run at the same time just to add extra excitement – as if any were needed.
The sea is part of Monaco's soul and the Festival of the Sea plucks our heart-strings. It is an extra-ordinary celebration – so good it's worth marking your calendar for next year's sequel. Spread the word, don't miss it.