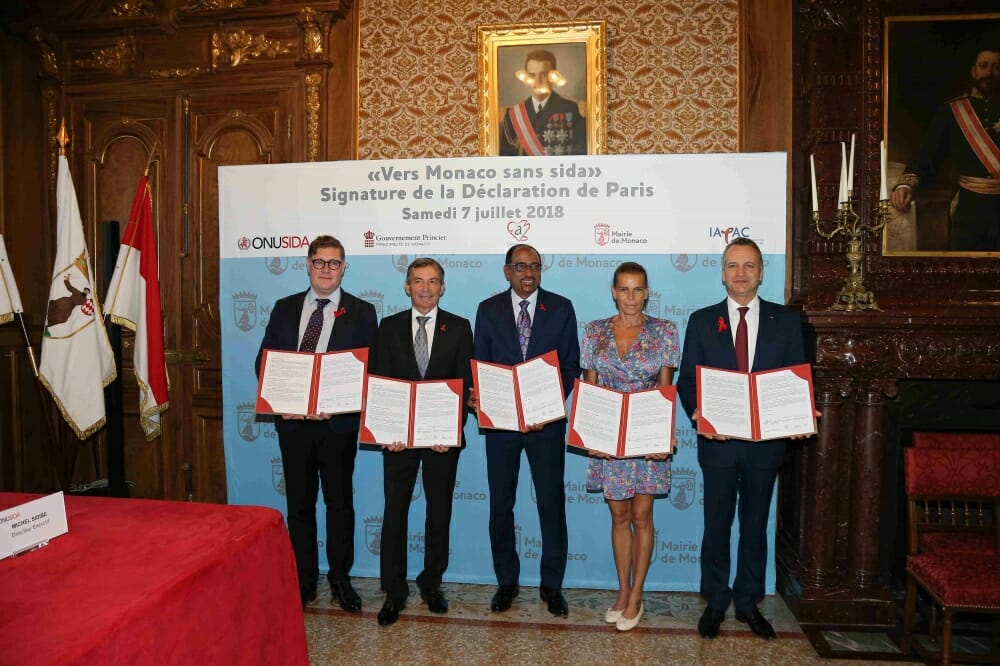 Mayor Georges Marsan, surrounded by several members of the Communal Council, signed the Paris Declaration 'Towards a Monaco without AIDS' recently.  Princess Stephanie, President of Fight Aids Monaco, Didier Gamerdinger, Government Counsellor Minister of Health, Michel Sidibé, Executive Director of UNAIDS, and Bertrand Audoin, Vice-President of IAPAC (International Association of Providers of AIDS Care) in charge of the "Cities are committed to Europe" program were present for the signing.
The Paris Declaration was first signed by Anne Hidalgo, who made Paris the first city to formally commit to this path on the 1st of December 2014. This co-signature by the Monaco Government and the Monaco City Council allows the Principality to become the first city-state to commit to drastically reducing HIV infections by adopting the 90-90-90 target:
– 90% of people living with HIV have been diagnosed, – 90% of people diagnosed are on treatment, – 90% of people on treatment have viral suppression.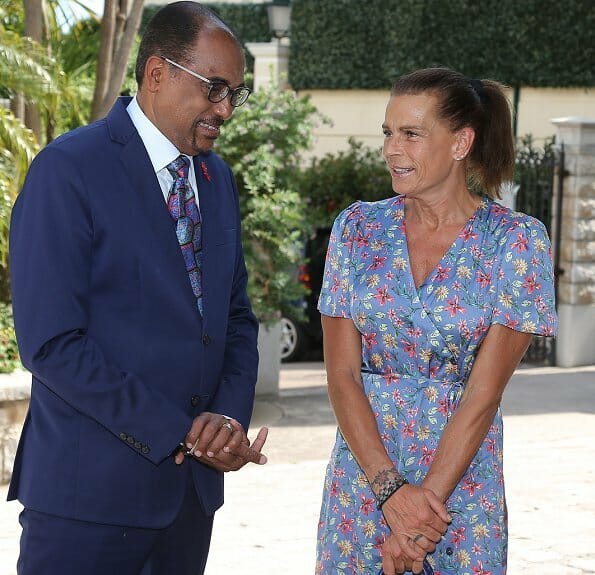 In his speech, the Mayor recalled how essential it is to continue the screening campaigns, especially through the operation 'Test in the City' initiated in 2012 by HSH Princess Stephanie. Through out-of-hospital screenings twice a year in different parts of the city, Fight Aids Monaco teams are able to meet people in their daily lives to better inform them about their work, HIV and invite them to be screened. He also said if screening is essential, communication is also one of the fundamentals in this fight to eradicate HIV.
By signing the Paris Declaration 'Towards a Monaco without AIDS', the Monaco City Council and the Prince's Government are officially joining forces with Fight Aids Monaco by providing their support. Other joint actions will soon see the light of day as Georges Marsan pointed out before giving the floor to Didier Gamerdinger: "Fight Aids Monaco, the Government and Monaco City Hall, will work hand in hand to carry out this commitment."
The next actions will be to continue the 'Test In The City' campaigns, twice a year and to launch during the 4th quarter of 2018, a communication campaign around U = U 'Undetectable = Untransmittable'.
More information available at http://www.fast-trackcities.org/