Latest news
Pink Ribbon presents €25,000 Check to Princess Grace Hospital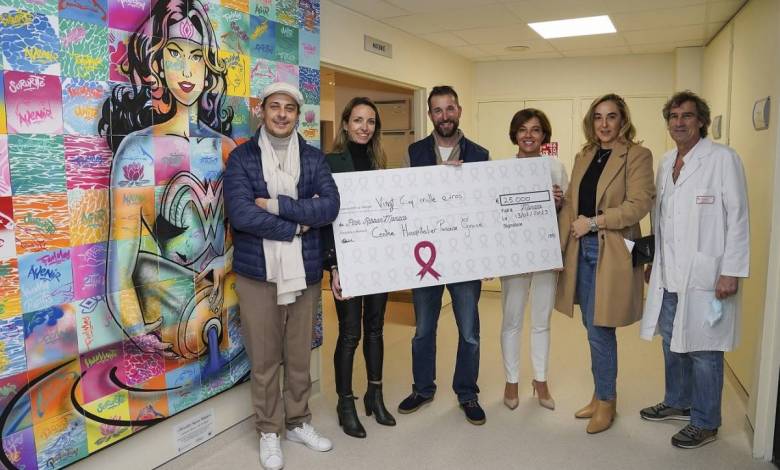 Pink Ribbon Monaco presented a check for €25,000 to the Princess Grace Hospital Centre to fund innovative research in the fight against breast cancer on 13 February. The money was raised during a record-breaking Pink Ribbon Walk, held last weekend at Monaco Run, and during their 'Dare to Bear' Gala.
The funds will be put to work immediately, with new medical research led by Dr. Florent Hugonnet, which will make it possible to specify the detection of lobular breast cancer, one of the most difficult breast cancers to detect.
"After 12 years of working to raise awareness of breast cancer screening, Pink Ribbon Monaco is very proud to start a new chapter by raising funds for science," said Pink Ribbon Monaco on social media.
Record-breaking Pink Ribbon Walk
The 12th Pink Ribbon Walk smashed all attendance records when over 250 people walked together in support of people living with breast cancer and in memory of those who have gone. People of all ages walked 5 kilometres from Port Hercule on 12 February 2023.
Two days before the walk, on Friday 10 February, Pink Ribbon Monaco hosted its Dare to Bear charity fundraiser at the Hotel Hermitage with special guest, actor Noah Wyle. A passionate supporter of human rights and universal healthcare, Noah Wyle attended the gala to celebrate the 10th year of breast cancer remission for a close member of his family.
Auction of Hitchcock's 'Rear Window' Filmstrips
The Dare to Bear Gala included an auction with a variety of lots, ranging from photos and pieces of original film strips from Alfred Hitchcock's 'Rear Window' starring Grace Kelly, to unique experiences, including VIP terrace access for the Sunday of the Monaco Grand Prix, unique jewellery, watches and collector pens.
Launched in 2011, Pink Ribbon Monaco is the first association in the region to celebrate breast cancer awareness month and light up buildings in pink. Pink Ribbon Monaco aims to raise funds and awareness about the fight against breast cancer while assisting individual patients.