Latest news
Presentation of Department of Cultural Affairs summer season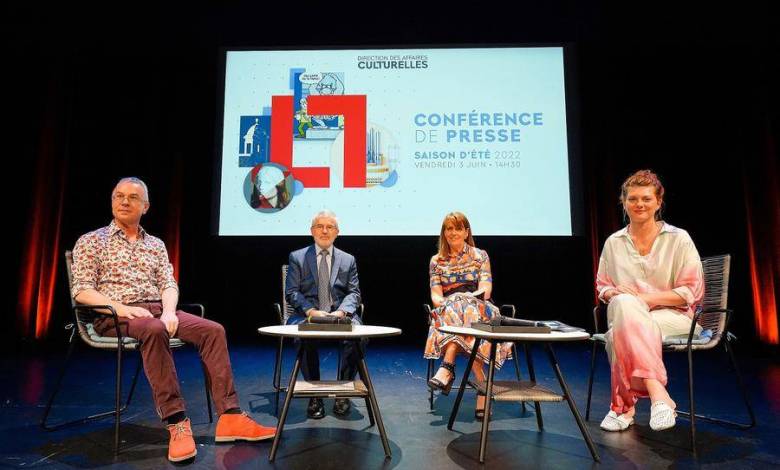 Mr Patrice Cellario, Minister of the Interior, Ms Françoise Gamerdinger, Director of Cultural Affairs for Monaco, Mr Olivier Vernet, Artistic Director of the International Organ Festival, and Ms Amber Pietri, who is responsible for the Fort Antoine Theatre programme, all attended a presentation to the press of the Department of Cultural Affairs summer season.
The Organ Festival will open this cultural season on 19 June, and will continue until 17 July at Monaco Cathedral. With a theme of 'the organ and literature', this seventeenth edition of the festival will feature five performances, and will open with an accompanied film screening. Actors such as Guillaume Gallienne and Thibault de Montalembert, as well as astronaut Jean-Loup Chrétien, a huge organ fan, will be coming to chat to internationally renowned organists, who will improvise on the grand organ. A particularly moving musical production, "The other half of a dream", will offer a reading of works by Alicia Gallienne, also to improvised music.
On 2 and 3 July, the biennial Monaco Artist's Forum exhibition will be held at the Espace Léo Ferré. This event will bring together 80 amateur and professional artists, who will present their works in the fields of painting, sculpture and photography. A Public Choice Award, organised from 16 to 30 June via the event's website (www.forumdesartistes.mc ) will give the public an opportunity to vote for their favourite work, which will then be exhibited during the Forum.
From 5 July until 2 October, the Cat from Philippe Geluck's comic strip Le Chat will take up summer residence on the Promenade du Larvotto. The travelling exhibition "Le Chat déambule" ("The Meandering Cat"), conceived by the cartoonist, will present 20 large bronze sculptures each 2.7 metres in height and weighing 2.5 tonnes.
The eclectic season will continue at the Fort Antoine Theatre from 8 July to 2 August, with seven open-air evening performances. This year's programme will feature theatre, and also the circus arts, singing and music. The opening show, Hansel and Gretel, on 8 July, and the closing show, S'assurer de ses propres murmures (Listening to Our Own Whispers), will be open to young people from age 6 years and up.
The full programme can be found at:
* Monaco International Organ Festival: www.festivalorguemonaco.com
* Monaco Artist's Forum: www.forumdesartistes.mc
* "Le Chat déambule" exhibition: www.lechat.com
* Fort Antoine Theatre: www.theatrefortantoine.com
Source: www.gouv.mc