Latest news
Prince Albert Inaugurates the new UltraModern FANB: alliance between soul and the digital age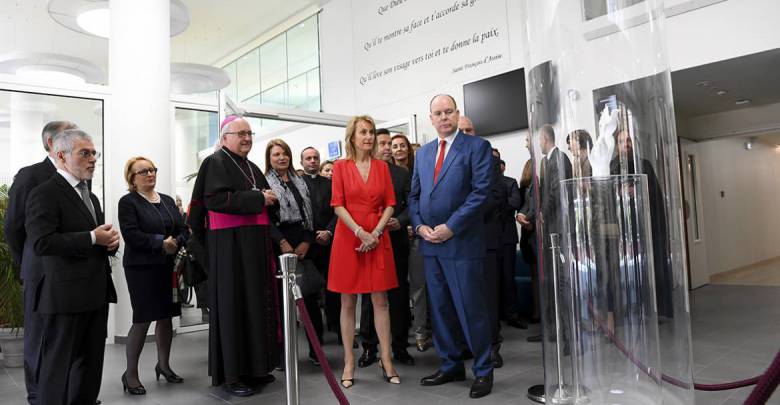 History and the future came together as Prince Albert presided over the April 27th inauguration ceremony for the new site of the Francis d'Assise Nicole Barré school in Roqueville.
The 8-story building is a splendid ultramodern architectural statement designed by Monegasque architect Chérif Jahlan. Franciscan Friars of historical times would have reasons to smile at this renaissance. In the place where historically had been a college of Franciscans has now risen a 21st century state of the art educational institution for 750 high school students.
Powered by no less than the "Holy Spirit" via the kindly words of Archbishop Barsi:
"We pray that this establishment will be a light for young people and the educational community in their search for the truth," words that are also echoed by Serge Telle:
"A new period in the history of the institution opens, because FANB is not a building like the others: it symbolizes the alliance between soul and spirit."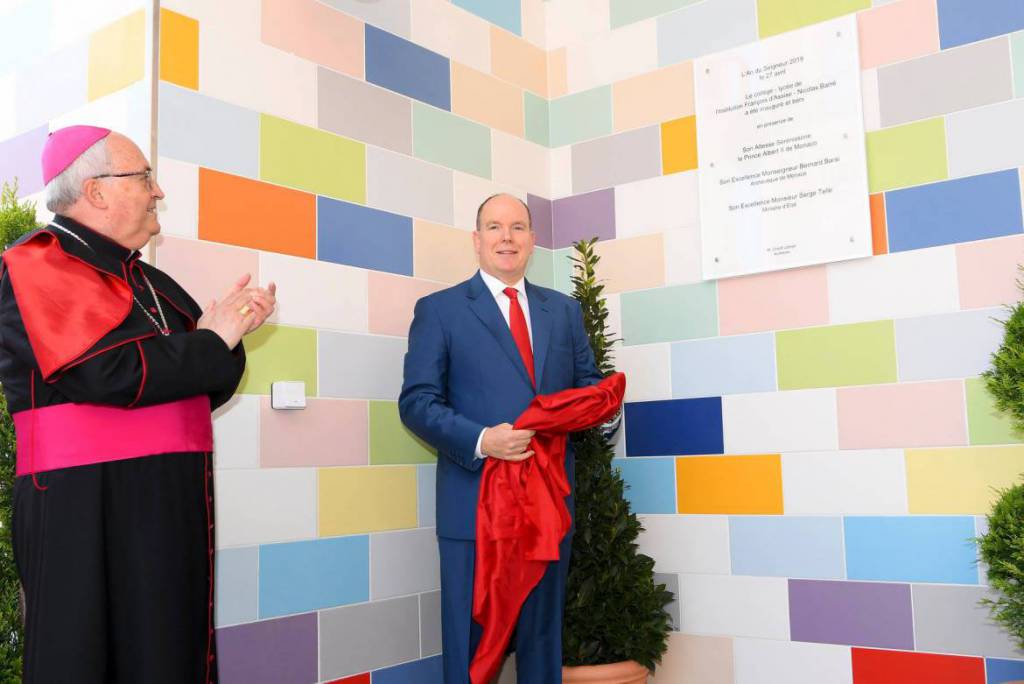 Modern in its ability to educate in bright, airy and technologically sophisticated classrooms and labs yet one is never far in the new school from noble themes that have endured since Francis d'Assisi befriended nature. Which makes it fitting also that the building's construction has been respectful of the Principality's mission to preserve our environment for future generations; its eight stories comply with the "High Environmental Quality" standards.
Messages and values ​​abound: art objects in the hall include a beautiful reminder of Saint Francis' benevolence for God's creatures. Symbols of peace and fraternity and nature continue with the olive trees present in the courtyard. Stained glass windows by the master glassmaker Arcabas adorn the chapel, and the floral motifs on the chapel's guardrail are a visual testament to the founding fathers.
The other powerful statement addresses the future – the Principality's digital future:
FANB describes all classes have 75-inch interactive digital displays. No more good old blackboard and chalk. Digital makes sense here.
The interactive touch screen is primarily a kind of giant tablet that runs on Android and that can perform many tasks: write, annotate, draw, and make representations. In a classroom, it becomes a basic teaching tool. Editing content becomes much easier than when working with chalk on a blackboard.
Designed to capture the interest of those who use them, through engaging visuals, combined with a rich and intuitive collaboration environment, interactive digital touch screens are a real added value in classrooms which stimulate teaching and serve perfectly.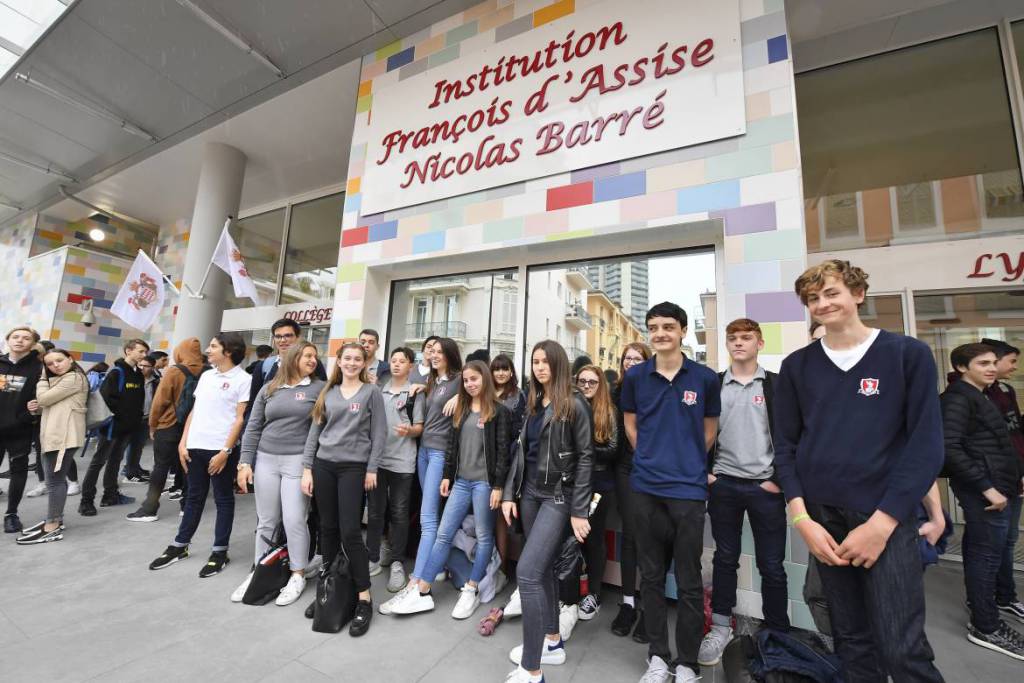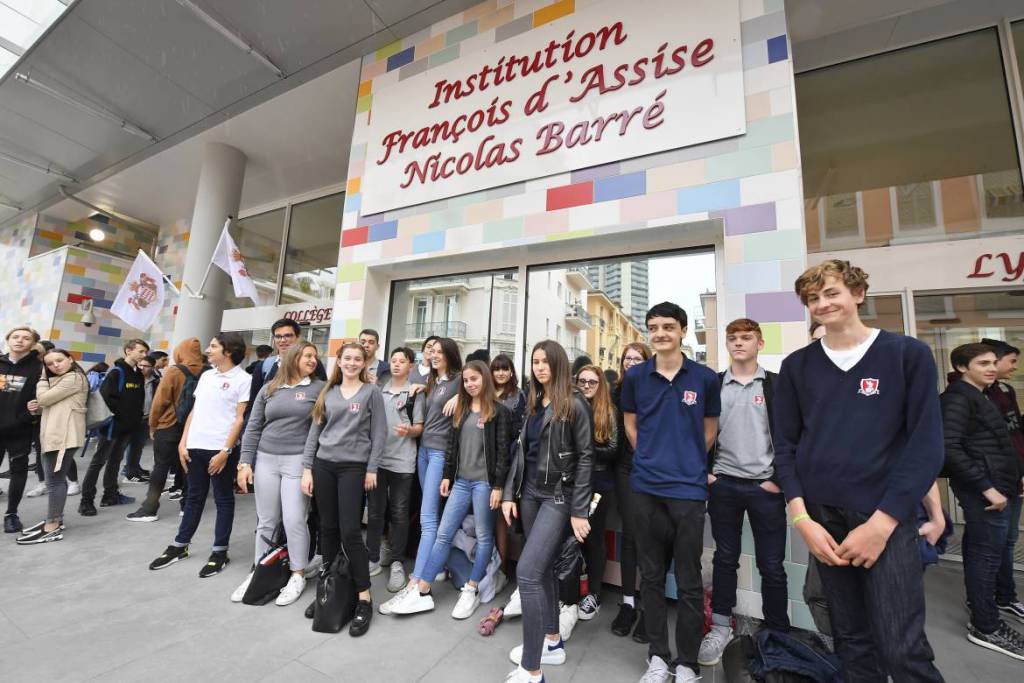 Even though the principal aim was to create optimal conditions for work nobody has forgotten the input of the students. They have friendly places to meet adapted to their needs as teenagers. "All work and no play makes Jack a dull boy" is an old saying that has not escaped the attention of the designers; the students can congregate around games of table -football in their free time.
The canteen of old had been replaced by a cafeteria spirit, high chairs and canopies and dining rooms with dishes in hot and cold islands.
Time has flown since HelloMonaco reported on October 4, 2016 (the Day of St. Francis of Assisi) of the laying of the first stone by Prince Albert and Princess Charlene. This is a major achievement – a milestone in the advance of Monaco's educational infrastructure. The numbers speak for themselves:
45 classrooms on 8 floors; over 10.000 square metres
4 computer rooms
4 science labs
3 technology rooms
2 language labs
2 art rooms
2 Documentation and Information Centers
2 playgrounds
1 chapel
1 multipurpose room
No wonder there was a turnout fitting for the occasion: not only Prince Albert, Archbishop Barsi and Serge Telle but also celebrating the inauguration were Stéphane Valéri, President of the National Council, Patrice Cellario , Government Counselor – Minister of the Interior, Didier Gamerdinger, Government Counselor – Minister of Social Affairs and Health, Isabelle Bonnal, Director of National Education, Youth and Sports, Christine Lanzerini, Director General, Head of secondary school, and many Monegasque personalities.
Every detail has been thought of at Francis d'Assise Nicole Barré School to realize the mission of sending the School's students out into the world with a solid foundation, future oriented but steeply grounded in ethics that will stand the test of time.