Latest news
Saint Patrick's Day in Monaco: Greener than Ever!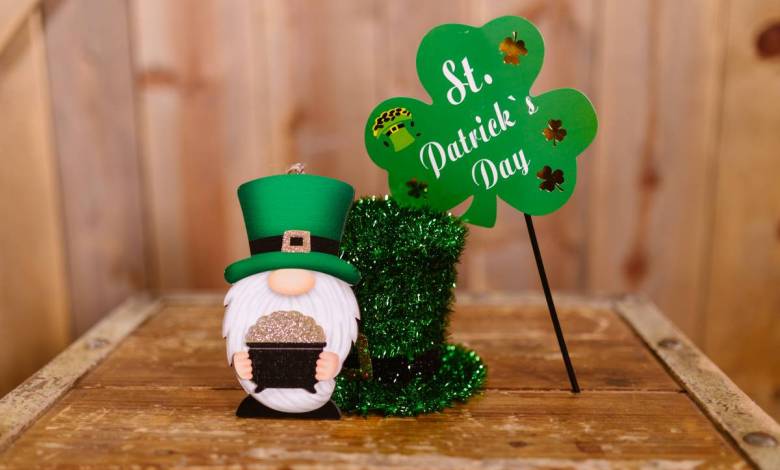 "Hundreds and hundreds of years" … going back to the thirteenth century. This describes the Grimaldi dynasty, the Rock and European aristocracy's perennial envy to experience part of it. 
Did you know that it also describes the Monaco Royal Family's links to the Emerald Isle and why the traditions of Ireland and particularly Saint Patrick's Day are so enthusiastically celebrated in the Principality. 
Twin Royal Roots 
"Hundreds and hundreds of Years" … Most of us are aware of Prince Albert's Irish heritage from his mother, Princess Grace whose family originated from Ireland and almost certainly would have danced wearing a shamrock on Ireland's most saintly day of the year. 
Did you know that Princess Charlene's family also had Irish roots going back to the 1500s, even before the birth of Saint Patrick's Day itself. 
Princess Charlene's recent welcome return within the Monegasque community prior to Saint Patrick's Day could not be better timed to shine a light on her historic links to Ireland. Irish genes run deep in Monaco Royalty.
And twin is genuinely the word! The Royal twins, hereditary Prince Jacques and Princess Gabriella have "twin" links to Ireland through both their father Prince Albert and their mother Princess Charlene. 
So when the Palace on the Rock lit up green leprechauns had at least two royal reasons to add an extra delighted leap in their jigs. 
And since 2010, more and more famous landmarks have lit up in green on Saint Patrick's Day as part of a "Global Greening Initiative" or "Going Green for St Patrick's Day".
Monaco's Princely Palace and Sydney Opera House are amongst the most high profile of over 300 landmarks in fifty countries across the globe that have gone green for Saint Patricks day. Would Saint Patrick, even with divine insight, have understood how "green" would eventually become the environmental call to arms for our times… injecting new meaning into Saint Patrick's day and the Principality's attachment to it. We can imagine Saint Patrick with a special green halo smiling on the Principality's dedication to protecting the environment. 
"Drowning the Shamrock "  
Of course, it is one of the year's most happy days as 
Lent's restrictions on eating and drinking alcohol were historically lifted for it. Drinking Irish whiskey, beer, or cider – has become an integral part of the celebrations. 
March 17th may be one of the few days in Monaco where Irish Whiskey competes with Champagne as the favourite drink. 
The Saint Patrick's Day custom of "drowning the shamrock" was particularly popular, where a shamrock is put into the bottom of a cup, which is then filled with whiskey, beer, or cider. It is then drunk as a toast to Saint Patrick, Ireland, and friends present. The shamrock would either be downed with the drink or picked out of it and tossed over the shoulder for good luck. 
The Little Treasure on the Rock – The Princess Grace Irish Library
Nestled on the Rock is one of the more charming boutique libraries one can imagine, thoroughly in tune with the spirit of Princess Grace's Irish heritage. The library was established in November 1984 by Prince Rainier, in her memory. 
The Library really is a hidden treasure worth visiting. It pays tribute to Princess Grace's attachment to her Irish roots. It is home to her personal collection of Irish books and Irish-American sheet music … and other treats such as floral napkins she designed, the chairs from the dining room of her apartment in Paris and the sewing box of her mother. 
The Princess Grace Irish Library is such a gem that the New York Times  classified it as the number one stop in its "36 hours in Monaco" travel recommendations.  It stated: "You can get close to her spirit in a second-story suite known as the Princess Grace Irish Library…"
Since its founding, it is reported to have acquired over twelve thousand books. The Library also contains multiple portraits and pictures of Princess Grace, by artists such as Mohamed Drisi, Jack Yeats, Louis le Brocquy, Jack Murray and Claire D'Arcy. 
The Library loans English-language books by Irish writers, as well as fine books of historical value. The collection has a selection for young readers, offering books and DVDs for ages two and upwards
On the occasion of 2022's Saint Patrick's Day, celebrated a day early on March 16th, the students of the Academy of Music and Theater "Fondation Prince Rainier III de Monaco" gave a recital at the Library under the aegis of the Princess Grace Foundation, in the presence of HSH the Sovereign Prince and the princely twins who were dressed in bright green . On the program were a harpist, three harpsichordists and a singer treating the audience to traditional Irish tunes including that of the famous Molly Malone. 
The happy afternoon included tasty apple tarts, decorated with shamrocks, made by pupils from the Lycée Technique and Hôtelier de Monaco.
Monaco-Ireland Arts Society
And as well as the Irish Library there is a Monaco-Ireland Arts Society which is dedicated to promoting Irish culture, by presenting the literary, dramatic and musical works of Ireland in the Principality of Monaco and its immediate environs.
Don't miss their next event on Friday 25 MARCH 2022 , at 8:30 pm featuring works by EUGENE O'NEILL including extracts from A Moon for the Misbegotten, The Iceman Cometh and Ile (a one act play) by Eugene O'Neill
Venue:  The Auditorium du Collège Charles III, Avenue de l'Annonciade, Monaco.
Just to give you a flavour:
A Moon for the Misbegotten is set in a dilapidated Connecticut house in early September 1923, the play focuses on three characters: Josie, a domineering Irish woman with a quick tongue and a ruined reputation, her conniving father, tenant farmer Phil Hogan, and James Tyrone Jr, Hogan's landlord and drinking companion, a cynical alcoholic haunted by the death of his mother.
Did You Know These Fascinating Facts 
Saint Patrick's Day is celebrated in more countries than any other national festival.
It is believed that Saint Patrick was born, not in Ireland, but in Roman Britain in the fourth century into a wealthy Romano-British family. He went to Ireland later when at the age of sixteen he was kidnapped by Irish raiders and taken as a slave to Gaelic Ireland.

Patrick drove "snakes" out of Ireland, despite the fact that snakes were not known to inhabit the region at the time. The snakes were likely an allegory for converting pagan souls to Christianity.

According to legend, Saint Patrick used the three-leaf shamrock to explain the Holy Trinity to Irish pagans.

Saint Patrick's Day on 17th March is the traditional date of death of Saint Patrick (c. 385 – c. 461), the foremost patron saint of Ireland.
Green, Green and Ever More Green 
The initial link of the colour green with Ireland is from the 11th century Lebor Gabála Érenn (The Book of the Taking of Ireland). It tells about Goídel Glas (Goídel the green), who after being bitten by a venomous snake is saved from death by Moses placing his staff on the snakebite, leaving him with a green mark. A descendant of Goidel is said to ascend the Tower of Hercules and is so taken by the view of the pretty green island on the horizon that he sets sail for it without delay. 
When the Irish Free State was established in 1922, the government commanded that all post boxes be painted green, under the theme "green paint for a green people"
In 1924, the government created a green Irish passport.
Saint Devote and Saint Patrick 
Saint Devote died in 303 AD over 150 years before Saint Patrick and is the patron saint of Monaco … but on March 17th she shares the limelight with Saint Patrick. 
Fittingly on this day we think of Princess Grace. Grace's link with Ireland stems from her grandfather, John Peter Kelly, who was a bricklayer from Newport in County Mayo. He left Ireland in 1887 and went to Philadelphia, where he founded one of the leading construction companies and made his family's fortune.  
We always remember how proud Princess Grace was of her Irish heritage. She visited Ireland on three occasions in 1961, 1976 and 1979. During her first trip, she visited the old cottage where her grandfather had lived, Drimulra and which she later took possession of.