Latest news
The stunning eclecticism of Alberto Giacometti amazes at the Grimaldi Forum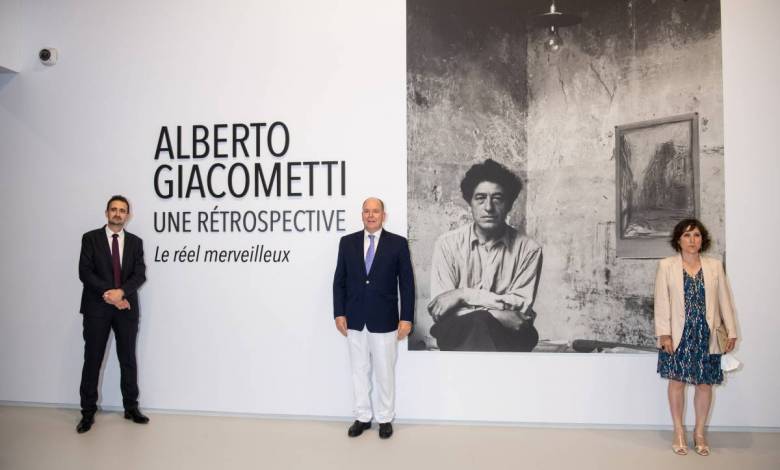 "In line with the great monographs of artists we presented at the Grimaldi Forum, this exhibition promises to be unavoidable for more than one reason", highlighted Sylvie Biancheri, General Director of the Grimaldi Forum. After the forced absence of 2020 season, the Great Summer Art rendezvous is back in Monaco with a unique and iconic setting.
The Grimaldi Forum puts on stage, from the 3rd July until the 29th August 2021, the best retrospective ever realized of the famous artist Alberto Giacometti exploring his kaleidoscopic personality which made him one of the most interesting figures of the twentieth century. All the complexity and sensitivity of this internationally renowned sculptor emerges in the exceptional scenery depicting 230 art works that include his skills as a painter and draughtsman, from the childhood to the cubist, abstractionist, surrealist and then-figurative age.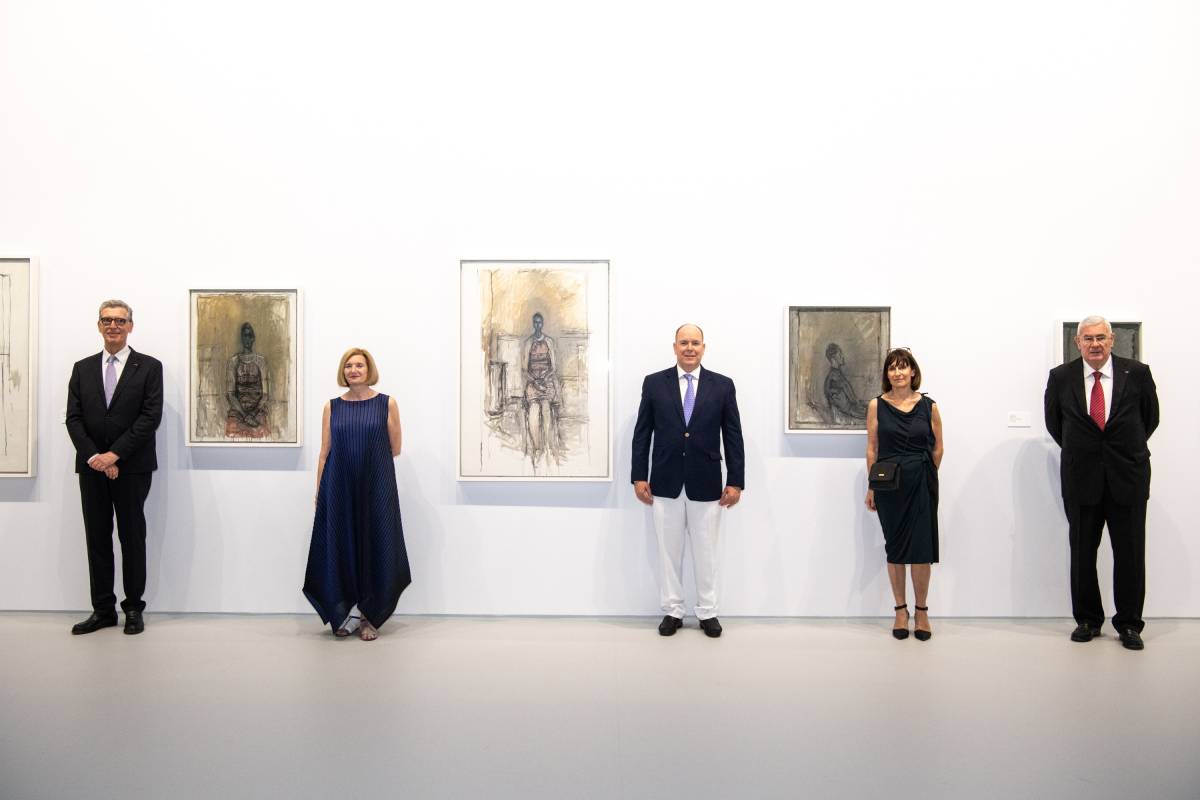 "The subtitle 'marvellous reality' of the exhibition 'Alberto Giacometti, a retrospective' should allow the public to marvel at a work, so I had to respect a certain distance", pointed out William Chatelain, set designer – "it also made my approach different from what I used to by presenting the visitor with a plural work that is ultimately unknown", he added.
"This journey in the creation of the Artist will be made under the sign of wonder, facing the real 'wonderful' as he often says", stressed Emilie Bouvard, Curator of the exhibition and Scientific and Collection Director at Giacometti Foundation – "Giacometti devoted himself to represent what he was seeing around him, without hierarchies, notably objects from his art studio, day-to-day things, landscape of his childhood or of the Parisian suburbs", she added.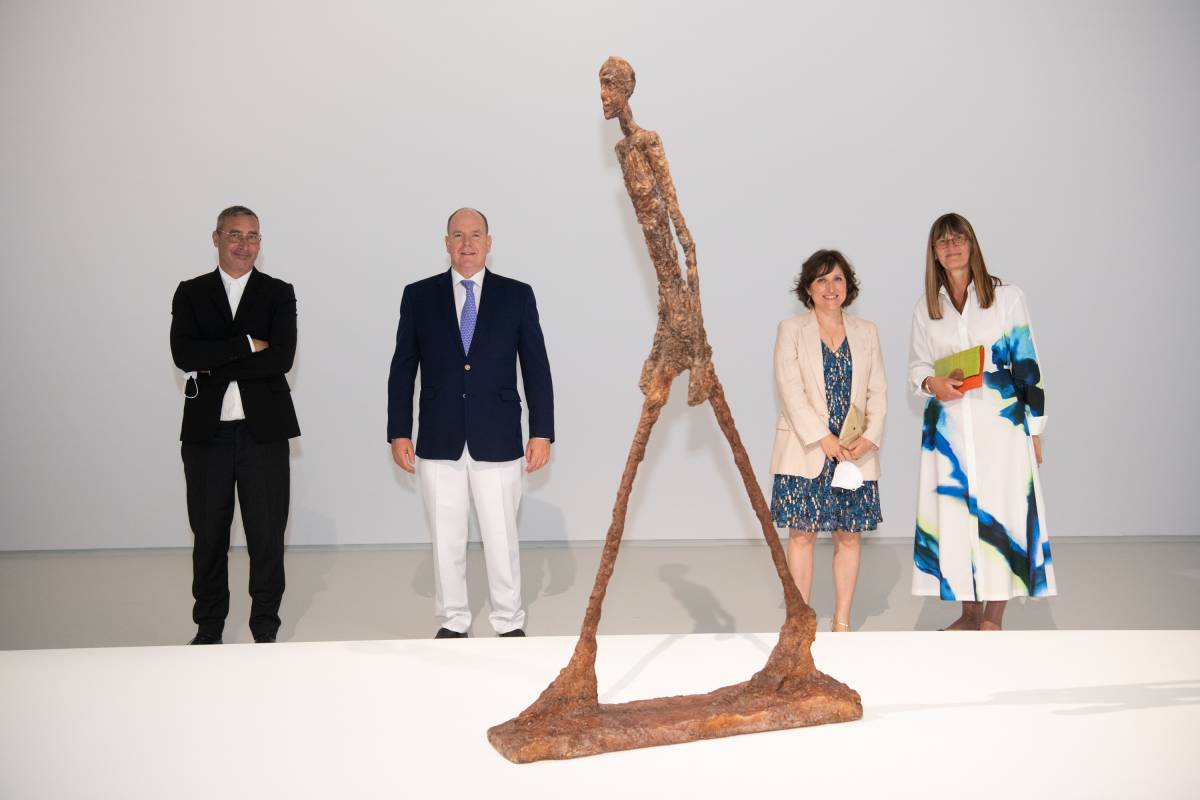 "This is the most important exhibition on this Swiss Artist ever organized by Giacometti Foundation both at the level of spaces and number of works which cover all stages of his life and the different artistic techniques, from sculpture to the less known creations", underlined to HelloMonaco Christian Alandete (C.A.), Artistic Director at Giacometti Institute during a special guided tour.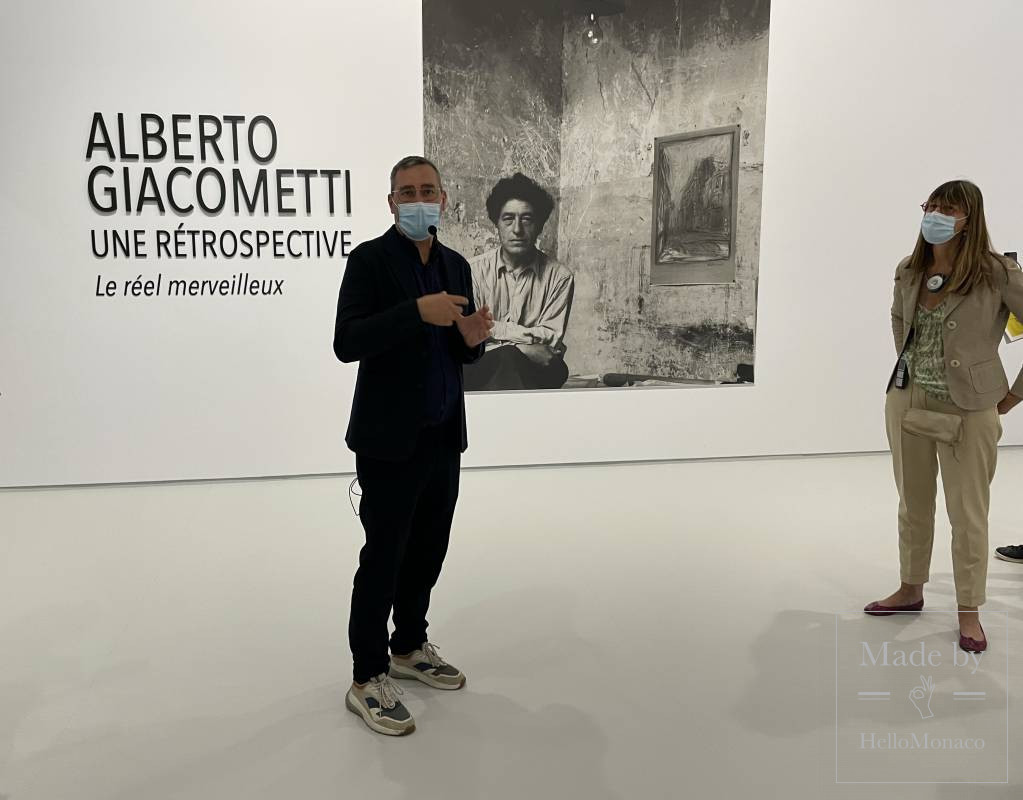 "The marvel is an integral part of Giacometti's production since he takes inspiration from the real to fascinate spectators through the reinterpretation of some key issues from different points of view depending on the moment of his life", he added.  "I am quite aware that I find completely impossible to model, paint or draw a head as it is but as I see it ….and that is the only thing I am trying to do" – "For me, sculpture is not a beautiful object, but a means to try to understand a little bit better what I see (…); painting is a way to understand what attracts me and amazes me in any individual", Giacometti used to say.
HelloMonaco: Mr. Alandete, what typically represents him?
C.A.: Faces of people close to him are repeated several times in his sculptures paintings and drawings. His first and beloved model was his brother, Diego, depicted at different stages of age. Each time rediscovers him from a different point of view which also helps to make everyday life something wonderful through a unique representation of ordinary objects via his creative spirit, inherited from his father, Giovanni, a famous neo-impressionist painter. The use of colours, the search for new artistic tools like the Bic pen and the design of unusual shapes characterize his production.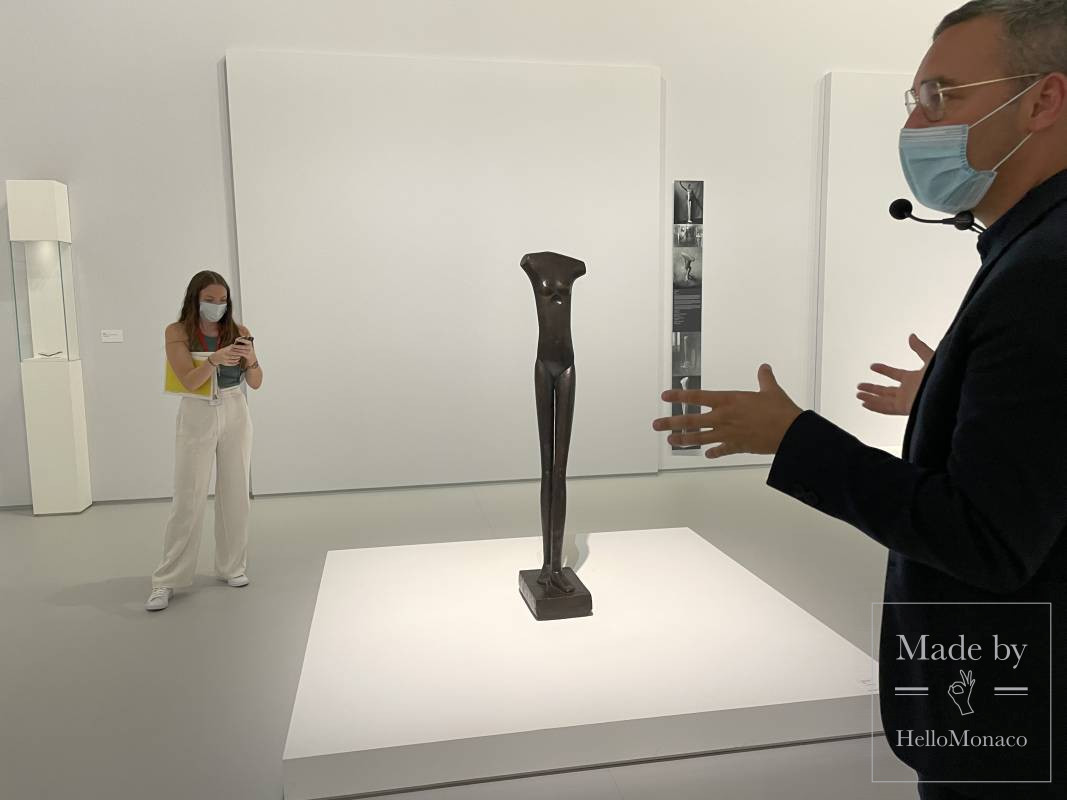 HelloMonaco: What are his main sources of inspiration?
C.A.: He has several inspirations starting from his friend Picasso to the Surrealist and Existentialism Movement, expressed both art and literature by Jean Paul Sartre, Simone de Beauvoir and Samuel Beckett. But also in the archaic art and civilization of African culture as well as Ancient Egypt are important to him as the Italian masterpieces by Giotto and Tintoretto that will be a true revelation. All that is quite clear in the statue 'Walking Woman' (bronze, 1932), as an example, a threadlike female figure with a cello-shaped head, or 'Woman with Chariot' (plaster and wood, 1943-1945). His vision of shapes depends on his belief to offer a real view of what we see not necessarily in the way we have been taught to do according to the classic style which used to correct proportions to make an illusory outcome. If you look at a person from afar it will appear small and elongated.
Moreover, the alpine nature from the Swiss Canton of Grisons (Italian-speaking Switzerland) always influenced him. Notably, the series of bronze bust-rocks in which the body of man becomes a mountain or when the female body is stylized to become a tree.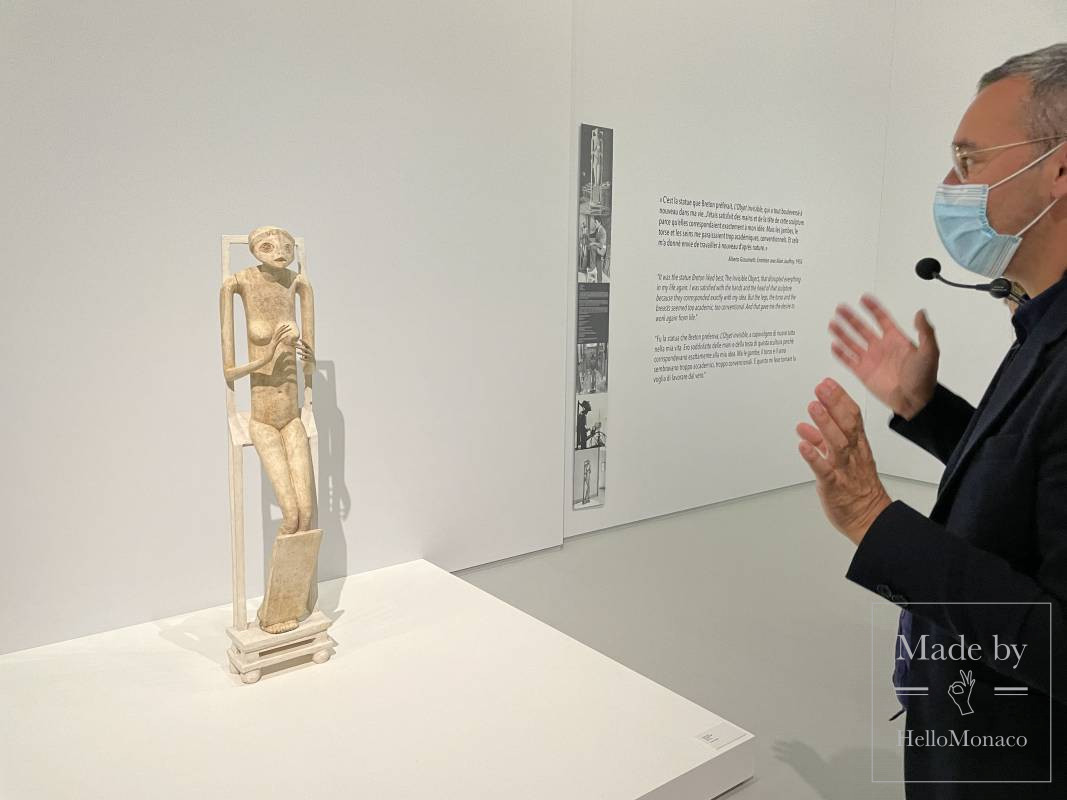 HelloMonaco: Why heads are so marked and often darker than any other element in his canvas?
C.A.: Actually, at first glance it may seem like this but that it doesn't mean he didn't love colours as we can see from rose, blue (etc.) nuances in every single detail. This is because he returned a thousand times to the painting to touch it up, with a special regard to the head and face. The marked features and the tendency to appear grey are the result of his technique.
"For this Summer Season, we are really pleased to offer the public an unpublished theme made of a range of different cultural inputs about this extraordinary artist through a custom-made scenography allowing spectators to find out their annual rendezvous with the Art at the Grimaldi Forum", concluded Catherine Alestchenkoff, Head of the Cultural Events Department at the Grimaldi Forum.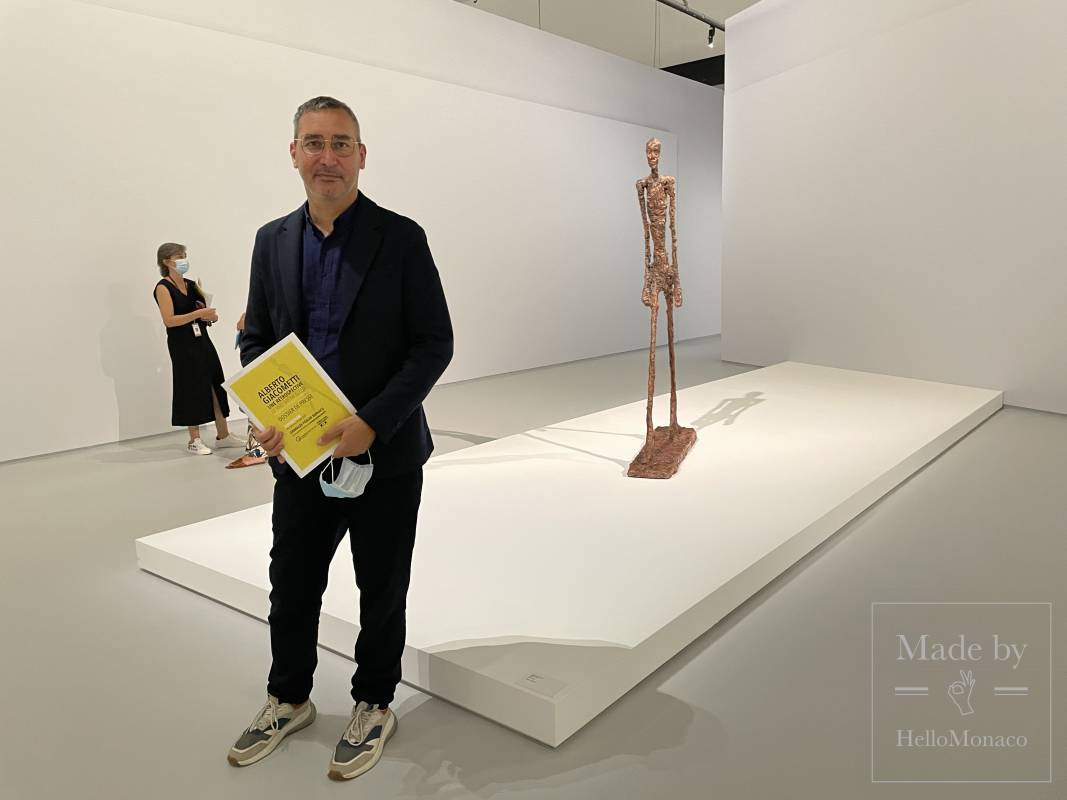 The great Grimaldi Forum Summer expo, 'Alberto Giacometti Exhibition – A Retrospective, Marvellous Reality' will then touch the intense ropes of emotions of those who wish to visit it, including a high-tech unique immersive room recreating his tiny Parisian atelier, true 'headquarters' of his inner philosophy and art conception. You will feel then your mind moving forward like in 'The Man Who Walks II' (plaster, 1960), from an original installation project for Chase Manhattan Bank, whose exceptional perspective changes constantly under your eyes.
To know more about Alberto Giacometti Exhibition please visit: https://www.grimaldiforum.com/en/