Latest news
Rugby at its most Fun: The Water Games on a Floating Pitch at Monaco Yacht Club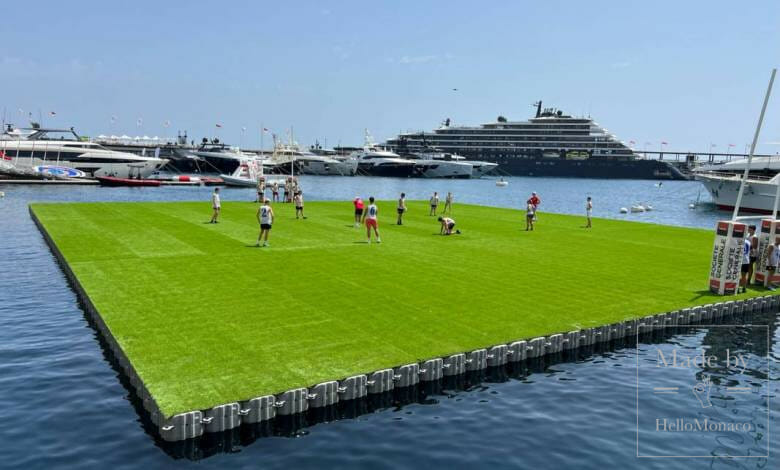 What could be better on a hot sweltering day than water games in Monaco with a Mediterranean view to die for? But what if your game is Rugby and you are at the Yacht Club. It's almost an oxymoron… Rugby players need turf to run, dive and score tries. The diving at the Yacht Club de Monaco was the only common factor; you can dive in the water but where's the turf?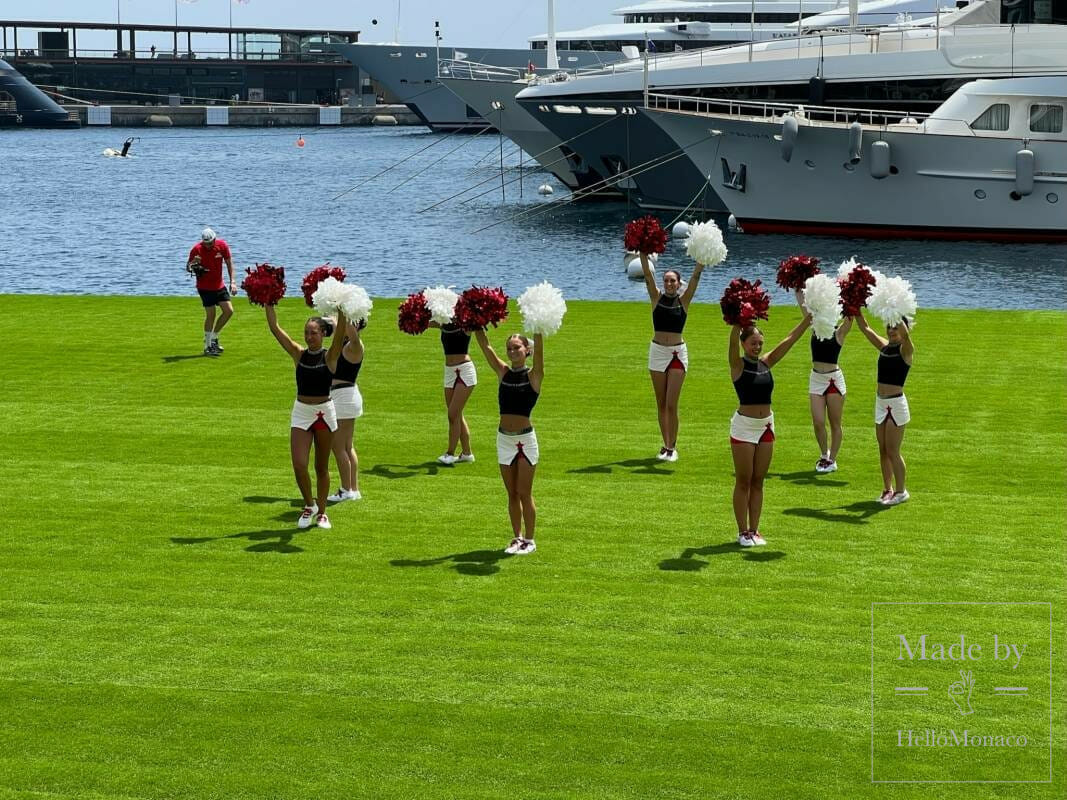 Just leave it to Monaco where no matter the event the Principality can host it … horse jumping no problem, so a Rugby match as part of water games, it's a cinch; just leave it to Monaco's creativity. And so magically appeared a 40 metre by 35 metre floating playing field with shining green synthetic turf in front of the Yacht Club. 
Then all it needs is a slight bending of the normal rule-book to make the Rugby look less like a battleground and more like fun. And first off no kicking with those super yachts in close proximity. Then dive for a try if you must but into the water or show off your acrobatic skills with an acrobatic somersault into the bay. That's how you score a try … not diving to the ground. And to make it more like playground fun, no tackling … just touch the other player and he or she must stop and release the ball for someone else to come and swoop it up.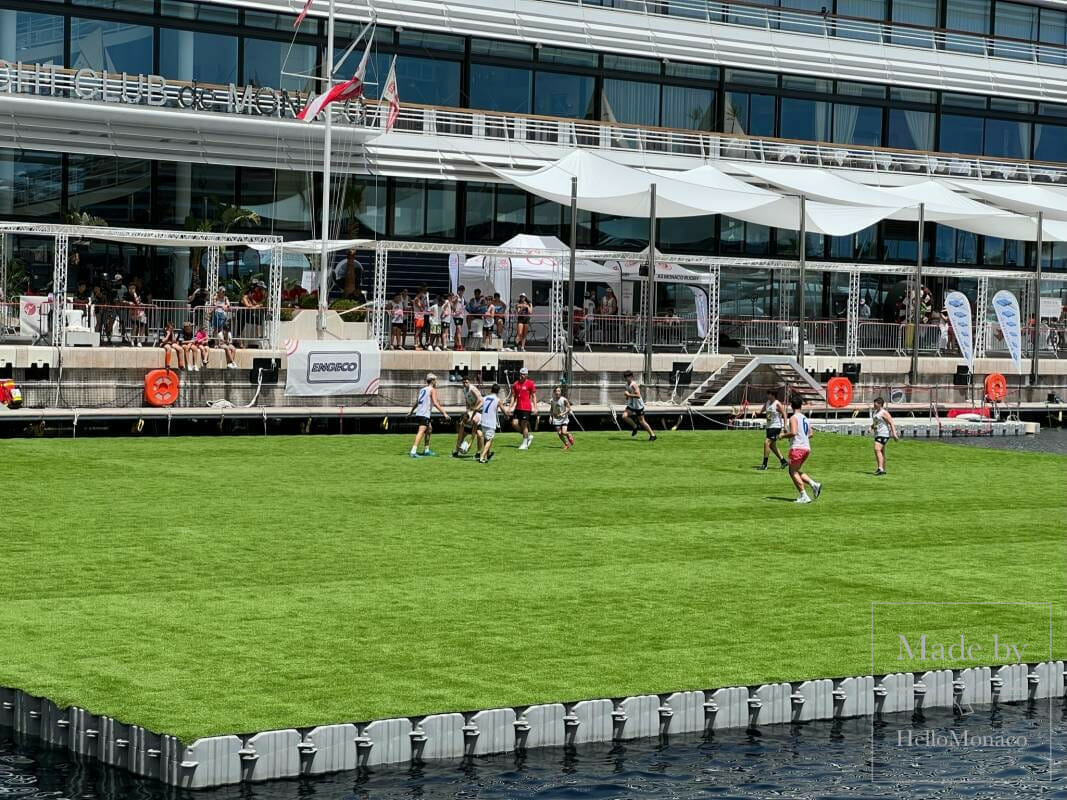 So that is what Prince Albert got to witness in front of the Yacht Club, a creative transformation of Rugby into a water game.
But this was not always school ground Rugby even though juniors got to play too. When the ASM Rugby sevens took to the pitch, watch out! … oh yes and another adaptation, in the water games it's five a side. 
It wasn't that easy for the MR7s team though led by Johan Demai-Hamecher, neither for coach Jérémy Aicardi nor for Ryan Godsmark. The MR7s did just manage to win the title, but without having it all their own way. They won three tries to two after leading 2-0. Their opponents, the "Test Tubes", had equalized a few minutes from the end. So it was an exciting finish. The winners' trophy was presented by former internationals Maxime Mermoz and Steffon Armitage who then went on to take part in a Legends tournament.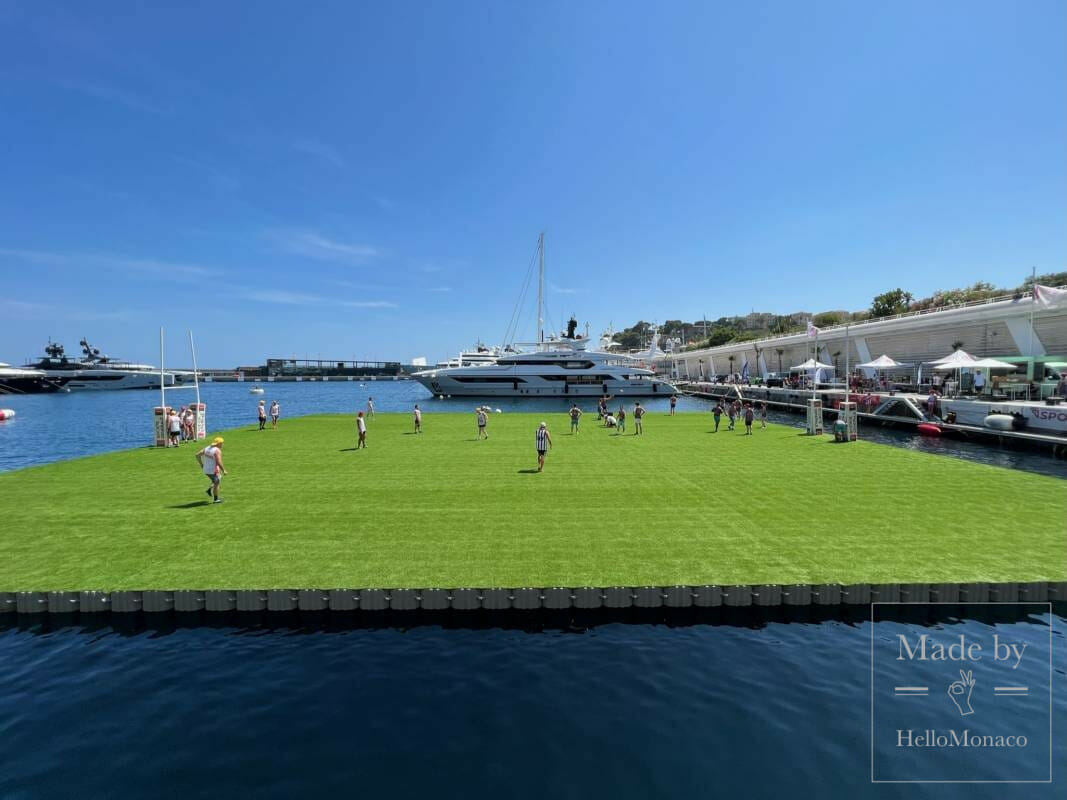 Legends Play Water Games Too
The Legends gave a special ending of this first edition of the Monaco Water Games on the Quai Louis-II on the floating turf in front of the Yacht Club. The Grays of Jérémy Aicardi, Steffon Armitage and Maxime Mermoz among others beat the Whites of Ryan Godsmark and Jean-François Tordo and their team-mates by a narrow margin (11-10), in front of delighted spectators and Thomas Rique, president of AS Monaco Rugby. 
If you were there you got to see plenty of the very best amateurs and professionals including: 
Maxime Mermoz, Yoann Huget, Johan Hamecher, Thomas Rique, Julien Masson, Lancelot Luteau, Jade Ulutule, Fanny Horta, Luciano Orquera, Matias Aguero, Yann Delaigue, Jérémy Aicardi, Dan Luger, Esteban Lozada, Steffon Armitage, Sam Tuitupou, Daniel Tuitupu, Mamuka Magrakvelidze, Alex Tulou and Ryan Godsmark. 
So much fun, great entertainment for the onlookers and perfect for this hot weather. Clearly it's a recipe for a second edition next summer!