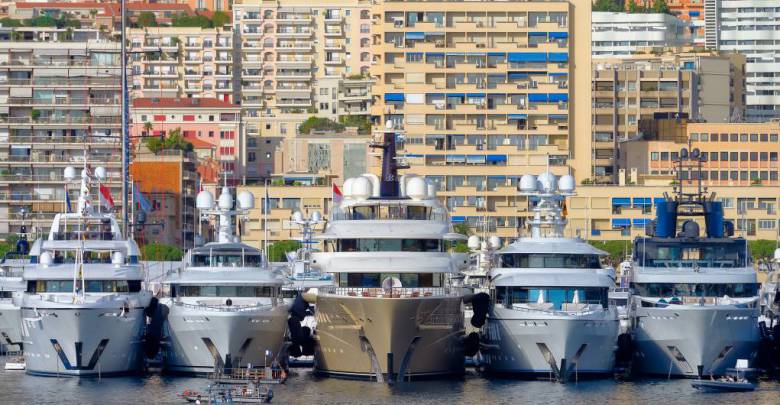 We selected for you top 6 yacht stories of the last week at Yacht Harbour.
1. 6 car manufacturers that have entered yachting
One of the world's most appealing industries in the world from a PR and marketing standpoint, yachting often appears as a relatively untouched field to the automotive industry. Yet, over the years, several players from that market tried to venture into yachting.
Ferrari and family
Brands: Ferretti Group (13.2%)
The Italian sports car manufacturer's history in yachting stretches all the way back to 1990 with the delivery of the Riva Ferrari 32. In total, 30 hulls of this speedboat line styled by Ferrari were built. In 2016, a barely used model was auctioned off by Sotheby's in Monaco at a starting price of  €180,000.
Porsche and family
Brands: Royal Falcon Fleet, Fearless, Kormaran
Through its majority-owned subsidiary, Porsche Design Group, the German company first tried entering yachting with the Fearless 28, an 8.5-meter luxury speedboat reaching top speeds of up to 78 knots, four of which were built.
Mercedes-Benz
Model: Arrow 460 Granturismo
Partners: Baltic Yachts
In 2016, Mercedes-Benz, the famed German car manufacturer, introduced their first yacht designed by Mercedes-Benz Style, a 14-meter luxury speed boat nicknamed, Silver Arrow of the Seas. Powered by twin Yanmar engines of 480hp each, the yacht can reach speeds of up to 30 knots. With a price tag of near €2,5 million, only 10 of these boats will be manufactured at Baltic Yachts for this first edition.
Aston Martin
Model: Aston Martin AM37
Partners: Quintessence Yachts
In partnership with Quintessence Yachts, a boat builder based in the Netherlands, Aston Martin have introduced their first 37-foot luxury speedboat at the Monaco Yacht Show last year. Having spent two years in research and development, the A37 will come in two options with top speeds of either 50 or 45 knots.
Bugatti
Models: Niniette Series
Partners: Palmer Johnson
The result of a partnership between French car manufacturer, Bugatti and former US shipyard, Palmer Johnson, the Niniette series features several models between 50 and 88 feet. Amongst the project's key amenities are a large sunbathing area on the main deck as well as a spacious living room and a large master cabin on the lower deck.
Lexus
Model: Lexus Sport Yacht
Partners: Marquis-Carver Yacht Group
Lexus, a division of Japanese car manufacturer, Toyota, had recently launched a concept for a 12.7-meter luxury speedboat built by Marquis-Carver Yacht Group in Wisconsin. The proof of concept could reach a top speed of 43 knots powered by twin 440hp Lexus engines but is not set to go into mass production.
2. JQB Design introduces 90m hybrid superyacht concept
JQB Design has recently unveiled its new 90m hybrid superyacht concept. The studio, best known for the interior of M/Y Octopus, has been established in 1995 with the founder launching his career under the direction of talented Jon Bannenberg.
The superyacht features diesel electric hybrid system with either Azipod/Azipull, or conventional shafts.  Propulsion package combined with an efficient hull form reduces vibration and sound levels while extending range.
3. Lürssen Project Mistral nearing delivery
On Saturday, April 16, Lürssen has launched project Mistral – 106 metre yacht, which has been designed by Espen Oeino. Expected to be named Amadea, the superyacht is nearing delivery even though she was expected to be handed over last year.
The German shipyard reported that the vessel has been commissioned by Middle East client with a fleet of other yachts. The Marinetraffic data shows that the superyacht is now moored in Kiel, Germany.
4. Feadship delivers 92m superyacht Vertigo
Dutch Yachting has released the photos of Feadship 92m superyacht Vertigo leaving Holland en route to Gibraltar. Two weeks ago we have also seen her arriving to Amsterdam for the final sea trials and fitting out.
5. Darnet Design signs interior contract for 64m VSY project
Darnet Design has unveiled the interior created for the VSY 64 Project 003 currently under construction in Italy and due for delivery in 2018.
This project is the third in a series with a timeless design by Espen Oeino. The yacht's interior arrangement features six suites including a panoramic owner's suite on a raised aft-deck forward with fixed exterior/interior terraces, a gym on the bridge deck, and a full-fledged professional diving centre for all 12 guests on the lower deck. The sundeck accommodates a children's lounge, a large infinity pool and bar area aft and a fire pit forward.
A recurring theme throughout the yacht is derived from the owner's passion for the undersea world: raised decorative panels and wood-floor metal inserts find their inspiration in the world of coral reefs.
With delivery scheduled in less than 24 months, Project VSY 003 integrates advanced technical solutions and enhanced engineering such as a dynamic positioning system with diesel-electric stern thruster. A Kongsberg integrated control system will provide integration of navigation, propulsion control and ship automation functionality.
6. 85m superyacht concept Moea revealed
Parisian designer and architect Mahjoub El Mahmoudi has presented its latest superyacht concept, 85m Moea.
The concept's alluring amenities include a jacuzzi, swimming pools and the large screen at the back of the yacht on the main deck. Moea also hosts a nightclub, a fully equipped spa, a sports room, a gymnasium and a large aquarium.
The yacht will feature various accessories, such as a submarine and a dock for jetlevs, jet skis and sea sleds.
Performance wise Moea will be powered by twin CAT 3516C engines providing her with a top speed of 20 knots and a cruising speed of 17 knots.