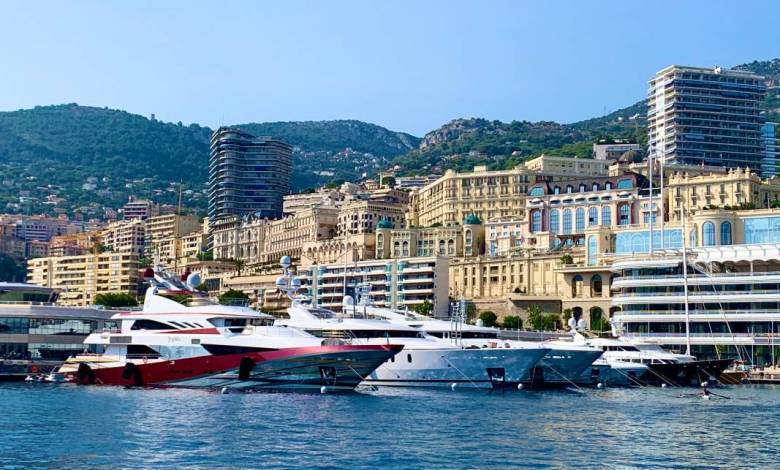 1. At least six 100m+ megayachts under construction at Lurssen, as reported Yacht Harbour this week.
German shipyard, Lurssen is currently working on no less than 5 megayachts over 100 meters in length according to several reports, the largest of which is set to become Project Redwood at 139 meters in length.
2. Abeking and Rasmussen to launch 98m Aviva
German shipyard, Abeking & Rasmussen is preparing to launch its newest flagship, the 98-meter Aviva for UK billionaire, Joe Lewis. Apart from becoming the largest yacht ever built by Abeking & Rasmussen, Aviva also becomes the largest yacht ever designed by the British design studio, Reymond Langton. Lewis, whose net worth is estimated at $5,3 billion by Forbes, is also the current owner of the 68-meter Aviva, delivered by Abeking & Rasmussen in 2007. The new 98-meter is to become the UK billionaire's 4th Aviva.
3. 77m in-build Turquoise project sold
Turkey-based shipyard, Turquoise Yachts (ex. Proteksan Turquoise), has announced the sale of the 77-meter project NB63 currently under construction at their facility to a European owner. The yacht is due to be launched in spring 2018. Penned by H2 Yacht Design based on the platform of the 72-meter Vicky, the NB63 features a 5-metre spa pool on its sun deck, a large beach club with side platforms and a helipad on its bow. Capable of accommodating 18 guests or staff across 9 suites, the NB63 also features a 100sqm owner's suite on the upper deck complete with an additional cabin for children or staff.
4. 140m Ocean Victory spotted in Thailand
The 140m Ocean Victory has been recently spotted cruising Phi Phi islands, Koh Rok and Phuket in Thailand. Delivered by Fincantieri in 2014, the superyacht is designed by Espen Oeino with interior spaces created by the late Alberto Pinto together with Sessa Romboli. Owned by billionaire steel magnate Viktor Rashnikov, one of the oligarchs shaping the yachting industry nowadays, Ocean Victory accommodates up to 36 guests. As with many other yachts of this size, she is packed with alluring features such as 6 pools spread out over her 7 decks, an internal floodable dock to house her 14m tender, two helipads and a vast spa area.
5. Sanlorenzo 52Steel superyacht Seven Sins to be launched soon
Sanlorenzo has recently shared the photo of its first 52Steel superyacht emerging from the build shed in Italy. Named Seven Sins, the yacht will be launched in 14 days and will be the first vessel to make a splash at the Italian shipyard's new facility in La Spezia. Sanlorenzo's engineering team is responsible for the naval architecture, whilst Officina Italiana Design styled the yacht's exterior.
6. Oceanco project Y715 on her first sea trials
Oceanco's highly confidential 88.5m superyacht, Y715, has been lowered into the water in Keppel Veroime 2 months ago. Dutch Yachting has recently shared the photos of the superyacht undergoing her first sea trials. Launched at the end of October, she has a beam of 14.5m and a draft of 3.95m. Exterior styling and interior design are by Sam Sorgiovanni Designs. The yacht presents a modern sporty look with a dark blue hull which is generously offset with a contrasting white superstructure. With no sharp edges, she has a very organic form with large elliptical-shaped hull windows that complement Y715's curvilinear profile. Further details remain confidential at this time.
7. Feadship Air shows off Monaco Marine's new paint job
81 metre Feadship Air has emerged from Monaco Marine La Ciotat with a new paint job. Just eight weeks after the superyacht refit yard was assigned the task of repainting the vessel's hull, Air hit the water showing off her soft, non-reflective, black matte coat. Air was hauled out of the water on 3rd October. To prepare for the arrival of the superyacht, Monaco Marine had set up a made-to-measure transformation cocoon. The 1,000 square metre surface was completed by a team of 25 painters from subcontractor Rolling Stock.
8. Megayacht relocation at CRN
CRN, the Italian brand, part of the Ferretti Group, specializing in the construction of fully-custom steel and light aluminium alloy pleasure vessels between 40 and 100 meters in length, recently performed a major procedure – the relocation of the new 79-meter megayacht, bound to become the second largest yacht ever built by the yard. The yacht, weighing more than 1,000 tons, was skillfully moved 800 meters over a span of two hours from one hangar into another. The relocation showed the impressive volumes of this new megayacht – hull number 135 – designed by CRN's Technical Department in cooperation with Studio Zuccon International Project, who designed its exteriors, and with Studio Laura Sessa, who took care of interior design.