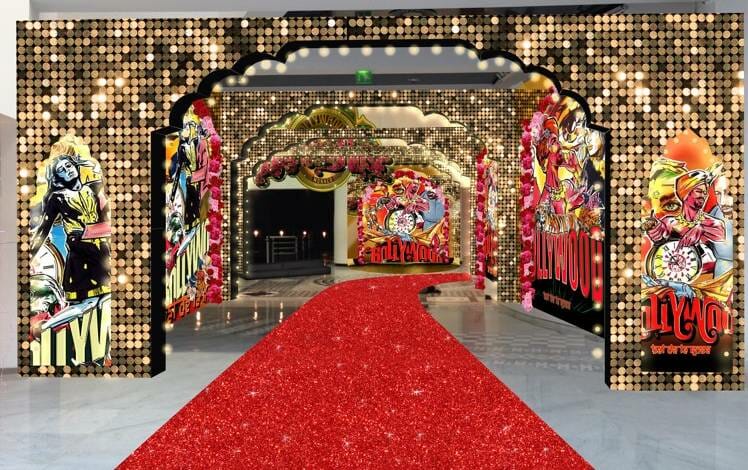 The first big social event of the year always manages to transport guests into worlds of splendour and glamour with highly detailed decor, and this year will be no different. The theme for the 67th edition of the Rose Ball, chosen by Princess Caroline, will be "Bollywood".
The Princess of Hanover, who is President of the Princess Grace Foundation, entrusted Christian Louboutin to imagine the ball's much-anticipated decor. Christian Louboutin, French-Egyptian fashion designer and personal friend of Princess Caroline, has always been fascinated by India. This year's Bal de la Rose is taking place on Saturday 25 March at the Salle des Etoiles.
The Société des Bains de Mer recently unveiled the first images of the event's breathtaking decor. Attendees of the Rose Ball will feel like they're stepping straight into a Bollywood film studio. Singing and dancing will tell the story of a young Indian woman named Beauty.
India's greatest singers and dancers…and Mika!
Performances by India's greatest singers and dancers will take spectators on a trip through Northern India, with the Gypsies of Rajasthan of the Bassant group. Then off to Bollywood, with famous choreographers Kamal Kant and Megha Jagawat. Principal dancer from the Paris Opera Ballet, Jeremy-Loup Quer, will share the stage in the telling of a magical story with choreographer and actor Punit J. Pathak.
Finally, internationally renowned singer Mika, who first rose to fame with his mega-hit Grace Kelly, will take to the stage. (Mika will also be performing on 4 August at Sporting Monte-Carlo.)
The Rose Ball was first created by Princess Grace in 1954. Under the High Patronage of HSH Prince Albert II of Monaco and the Presidency of HRH The Princess of Hanover, it is an internationally recognized charity event with all proceeds going to the Princess Grace Foundation, which helps people and children in need through humanitarian and philanthropic projects.